National labor shortage reaches Oxford
Local businesses and national chains in Oxford are facing labor shortages. Similarly, this shortfall of staffing is still happening across the country.
Despite an influx of students who have returned to Oxford for the fall semester, businesses are struggling to find people for full and part-time positions, as noted by the help-wanted signs throughout the city's commercial center uptown. 
According to Miami University Associate Economics Professor Steven Elliott this is mainly because of the Biden Administration's American Rescue Plan.
"A lot of people will say and I believe that a part of it is because of things that have been in place for COVID, so extra benefits from unemployment," Elliott said. "That has allowed people to stay out of the labor, out of jobs, or not settling for jobs they might not otherwise like, such as working in fast food."
The American Rescue Plan, which passed on March 10 this year, had a number of COVID-19 relief action items including a weekly $300 unemployment benefit that lasted up until Wednesday, Sept. 6.
Doughby's owner, Beau Hiner, said his calzone restaurant on High Street currently staffs just eight employees, but is in need of 35. Hiner attributes the shortage of staff to the national COVID-19 stimulus initiatives and unemployment benefits that ended earlier this month.
"If you get paid $300 per week from the government, you're not going to want to work," Hiner said.  
Hiner is not alone in his hiring struggles. According to the National Federation of Independent Business's (NFIB) August Jobs Report, 50% of business owners reported having positions they are unable to fill.
Hiner opened Doughby's in 2007 and has relied on both students and local residents to make up his staff. He also said this is the first time in the business' history, 2008 recession included, that staffing has been such a big issue.
"There were no checks to give out in 2008," Hiner said. 
Hiner also attributes the shortage to the local mask mandate. He said that customers living outside of Oxford, and prospective employees are no longer coming into town because they don't want to wear masks. These former customers are resorting to other options in Eaton, Hamilton and other neighboring cities.
"Oxford is killing small businesses too because they support the mandate," Hiner said. "All people around town won't come to Oxford anymore because of the mask mandate."
Oxford's new Dairy Queen, at 5046 College Corner Pike, was scheduled to open over the summer, but that was initially postponed because of construction delays. After construction was complete, the rescheduled opening day was moved back yet another week because the restaurant did not have enough employees.
Miami University senior and Dairy Queen associate Renée Proctor made a Facebook post Sept. 4, pleading for community members to apply for open positions. The location needed more than 16 employees to open, Proctor said.
According to Proctor, Oxford Dairy Queen General Manager Belt Brashear implemented a recruiting bonus for employees who brought in more team members after the opening was delayed. After a few days with this initiative in place, the team had more than doubled in size.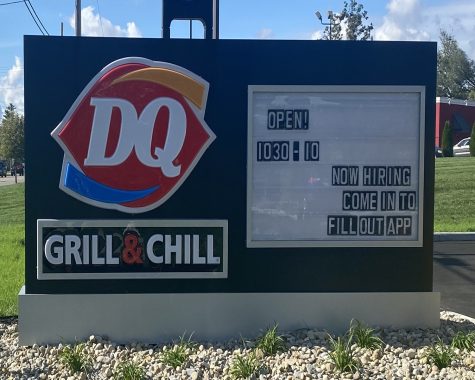 "We only had 15 (employees), which was not enough to open, but I guess now we have 40," Proctor said.
When thinking about the cause of the national and local staffing shortage, Proctor attributes the problem to an unlivable working wage. 
"I began working when I was 15 and a half and made $7.50 an hour as a hostess, which was obviously not a lot," Proctor said, referring to her job at IHOP that she began in 2017.
Proctor made several job switches in the customer service industry before landing her position at Dairy Queen. Her most recent position, at another local restaurant, paid $10.75 an hour. 
"I went in and interviewed at Dairy Queen because the pay situation at (her previous job) wasn't really high enough to pay my bills," Proctor said.
DQ starting pay is now up to $12 per hour and Doughby starts at $10-$15 depending on the job and  experience.
Fast food eateries aren't the only local businesses having staffing problems. Down the street from Dairy Queen, the Young Leaders Learning Center II closed its Oxford location at 5500 College Corner Pike, Sept. 17, after five years of business due to a lack of employees, according to co-owner Phil Young.  
According to Young, Employees at the YLLC daycare in Oxford, were paid between $12 and $18 an hour, well above Ohio's minimum wage of $8.80 per hour.  However, said Young, the daycare still had little to no applicants from the Oxford Area — an issue he and his wife, Tiffany Young, do not face at their other location in Ross.  
In Ross, YLLC employs a total of 42 people and serves 68 families as of September this year, according to Young.  Upon opening a second facility in Ross, Young Leaders Learning Center will have the capacity to service its 40 waitlisted families as well, he said.  
"We really hated to close (in Oxford), but there was just no way we could operate both locations with the staffing level we had," said Young. 
According to University of Cincinnati Economics Professor Michael Stevens, childcare is one of the reasons women are leaving the workforce at a faster rate than men. 
"Because of COVID, there are issues with childcare," Stevens said. "More people are going to homeschooling."
Stevens also said that college students are finding less value in taking lower-paying jobs unrelated to careers they expect to enter after graduation.
"Whether it's students at Miami or UC, they are getting skills for the job that they hope to get when they graduate," Stevens said. "Whether that's a paid or unpaid internship for the summer that's directly related to their career, I think you have students (who) are just saying it's not worth it to be working for the $10 or $12 an hour."
Looking into the future, Stevens says minimum wage is not a concern because businesses will need to adapt to the job market. He explained that wages are "sticky," meaning that once they are raised, they are impossible to decrease. Also, when increased, they must be increased for everyone on staff.
"I think a lot of restaurants might be hesitant to make that jump to $15 or $16 or $14," Stevens said. "They're hesitant because once you set that rate, you have to set it for everybody, so that becomes very expensive."