Uptown businesses adapt to new 'normal;' see hope on the horizon
What once were considered emergency measures are now part of our new normal when we go out and about around Oxford. Businesses are doing temperature checks, cleaning more often and are keeping staff and customers masked to deal with COVID-19.
"Hourly bathroom sanitization, sanitizing between table turnovers and keeping the bar in order with everyone staying masked up has been very hard to handle," said Kim Peterka, owner of CJ's Bar, 23 E. High St. Peterka emphasizes the strict protocols bars must follow to protect the safety and wellness of their customers and employees. 
Throughout the pandemic restaurants and bars have shut down operations and many have closed for good. As the country begins to open back up following the availability of vaccines for COVID-19, many small, local businesses are still struggling. Oxford businesses have had their struggles and have made sacrifices to survive this pandemic. All businesses are affected financially, all the protocols and procedures they have to follow limit the amount of business they get. Nobody particularly loves sitting at tables with 10 people or less, to adhere to state guidelines.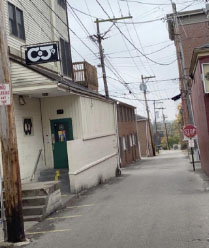 Amanda Marra, a student at Miami, works as a part-time employee for Corner Grill & Drinkery, 12 E. Park Place. "The amount of tables we used to have in this bar is crazy," Marra said. "We had to take away so many because of COVID and also put up plexiglass between the tables." This not only affects the number of customers brought in but can also limit the number of tips she receives as a bartender. "The one positive is people can still go up to the bar and order food and drinks as long as they have masks on," Marra said.
Much like many other businesses in this college town, Corner Grill & Drinkery heavily stresses the importance of Ohio's COVID-19 guidelines and restrictions. "We have to keep watch of the capacity limit," Marra said. "We take the state guidelines very seriously and want to keep everyone safe." 
The safety concerns are not only present with the students but the employees too. COVID-19 has been known to spread faster on college campuses due to communal living whether it be dorms, dining halls, apartments, or houses. 
Back at CJ's, you must be at least 21 for entry. Peterka said COVID-19 has had an impact on every aspect of the bar and its operations – customers, staff, and costs. "The economic impact of the cost of daily goods going up because of supply chain issues and not being able to readily get supplies," are serious issues Peterka said. "The added levels of cleaning between turning over tables creates more expensive (operation) overall."
As circumstances have changed apparently tastes in alcohol have too. "Our unique thing that is just a comment is that prior to COVID, our sales were 98% spirituous liquor and 2% beer," Peterka said. "During COVID, I have seen the shift in the drinking preferences and we are selling approximately 25% of our sales in draft beer," Peterka said. "This hasn't been the case for us since the early 1990s." 
Jessica Greene, Oxford's assistant city manager for economic development, said COVID has greatly impacted all local businesses. "Especially dine in — which is most of our bars — the restrictions on capacity, which has really changed the way they do business."
The amount of people allowed in restaurants and bars affects their main source of income, Greene said.
"You think of Mac & Joe's, and how many tables used to be there and how packed it always was, and now everything has totally changed," Greene said. "You think of Brick Street, a club where people sing and dance and now you have to sit at tables and make reservations." It is apparent that the atmosphere of Oxford as one of the top party schools in the nation has evolved but students and business owners are both adapting, she said.
As the country begins to slowly revert to life as it was before the pandemic, the business owners are looking forward to better times and better business. But Oxford respects the CDC guidelines in an effort to keep everyone safe.  
"I think they are doing great with how they are responding and keeping everyone safe," Greene said. "They found a creative workaround, however, their profits are down."