Oxford couple creates coffee roasting company
Leaning over his new coffee roaster, Alex Ketron uses a small sampling device in the machine that pulls a few beans out so he can check that they're roasting properly. He's working in his garage on a large order of coffee beans that has to be shipped out.
Aulie's Coffee was founded by Alex and Madalyn Ketron in May, with the goal of providing specialty-grade coffee to the Oxford community. Alex aimed to provide coffee that would not only taste good but help bring people together. 
"It's more than just a drink to us," he said. "We wanted to make that part of our mission — to not only provide roasted coffee to drinkers and cafes throughout the area, but rather be a part of a greater cause."

Aulie's Coffee is named after the Ketrons' son, Pasquale "Aulie" Ketron, their baby who died six months ago. Every decision the company makes is to honor their son in some way, Alex said. 
"In honor of that because he could not be here with us today, I created a roasting company in his name," Alex said. 
Originally, when Alex began roasting coffee he gave it to friends and family to try. As they shared the coffee with others, Aulie's began receiving requests for more bags of beans. 
"I just went for it," said Alex, who also has a full-time job in sales. "I'm just gonna start this little side gig on a popcorn popper. And the word got out very quickly."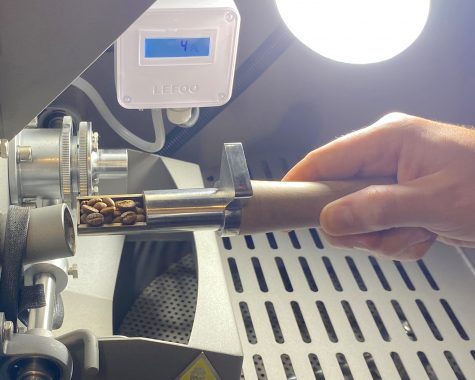 As demand continued to grow, Alex set up a booth at the Oxford Farmers Market to sell bags of coffee in addition to brewed hot and iced coffee. The farmers market provides an opportunity for Aulie's to connect with the community. 
"That was why I wanted to get to the farmers market," Alex said. "To meet new people and connect with some people I knew from my childhood." 
Alex grew up in Oxford and said he spent many years searching for the perfect cup of coffee. He didn't want a traditional cup of over-roasted dark coffee — he wanted to find an elevated brew, and he wanted to bring that to Oxford. 
"Everyone loves coffee, am I right?" Alex said. "Whether it's the smell or sight or sound of a freshly poured cup out of the pot. I knew that anywhere a new coffee roastery/cafe pops up, the crowd goes wild."
While starting the business, Alex also understood the support that a small town like Oxford could provide to new small businesses.  
"I knew that with the Oxford community always welcoming new businesses, being open to new restaurants, this would be the perfect opportunity to introduce a new coffee offering," he said.  
Alex said he has found that more people are trying to shop local, especially with the pandemic. 
"I just think that people are looking for more local coffee shops nowadays," Alex said. "Instead, you know, of just going to the big giants and getting a cup there." 
Each roasting session is a careful process to ensure the beans aren't over- or under-roasted. The amount of time, the temperature and the bean all determine the flavor profile and ideal use for the coffee. 
"There's a lot of different factors that can influence the taste of your coffee," Alex said. "It's about finding out what's right." 
As word of their unique coffee spread, the Ketrons had to scale up to meet demand. Understanding the new needs of the company was crucial for survival at the time. 
"With every growing company, there are growing pains and we experienced them all at once," Alex said. "We fully embraced that and saw the opportunity to introduce new ideas and concepts into our business to get creative." 
This growth meant buying new equipment to roast the coffee. Aulie's went from roasting 10 pounds of beans a week in May to 80 pounds now.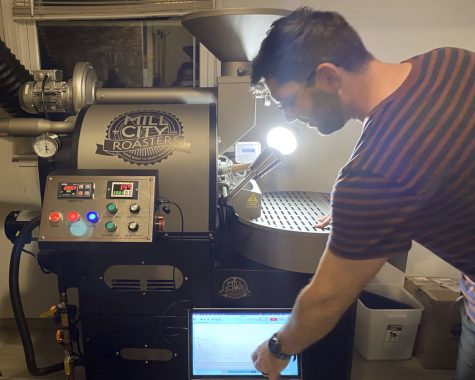 "I was roasting two hours a day, four days a week, it's a lot of time," Alex said. "I hope to cut that in half with the new roaster. I want to be sure that I take plenty of time for my family and be with my daughter when I get off work." 
Each new roast that is released has a name that connects it to their family or their community. The Beana roast is named after the nickname the Ketrons have for their daughter Lena, age 4. It has blueberry and watermelon notes, two of Lena's favorite fruits. Other roasts include Black Bird, Pasquale and Farfalla.
"There's a story behind it that I want to share every single time I sell it," Alex said. "I think that every business has a story, it's just unique in different ways."
Aulie's Coffee has partnered with Compassion International, a Christian humanitarian aid organization. Compassion International helps companies and individuals sponsor children living in poverty.  
"Since our company was created to honor our son, we thought this would be a great way to give our love and devotion to other children in need of help to live a lifestyle we all strive for," Alex said.  
In the state of Ohio, coffee is included in the Cottage Food Law, meaning that it can be roasted in an individual's home. Aulie's has insurance that allows them to serve coffee and operate their business.
Aulie's Coffee sells both bags of coffee and cups of dip coffee at a booth at the Farmers Market. Aulie's also sells its coffee to Kofenya and is now offered as drip coffee at Maplewood Kitchen and Bar in Mason and Cincinnati.