Miami students gain fame from taking showers
Tal Rub, Dean Angles, and Collin Apicella became overnight celebrities among Miami University students by being among the cleanest students on campus – as of Thursday night, they had showered in 28 different campus buildings. 
Dubbing themselves the "Miami U Shower Boys," they say their quest is to shower in every dorm and as many other buildings on campus equipped with showers on campus. Miami has at least 48 such locations on the students' list, including some non-residential buildings such as Armstrong Student Center, the Recreation Center, and Maplestreet Commons. 
The Armstrong Student Center shower is located in the Ford Meditation and Reflection room on the second floor, provided so that students can wash themselves for the purpose of prayer or to relax before meditation.
Rub, Angles, and Apicella track their progress on an Instagram account called "The Miami U Shower Boys™." The account carries a disclaimer that they are not officially affiliated with Miami. 
The group ranks each shower according to three key criteria: water temperature, water pressure, and cleanliness. Each criterion gets a score from zero to 10, with the average of the three scores being the total score for the building's shower. Occasionally other friends join in the wash-ups.
So far, the highest score has been a 10 out of 10, given to Armstrong Student Center. Posted comments about this experience include: "water temperature was exquisite;" "pressure was unmatched;" and, for cleanliness, "unlike any other, was divine."
Each night that they decide to rate a shower, they put a poll on their Instagram story which allows followers to vote on one of two showering sites to be sampled that night. They then ask for volunteers to let them into the building later that night.
Naturally, each Shower Boy has a favorite shower experience so far. Rub favors his shower at Porter Hall, where residents dressed in black suits and sunglasses escorted the men to the shower upon arrival. Angles enjoyed his experience at Stanton Hall and Apicella liked Collins.
"The hospitality was great, there was a guy playing the song 'Careless Whisper' on the saxophone when we walked in," Apicella said of Collins.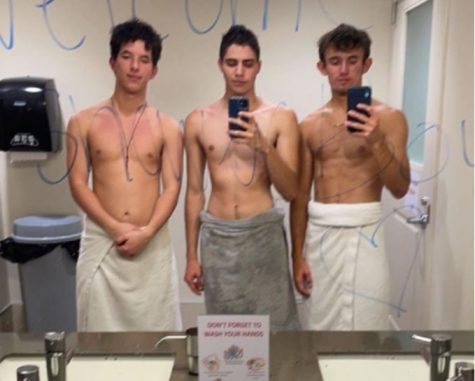 A few ideas of odd-ball areas that the boys plan on showering in include the Pearson Hall laboratory safety showers, Goggin Ice Center and the third floor-shower in Farmer School of Business. After exhausting campus buildings, they said they would like invitations to venture into off-campus housing and rank those showers as well. Since they do not expect to be finished by the end of this semester, the three have a different idea as to how to continue over winter break.
"Over break, we are planning on taking showers in our own houses and ranking those so that people can stay in touch with the account," Rub said.
The friends met through shared connections: Rub and Apicella are both  rom Cleveland and Rub and Angles is involved with the Jewish organization Hillel. All three are freshmen, with Rub and Angles living in Morris Hall and Apicella living in Tappan. 
The mission began when Rub experienced a long heat-up time for the water in Morris, so he decided to trek in his towel across the South Quad to Tappan, where Apicella let him in. After a month of showering in various showers and sending ratings to friends, Rub decided to take the pictures (all G-rated) and the commentary public. 
The Miami Shower Boys have inspired several other "Shower Boy" accounts to pop up in colleges across the United States. Indiana Wesleyan University and The University of Tennessee at Knoxville have their own accounts. The UTK Shower Boys have a goal of showering in 14 campus dorms.
UTK students Jacob Free and Maury Phan are using a similar style to their Miami counterparts with the added "water flavor" category. Their Instagram profile credits the Miami account for their inspiration.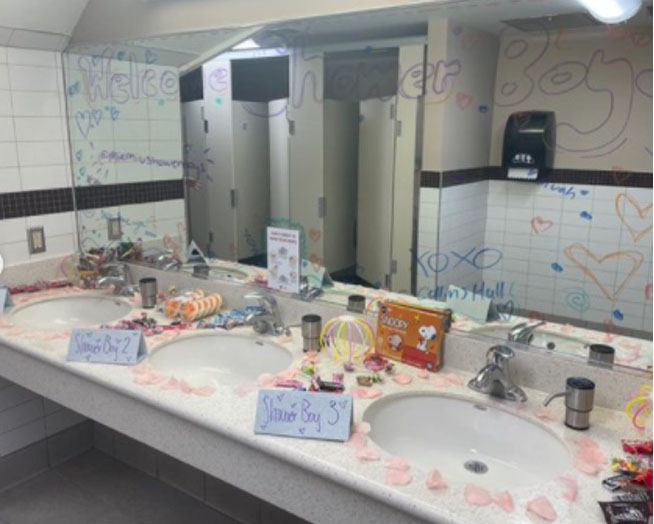 "We're from Cleveland so we have hometown friends that go to Miami. We came to Oxford for Halloween and that's when we found out about the Shower Boys. We thought it was the funniest thing, cracked us up," said Free.
Even though the boys are careful to point out their showering is not formally sanctioned by Miami, and they follow university rules about only entering dorms not their own by invitation, Miami has expressed some tongue-in-cheek approval. When the Observer asked University President Gregory Crawford's office for a comment, the request was forwarded to Jessica Rivinius, director of university news and communications.
"Provided the group continues to respect residence hall policies and the student code of conduct, we hope their fellow students enjoy this inside look into on-campus living at Miami," Rivinius said. 
While the Shower Boys have been met with some backlash on the anonymous social media application Yik Yak, they plan to ignore the hateful comments and continue their mission.
"We just look at it as us just having fun, and sure people aren't going to like it," said Apicella. "We just have to look past it and keep doing our own thing."