Oxford residents push for action against AAPI discrimination
A nationwide spike in anti-Asian discrimination has been witnessed locally by Oxford residents, who have offered up ideas on how to combat it.
Since the COVID-19 pandemic began last year, more than 30% of people in the United States of Asian descent have reported slurs or jokes being used against them because of reasons linked to COVID-19, according to a report by the Pew Research Center. Nearly 3,800 discrimination cases against Asians, Asian-Americans, and Pacific Islanders (AAPI) were recorded by the Stop AAPI hate organization in the past year. 
In June 2020, the Dear Miami social media site was formed to share the stories of marginalized students who had experienced racism in Oxford. The reports are anonymous to protect students' privacy, but several repeat the same allegation of racist remarks made toward AAPI students by people blaming them for the pandemic. 
One student alleged that a professor blamed Chinese people for the spread of COVID-19 and had asked, "What do you expect from people who eat bats and rodents?"
Oxford City Councilor, Chantel Raghu, said she had also heard accounts of anti-Asian discrimination in Oxford. 
"Before shelter-in-place really took off, someone was in class and they refused to touch the same paper of someone of Asian descent," Raghu said. "They felt like their classmate was automatically contagious or somehow infectious." 
Yuenan Jin Rodriguez, a coordinator for International Students and Scholar Services at Miami, recounted a report made to her by a Chinese international student. 
"She was in the Kroger parking lot and a couple of American students saw her," said Rodriguez. "They intentionally coughed at her, which made her very uncomfortable. They were all laughing at her, and this was clearly because of COVID." 
In Oxford, people of Asian descent are the second most populous ethnicity, behind Caucasians, making up 9% of the community. Raghu noted that this made them a prime target for scapegoating and blaming as the pandemic worsened. 
"It's something that's really personal, and it's only gotten worse with time," said Raghu, who is a child of immigrants and a woman of Chinese and Indian descent.
She is originally from Midland-Odessa, Texas, where a Chinese-American father and his two young children were stabbed inside a Sam's Club last year by a man who believed they were infecting people with COVID-19.  
Council passed resolution that condemns hate speech against Asians
She said the April 2020 stabbing influenced her to introduce a city council resolution condemning hate speech against Asians a month later. 
Oxford Police Lt., Lara Fening, said the department uses bias indicators to flag racially motivated assaults. So far, Oxford has had no reports of physical assault against AAPI. 
However, Rodriguez noted that victims of racism may feel uncomfortable speaking on the record and reporting harassment or assault, despite increased focus on these issues. Often, students prefer to stay anonymous. 
"It's so deep in Asian culture," she said. "We don't like conflict. We like harmony and usually don't speak up about these things." 
She also mentioned that some students from other countries are likely unfamiliar with the police reporting process here.
"I definitely think more harassment is happening. It just doesn't get reported," Rodriguez said. 
Another noticeable effect of the pandemic in Oxford has been the burden placed on Asian businesses. Kalar Huang is the manager of Aqua Tea, an uptown store that sells bubble tea, fruit smoothies and traditional Chinese food. 
Huang said when Aqua Tea opened in early 2020, it used to have a long lines of customers. Now, the number has declined significantly and the restaurant is take-out only. 
"With COVID-19, we have lost a lot of business," Huang said. She attributed this to the decrease in Miami students in Oxford, including many international students from China.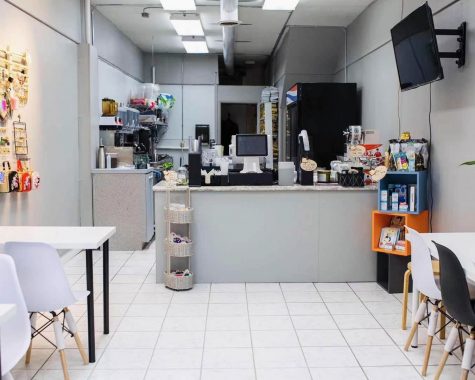 Raghu described similar problems for other Asian businesses. "When I talk to owners, they say they no longer have the steady population that would go and patronize them," she said. 
Most of the frequent customers were international students, many of whom did not physically return to campus last fall. According to Rodriguez, about 59% of international students remained overseas, and most of them were students from China. 
The 2020-2021 school year saw about 500 AAPI international students stay on campus, a sharp contrast to the 2,500 on campus during the previous year. 
"It does make me sad that people who are born and raised here may not appreciate the complexity, richness, and diversity of Asian cuisine," said Raghu, commenting on the decline in business.   
She expressed support for Ohio state senator Tina Maharath's plan to start a state commission for Asian American and Pacific Islander affairs and described the importance of setting a good example for others. 
"I take my behavior and my words very seriously, and always try to be a positive example and show the best behavior," Raghu said.
A feeling that broader action is needed
In terms of the local response, several Oxford residents have said they hope to see broader actions taken. 
Shr-Hua Moore, a first-year Miami student who is part of its Asian-American Association, expressed disappointment with Miami's response. 
"I think Miami could do way better. The only thing they've done is have a 58-word paragraph condemning bigotry in their weekly email, and they didn't even address that topic in the subject line," he said. 
Moore said that certain parts of the university, such as the Honors Program, have addressed intolerance more, but from the university standpoint, essentially nothing has been done. 
"It's disappointing because they do have the capacity," he said. "And they could do actual things like provide more funding to Asian programs." 
"I definitely think there's more we can do in Oxford," Rodriguez said. 
Moore, Rodriguez, Raghu, and Huang all expressed a common hope that Asian voices can now be amplified, both nationally and locally. 
"I don't think this has received attention ever in America's history," said Moore. "But it seems like from now on, it will be more and more of an issue." 
Rodriguez said she was now thinking deeply about the issue, especially after the mass shooting in Atlanta on March 16, in which there were six Asian women among the victims.  
"The husband of one of the victims got detained in handcuffs for hours afterward, and maybe it was because he is Latino," Rodriguez said. "My husband's Latino, and I can imagine that happening if something happened to me. That really hit home. It's terrible how people view us." 
She also pointed to positive aspects of Miami's response.
"I think it's encouraging that we're talking about it, and I believe the university is going to come together in May to have more programs and events for Asian American and Pacific Islander Heritage Month. There is work happening, people are doing it," she said. 
Departments of the university have strongly denounced discrimination. Jayne Brownell, vice president of student affairs, said she wholeheartedly condemned racism. 
Defending Democracy, a local public action group in Oxford, sponsored the placement of a banner uptown. The banner reads 'Love not Hate.' 
"You know, we're all in this together and the first step is having this conversation in Oxford," said Raghu. 
Huang holds a similar view. "I hope that everyone can help each other on an equal footing," she said, making a wish that Oxford will come together to effectively fight discrimination.