City extends outdoor drinking program
Adults will now be able to drink outdoors in Uptown Oxford from 11 a.m. to 11 p.m. year-round. 
Under the Designated Outdoor Refreshment Area (DORA) program, adults 21 and older can purchase alcoholic beverages in specially-marked cups from bars and restaurants and drink them outside within the Oxford DORA boundary.
Oxford City Council unanimously approved a resolution permanently extending what had been a summertime program on May 17. The DORA went into effect on May 22.
Oxford City Manager Douglas Elliott said that although the implementation would start as a year-round measure this time, he would not be hesitant to end it.
"It's a pilot project," Elliot said during the meeting. "If it's a failure, we'll recognize that quickly and end it."
Three high-ranking Miami University staff members, who penned a letter to the editor of The Miami Student, represented and discussed opposition to the year-round DORA, asking Oxford to give students who don't wish to participate in drinking a chance to experience Uptown without it.
However, City Councilor Alexandria French disagreed with the perception that non-drinkers wouldn't be able to enjoy Uptown with DORA in place.
"I don't see the expansion of DORA into the school year as exacerbating that issue," French said. "The reason students want to be at Brick Street is that they want to be at Brick Street, it's not to go drink next to a family who's playing in the fountain Uptown."
Although Councilor Amber Franklin voted in favor of the resolution, she did raise a point against it during the May 17 meeting.
"I was out right after Easter weekend," Franklin said, "and there was a soccer tournament in town with parents and little kids, and I don't know how families will respond depending on the kind of drinking or how much public drinking there is."
The decision was made as an economic development strategy to help local businesses,  Assistant City Manager Jessica Greene said.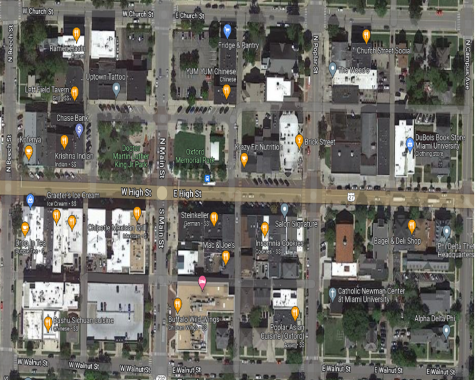 "From a tourism perspective, it's about what you can do to get people to linger and hang out and enjoy your community," Greene said. "We have a great park system in our town and it's a great place to get people to hang out and linger, because when they hang out and linger, they tend to spend more money."
Public comments for and against implementing DORA year-round were "pretty equal on both sides," Greene said. "There was a public comment (from a citizen) very worried about the drinking culture in our community; there was public comment in support of the DORA."
The Observer posted an inquiry into the Facebook group Oxford Talk (OHIO) asking Oxford residents about their opinion of the year-round DORA.
Liz Krehbiel, an Oxford resident and Miami University graduate from the class of 2014, wrote t that she did not think there would be a negative impact. 
"I wouldn't assume that public intoxication would increase dramatically for students with DORA," Krehbiel said. "I believe this is mostly an issue late at night when the bars close or at off-campus house parties where alcohol is readily available for free."
Christy Capri, a member of Oxford Talk (OHIO) since Sept. 2017, said she was on the fence about the idea.
"I have to wonder what our local law enforcement feels about adding this burden to their plate," Capri wrote.
Oxford Police Chief John A. Jones wrote in an email that he felt that the year-round DORA program would not create problems.
"DORA has had very little impact on police services since it began in Oxford," Jones wrote. "I do not foresee it being a large problem for us just because students are here."
"However if we do have negative effects, such as uncontrollable litter, disorderly conduct, or public disorder, I will be quick to report that to the city manager who can deactivate the DORA," Jones wrote.