Oxford could get medical marijuana dispensaries
Oxford could have as many as three medical marijuana dispensaries opening in town this year, according to a report to council from City Manager Doug Elliott. 
"We currently have two dispensaries in our district," Elliott said. "But the state is interested in allowing additional dispensaries."
The Ohio Board of Pharmacy received 20 applications for dispensary locations within the city of Oxford. Most of the applications were submitted for a new building under construction on Southpointe Parkway, near the intersection of US 27. Four are for a location on College Corner Pike, one on Spring Street, and one on Fairfield Road. The list of applicants has not been made available by the state, according to the report.
When Ohio legalized medical marijuana in 2016, the state was divided into a series of districts of one or more counties. Each district would then be allowed a designated number of dispensaries. Butler County shares SW District 2 with Preble and Darke counties. Butler County is the only county in the district with dispensaries, one in Seven Mile and one in Monroe, taking up two of the five available medical marijuana licenses allocated for the district. It's currently unknown how many other applicants exist within the district, Elliott said.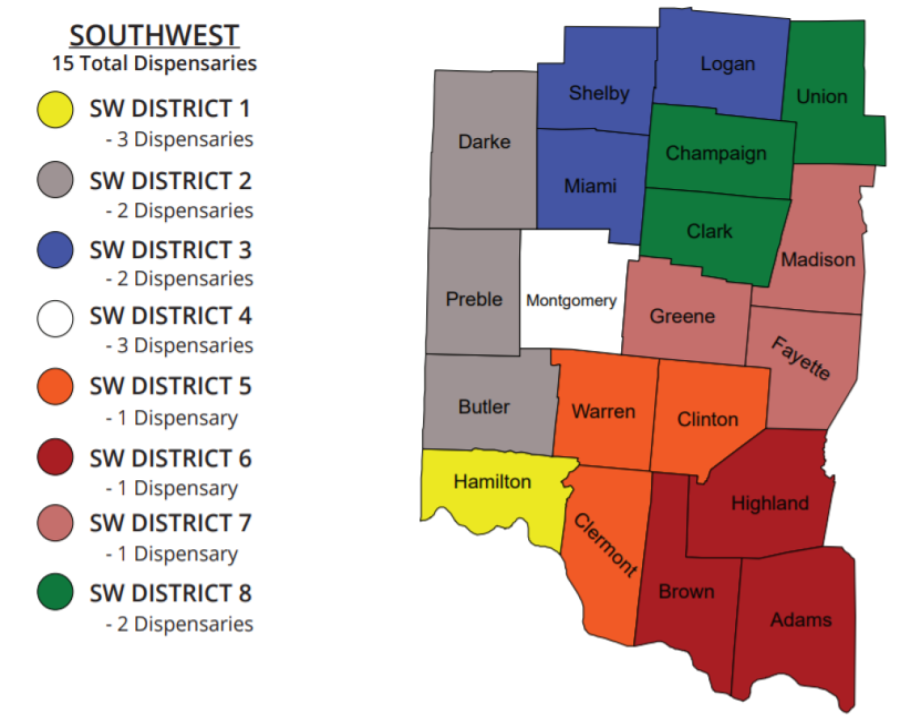 The state has announced it will award 73 additional licenses throughout Ohio this year. Applications will be placed in a lottery drawing by the Ohio Lottery Commission for the available licenses using a random number generator, according to the Ohio Medical Marijuana Control Program. The drawing will take place on Thursday, January 27. 
"We may have one dispensary, we might have two dispensaries, or we might not have any," Elliott said. "It all depends on how this lottery goes."
All applicants had to be approved by Oxford's Community Development Department to ensure they  met all zoning and other legal requirements before submitting applications to the Ohio Pharmacy Board, Elliott said.
Ohio legalized the use of medical marijuana in 2016 and has since benefitted over 100,000 medical marijuana users in the state, according to the Marijuana Policy Project. According to state law, dispensaries are prohibited from operating within 500 feet of a school, church, public library, public park or public playground.
Under the law, marijuana is allowed to be sold as an oil, capsule or edible for oral administration, oil or plant material for vaporized administration, or as lotions, creams, patches or ointments for transdermal administration. The law prohibits the use of smoking or combustion as a form of administration as well as any form that may be "attractive to children," according to the Ohio Medical Marijuana Control Program.
After the legalization of medical marijuana, many Ohio communities were unsure about the change in policy. Some cities, including Hamilton, decided to place a ban on the sale of the drug within the city. Other communities, such as Lebanon and Fairfield Township, put a moratorium on getting new dispensaries after having gotten one in the initial group of licenses. However, other communities, including Oxford, saw potential benefits in allowing dispensaries to operate.
"When the law first passed, city council had some discussions and obviously there was some community support and some who didn't support it but we chose not to place a moratorium on the sale of medical marijuana at that time," Elliott said. "The state has regulations in place and we felt we could trust the regulations they set."
To use medical marijuana in the state, patients must first see a certified physician who will confirm the patient has a qualifying illness and assess if the drug is the correct avenue of treatment. The patient must then register with the state to receive a medical marijuana use card. Cardholders can then visit medical dispensaries within the state where they can purchase up to 90 days' worth of doses. All patients must be over the age of 18, according to Ohio Laws and Administrative Rules.