Oxford to add parking meters to W. High Street and College Avenue
Oxford will soon add new parking meters and kiosks to West High Street and College Avenue.
On April 18, City Council voted unanimously to allow the city manager to purchase six new multi-space kiosks and 22 single-space meters for a maximum of $56,669. The single-space credit card meters will replace some current coin-only meters.
The multi-space kiosks will expand into South Elm Street and West Walnut Street with an additional kiosk on South Campus Avenue. Currently, Elm Street and Walnut Street are free to park.  
The meters are a response to an increase in demand for parking near the Oxford Community Arts Center and in anticipation of the new Fisher Innovation College@Elm building built for Miami, according to police Chief John A. Jones. The South Campus kiosk is a response to Miami's new Clinical Health Sciences and Wellness Building being built at that location.
Jones said the new meters will be more convenient while also generating some revenue for the city.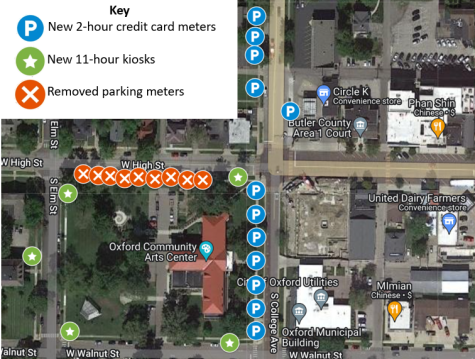 "It replaces some of the aging infrastructure," he said. "But it also expands the parking area that we're managing."
The 25-cent-per-hour meter price will remain the same, and there will still be a 4 a.m. to 5:30 a.m. overnight parking restriction. The single-space meters will be for two-hour parking, while the kiosks area will allow up to 11 hours of parking.
The main reason the city is expanding the paid parking area is to prevent car owners from using the area as parking storage, according to city manager Doug Elliot. Jones said that finding parking in the area would become difficult without the new equipment.
"What we're seeing now… is you're seeing cars that are just being parked and taking up all of these spaces on Elm Street," Jones said. "We're trying to get ahead of this and kind of change the parking culture."
City Councilor David Prytherch said the charge will be worth it because it will increase parking space availability.
"This will ensure that there's spaces available at relatively minimal cost," he said. "And at a minimal cost is hopefully better than not being able to get your kid's piano lesson."
Prytherch also said the kiosks will help the public because they are much more convenient than traditional coin meters because of their ability to take credit cards. Furthermore, the kiosks have the option to pay through an app.   
Councilor Glenn Ellerbe said he was concerned that Oxford residents would be ticketed for going over the two-hour limit on the meters on College Avenue. He said the Oxford Community Arts Center often has events that last longer than two hours.
Jones said parking enforcement will use discretion when handing out tickets.
"I think it's hard for us to enforce the two hours," he said. "So usually, it's a pretty egregious violation if we're writing a ticket for it."