Business not as usual: Women in Business goes virtual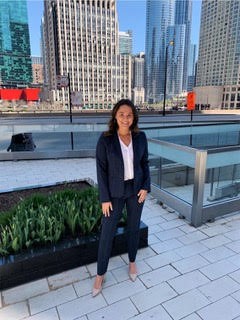 Isabella Tersigni could not believe the email she had just received from Miami University.
Simultaneous phone "dings" echoed audibly throughout Rhinegeist Brewery, as each of the 15 women received the same email message.
"We have decided to complete the remainder of the semester through remote instruction."
Tersigni, a junior finance major with a minor in human capital management and leadership, is the president of Miami's Women in Business organization. She was elected president the first semester of her junior year with her term spanning through 2020. On that March afternoon, Tersigni did not know she was participating in the last WIB event of the semester.
She and the other WIB members were attending a presentation featuring four female executives at Rhinegeist in Cincinnati. This was one of the many events that Tersigni and other members of the organization put so much time and effort into planning. While fellow WIB members were upset that the semester was ending so abruptly, Tersigni was more upset knowing the balance of the year's programs were going to have to be canceled.
"I was grieving not seeing all the work we had put in paying off," she said.
‍
Tersigni, 21, explained that she'd found a special place in WIB when she joined in September of her freshman year. As president, she hoped that each of her members left each meeting with something that they did not have before. Whether a new idea, skill, or a new understanding of something, it was important to her that members took something meaningful away from each Wednesday night meeting.
At one favorite event, Megan Gerhardt, a professor of management and leadership at the Farmer School of Business, led WIB members through an activity on values. Gerhardt helped them choose which values were most important to them and then explained how these could be acted on in their lives.
So, when the pandemic threw a wrench into WIB plans, Tersigni was not ready to throw in the towel. Instead, she moved to virtual meetings to keep the organization running. Although her blazer and heels would be tucked safely away in her closet for the next few months, that did not mean that her organization had to go away with it.
"I asked girls (on my executive board) what they thought we should be doing, and no one really knew," Tersigni said from her home in Akron. "That's where I had to step in and come up with things we could be doing."
Every week since the COVID-19 shutdown, Tersigni has come up with an activity or a Zoom meeting for the 200 Women in Business members to continue to learn from the comfort of their own homes.
"The first week we did small business awareness, so we created a spreadsheet with a bunch of cities that people lived in. Everyone wrote down small businesses that they could still go to at that time," Tersigni said.
In the second week, she sent out information and videos about Dress for Success, WIB's philanthropy, so members could better understand the group when they resume fundraising in the fall.
The next week, Tersigni organized a virtual meeting featuring Monique Frost, director of Career Development for Farmer. Frost told students how to react to canceled internships and how to continue to grow their skills during the stay-at-home orders.
"It was really fun, and I got a ton of positive feedback that this [meeting] was what everybody needed," Tersigni said. "So many people had questions for [Frost]."
Tersigni knew that she was missing the atmosphere and routine of their Wednesday WIB meetings and assumed most of the other girls were too. That led to a final Zoom meeting, featuring two guests.
"I care a lot about how this organization impacts people, and wanted to make sure that even from home, the women had something positive they could gain from it," she said.