Commencement speaker stresses reverence to graduates
Commencement speaker Nicole Fleetwood told the 4,555 new graduates and 3,869 new bachelor's degree-holders of Miami University class of 2023 "to live in a state of reverence." 
Miami's 184th Spring Commencement took place Saturday, May 13. Fleetwood, a Miami 1994 alumna, MacArthur fellow and professor of media, culture and communication at New York University, told the graduates to practice "reverence" by caring about others.
Fleetwood, author of "Marking Time: Art in the Age of Mass Incarceration," stressed the importance of the experiences students gained while at Miami and how they can give students a bigger worldview.
She implored students to take their experiences at a liberal arts college, learning from people with different backgrounds as they progress through their futures.
The gloomy sky opened up to heat and humidity as she implored the new graduates to "take nothing for granted, take no one for granted." 
"You have made immense sacrifices to get here," she said. 
Fleetwood highlighted a few graduates with nontraditional paths to degrees, including Cody Glaser, a small-business management major, first-generation college student, veteran and father of three. 
She also highlighted her cousin, Rhonda Fleetwood, a 48-year-old single mother of four and grandmother who graduated from Miami's Hamilton campus while working full-time.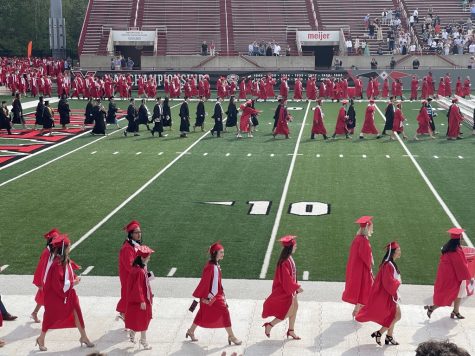 Gregory Crawford, president of the university, described the world landscape, where graduates will enter a job market dominated by new, intelligent technologies. He predicted the difficulties graduates will find in distinguishing fact from fiction in the media.
"A leader must accurately assess every claim about reality," Crawford said. 
The ceremony lasted nearly two hours and featured students and faculty speakers as well as multiple musical numbers. 
"I teared up a little while they were doing the alma mater," said Michael Vestey, urban and regional planning and sustainability double major.
What at first was a gray, humid day with indications of rain changed quickly into a hot, sunny morning that hit the graduates particularly hard on the turf of Yager Stadium.
Kevin Gaston, a 2024 computer science graduate, had but one thing to say about the event as a whole: "It was hot," he said. "It was hard to stay focused."
The northern streets of Oxford were jam-packed with students, parents and family members alongside multiple traffic-directing police officers. 
As former students and families funneled out of Yager Stadium, they passed along the many groups tailgating the event. 
Paige Russell, a double major in social work and sociology, left the ceremony in awe.
"[Graduating felt] amazing," Russell said. "I'm so excited."