Oxford Community Arts Centers hosts its annual gala virtually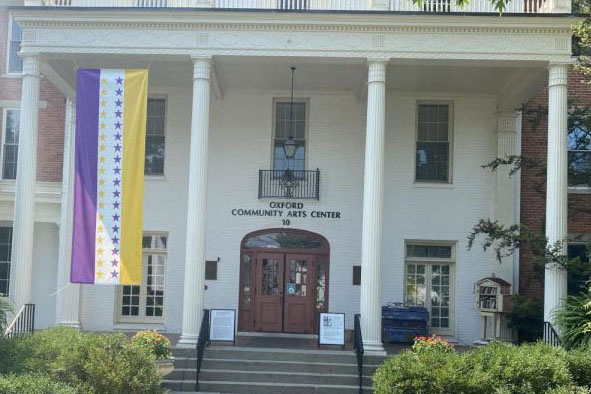 Oxford Community Arts Center hosts its annual Gala, virtually this year, at 6:30 p.m. Saturday, April 24. The fundraising event is hosted online this year due to the COVID-19 pandemic. 
Tickets are $45 and can be purchased online. With this ticket, you have exclusive access to a two-hour program that will be live-streamed on Saturday. The program will include music entertainment, a virtual wine tasting, interviews with the artists who are a part of the Community Center's ongoing art exhibit 'Art and Nature…Together Again,' some video highlights of items being auctioned off during the program and an interview with Heidi Schiller, the new executive director of the arts center. 

Schiller became executive director of the arts center in early January. She said she is very happy with her position and is excited to work with the OCAC board and the staff.
"This group of volunteer board is the hardest working board I've ever had the privilege to work with and I've been in the nonprofit art administration business for over 20 years. The staff has also been so welcoming.  I've been here four months and it feels like it's been years," Schiller said. 
The virtual Gala includes an online auction of more than 150 items. The items range from prints and paintings to gifts and gift certificates. Bidding is now open and will be open until 10 p.m. Saturday. Items being auctioned are on display at the arts center and can be viewed online, or in person, from noon to 2 p.m., April 23 and from 10 a.m. to 1 p.m., April 24.
"I think the more you look at them you're going to be like, "I have got to bid on this one…I have got to bid on that one and that one," said Schiller. 
The musical performances will include the guitar and oboe duo, Thomas Garcia and Andrea Ridilla and pianist Bruce Murray, who is featured every Wednesday at noon in the Miami University's Performing Arts YouTube Series, "Musical Snacks."
The virtual wine tasting will be led by Jack Keegan, Oxford's very own wine connoisseur, and Bob Toerner from Ohio Valley Wine. This segment will be about 20 minutes long and will present the tasting of three different wines with the Gala attendees. In order to fully participate in the virtual experience, it is recommended you locally purchase the wines. Purchases can be made at either Oxford Spirits or Cru Gastro Lounge.
"This is the perfect way to introduce yourself to wines as you can do it from the comfort of your home. You can even drink your wine out of a mason jar if you wanted and no one's going to say anything," Schiller said, jokingly.  
All the funds earned from this Gala go to support and fund future programs, art exhibits, live performances, classes, workshops and events hosted by the Oxford Community Arts Center.
If you have any questions, comments or concerns about the auction view the event's FAQs page. If you have questions about the Gala you may email the Oxford Community Art Center at [email protected] or call at 513-524-8506.