BikeWise Oxford's spirits ride high through pandemic
When Doug Hamilton made the move back to Ohio after spending a decade as a professional musician, he expected his career path would take a turn.
He just didn't expect that turn to be down a bicycle path. 
Now, 18 years later, Hamilton owns and manages BikeWise Oxford, located at 9 N. Beech St., a specialty shop serving Oxford's cycling community with everything from bike maintenance and repairs, sales and even custom wheel sets.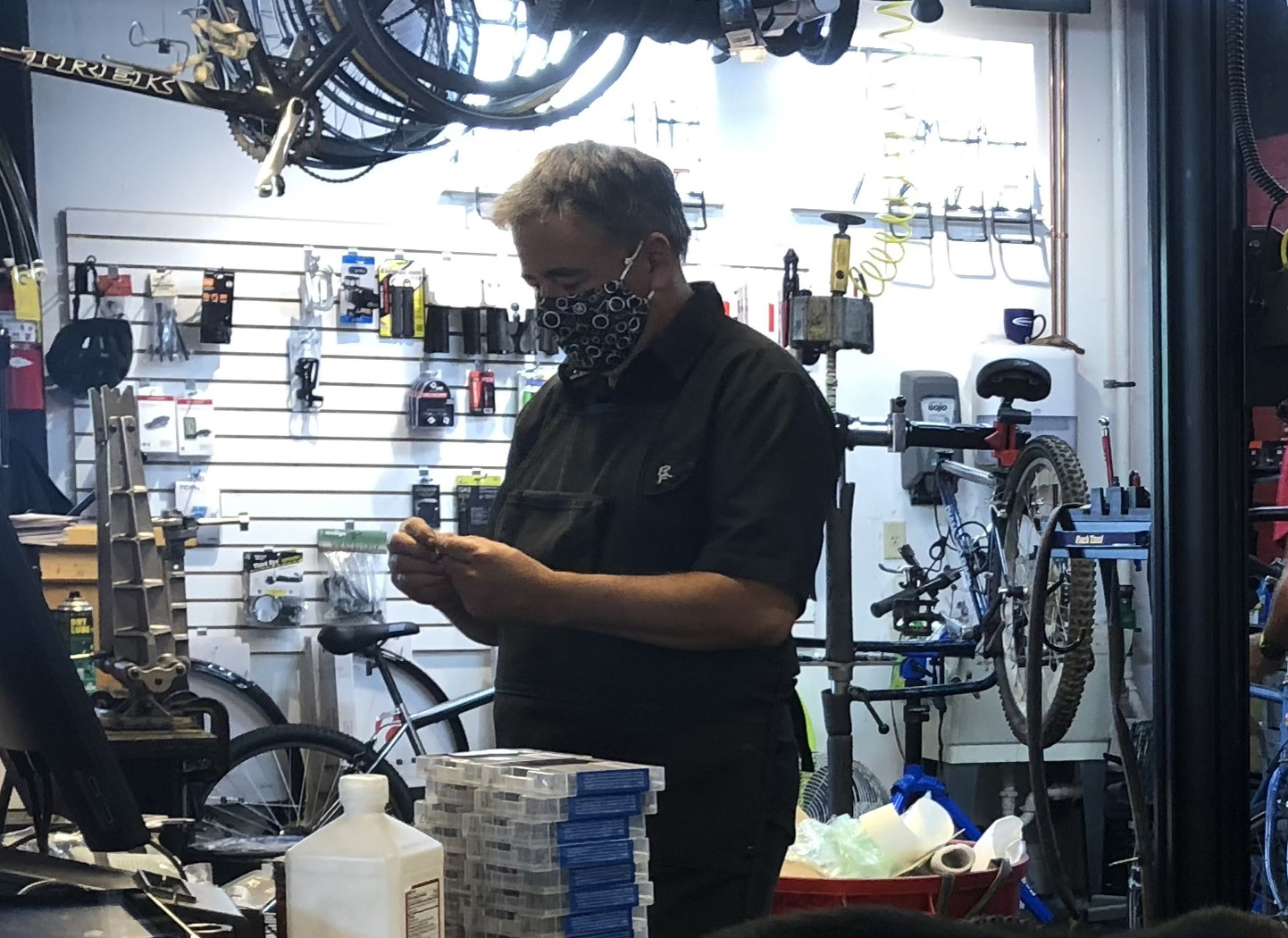 Hamilton got his start in bikes in the late '80s as an employee at The Bike Center, originally owned by Marty Creech. When Hamilton returned to the area in the early 2000s, Creech was ready for a career change of his own, and sold the assets and inventory from the original store to Hamilton and moved on to become a real estate agent. 
Assisted by the developments for cycling in the Oxford area, including the recent completion of the second phase of the Oxford Area Trail System, BikeWise has become a regional influence in the biking community. 
The shop frequently has customers who travel for several hours to get their bicycles serviced at BikeWise. Hamilton and his staff have sent wheels they've built to places as far as Hawaii and Qatar. 
BikeWise also sells to a wide variety of customers — from children and beginners looking to find their first set of wheels, to expert riders in the market for specialty bikes and equipment. 
"The types of bikes we sell are as varied as the culture," Hamilton said. 
The staff at BikeWise is certified to work on specialty electric bicycles. In providing pedal assistance through battery power, these recent developments better serve those who may not be able to use conventional bikes, especially for extended periods of time. 
The shop also offers some programs exclusively for Miami University students, including free bike storage for those that don't want the hassle of moving their bike home for the summer. 
In past years, BikeWise has also run a rental program for students. However, due to COVID-19, student rentals will not be available this fall. 
While the pandemic has crushed the store's rental business, it has actually increased BikeWise's business overall. Bike stores across the country have been inundated with customers looking for new ways to get around, stay fit and get outside, leading to a national shortage of bicycles and parts, Hamilton said. 
Hamilton's "right-hand man," Chris Goff, said that in New York City, where he's originally from, bike sales are up over 800 percent because no one wants to ride the subway.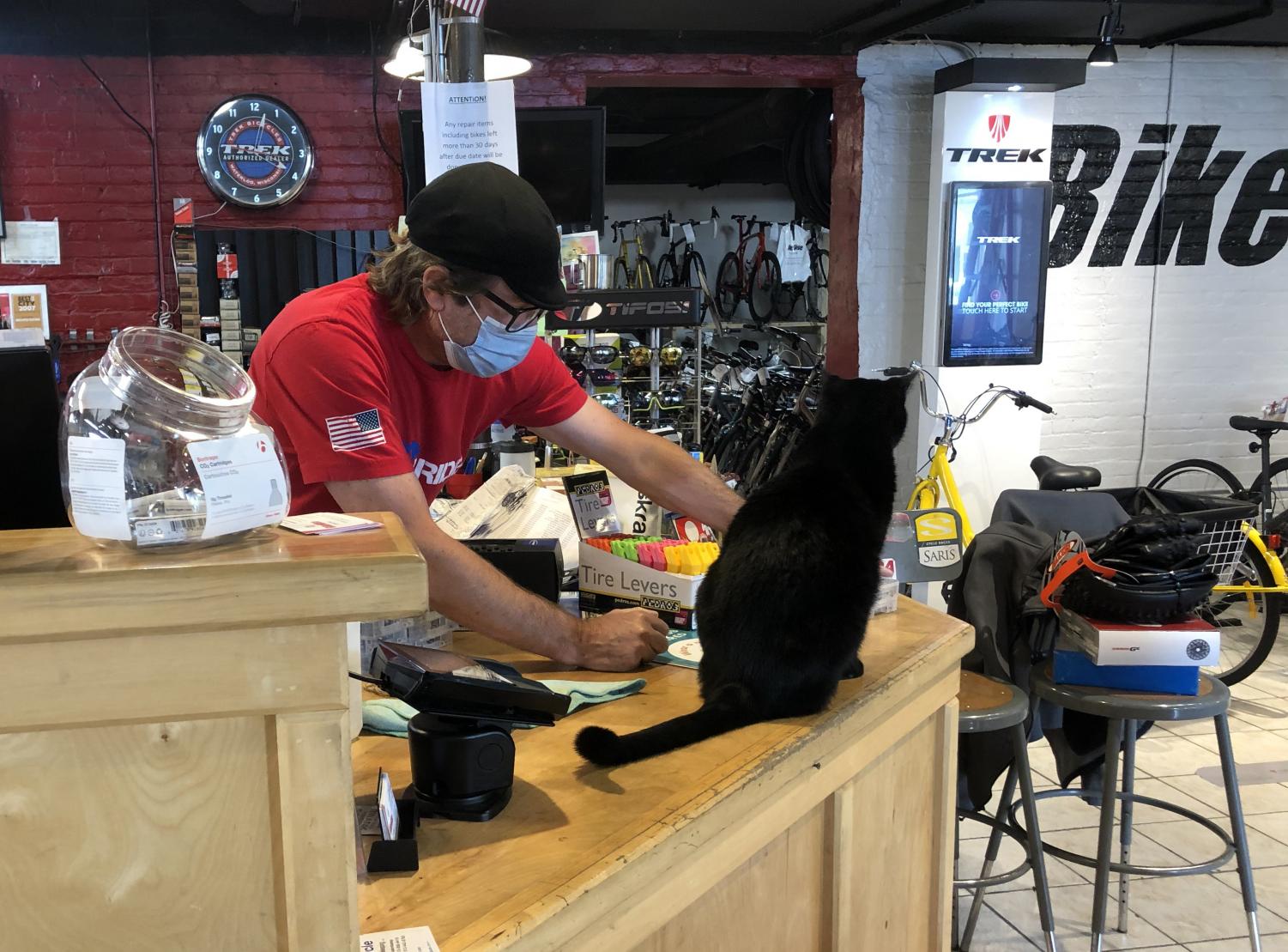 "The entire industry is at capacity, small stores are at capacity — we haven't been caught up since March," Hamilton said.  
Hamilton described the pandemic as both a boom and a challenge for the shop, which never closed, as it was deemed an essential business by Ohio Gov. Mike DeWine. 
In addition to its regular sales and service, BikeWise is now offering contactless pickup and delivery to better serve a growing number of customers. 
"We've seen a lot of new cyclists and folks who used to ride who want to get outside," Hamilton said. "I think it's a beautiful thing." 
While the pandemic has certainly increased the demand for bikes, the culture at BikeWise has stayed the same. 
BK, the shop cat, still greets customers, and even from behind their masks, BikeWise staff members provide advice and expertise to local riders. 
"Every bike shop is supposed to sell and fix bikes. The way you're going to be treated when you walk through the door is what makes us different," Hamilton said.