Masks with a smile: Oxford resident gets creative with face masks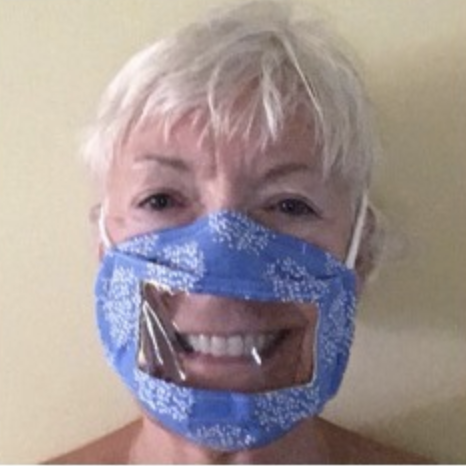 Wearing a face mask may not be fun, but thanks to Oxford resident Margi Moul, you can still smile while doing it.
After the city of Oxford began enforcing a mask ordinance July 14, Moul began making "smile masks" with clear plastic windows over the mouth. The smile masks became even more relevant July 23, when Ohio Gov. Mike DeWine issued a statewide order for masks in all public places.  
Moul decided to start making these masks because she was struggling to understand what others were saying through their masks. She thought the transparent window might help her and other hearing-impaired people deal with the pandemic. 
Moul said she's made many iterations of the masks including one where the vinyl panel can be removed for easy washing. She suggests wearers put a small amount of dish soap (or spit) on the inside of the vinyl window to prevent it from fogging up.
Since Moul first posted her design online, she has received an overwhelming number of requests. She always refers people to the website Sewing Seeds of Love, which has a pattern for making the masks. "The masks only take about 30 minutes to make" said Moul, "but I can't make them all and I need help." Moul said she usually makes up to three masks a day.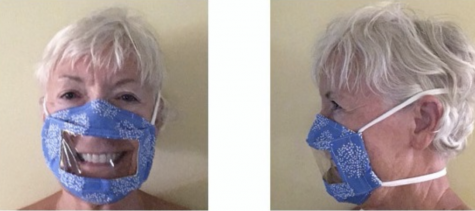 Although she initially made the masks for friends and family, she realized the potential these masks had in helping schools. She has been making her masks for Oxford teachers hoping they will help language teachers or teachers educating young students. She sees it as her contribution in a time of need. 
Moul also discussed the design with some doctors, who said it might offer more protection compared to normal masks because it could be harder for bacteria to get through the vinyl. 
Although Moul hasn't been to a store since the beginning of the pandemic, she recently went to the Red Brick Friday event in Uptown Oxford, which enabled her to see many of her friends at a safe distance. 
The state and local mask mandates require masks be worn in any public space, including stores and outdoor areas. People violating the mask ordinance are subject to warnings and possible fines, according to the city. Violators who refuse to wear masks in stores or places of business risk being charged with criminal trespassing. 
According to the city of Oxford, a few exceptions to the mask mandate are:
Children under the age of 6

Those with a medical condition or a disability or those communicating with someone with a disability.

Those who are actively exercising or playing sports.

Those who are officiants at religious services.

Those who are actively involved in public safety.

Those who are actively eating or drinking.
More information on Oxford's mask rules can be found on the city's website.