Local school district honors Mike Davis with 'respect ride'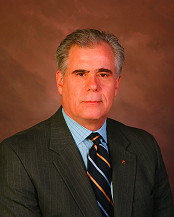 Talawanda School District held a "respect ride" Thursday, April 16, to honor Mike Davis, the district treasurer, remembered as a devoted family man with a larger than life personality. Davis, 65, died on April 11 in a Cincinnati hospital from complications brought on by COVID-19.
Davis was the third COVID-19 fatality in Butler County, according to the county health department, which said he had an underlying medical condition.
This week the people mourning his passing were much more interested in talking about his life than his death.
"I kiddingly always called him the mayor of the city, as he knew everybody, he waved to everybody and was involved in a lot," said his wife, Crystal Davis.
Davis was born on March 9, 1955, in Midwest City, Oklahoma. His father was in the Air Force, which meant the family moved often. Davis eventually moved to Oxford and attended Talawanda High School, where he met his future wife when they were both 16. He was a football player and she was a cheerleader.
He received a four-year scholarship to play football at the University of Kentucky. However, after having a successful freshman year on the team, he decided to transfer to Miami, where his father was then associate dean of the business school, and where Crystal was. The two were married 48 years ago, as a Miami merger, Crystal Davis said.
Davis had a degree in finance and earned his CPA license. The couple moved to New Jersey for the next 15 years and had three children: Bryan, Corey and Dylan.
Davis was a family man with an infectious laugh that could make people feel good about themselves, his wife said. He never knew an enemy and helped wherever he could, she said. He would always help out a homeless person by buying them a cup of coffee or food. "If you said, 'I like that coat,' he would say, hey you want it,' said Crystal Davis.
Davis was in New York during 9/11.
With his parents falling ill, the Davis family moved back to Oxford in 2006, and he took a job as director of finance for Edgewood City Schools. When a vacancy opened at Talawanda, Davis transitioned over to become the district's treasurer.
At Talawanda, Davis played a role in building the new Talawanda High School. As any good financial director, he stressed the importance of being on time and on budget, said Holli Morrish, Talawanda's director of communications and a longtime friend.
Davis loved working out and playing sports such as tennis. He worked out all the time and many times rode his bicycle to work. "Since he was 16, he worked out in gyms," said Crystal Davis.
He had a great sense of humor that made finance updates fun, said Morrish. "When he was giving us information that he needed, it would be factoids."
Davis loved antiques and frequently visited Bird House Antiques on High Street in Oxford. He worked many hours and would change around his office with the art and artifacts he had. "If you were sitting in his office and you said that is neat, he would try to give it to you," Morrish said.
"He was a guy you wanted to talk to at a party," said Morrish. "He loved to invite people over to his house to be on his patio and he and his wife were wonderful hosts."
"His expertise put the Talawanda School District in a positive financial position. He took pride in his work and was extremely detailed in his job," said Ed Theroux, superintendent of schools at Talawanda. Theroux described Davis as " a vital community leader and participant within the Oxford community."
Davis' work did not stop at Talawanda, but continued with his work as part of the Butler Health Plan, Board of Optimal Health Initiatives and chairman for the Ohio School Plan. These organizations work to lower costs for insurance for quality coverage for schools and employees in Butler County and throughout Ohio.
Davis served on the Butler Health Plan board since 2011. "He balanced his commitment to the good health and well-being of all BHP members with a pledge of strong financial management to the school districts we serve. He was instrumental in the establishment of the Butler Advantage Health and Wellness Centers. Along the way he brought much laughter to the group," said Beth Weber, chair of the Butler Health Plan Board of Trustees.
The Board of Optimal Health Initiatives was co-founded by Butler Health Plan to maximize employee benefits by partnering with other employers. Davis was the board vice president, working to help more than 40,000 members in Ohio and Indiana. "His diligence has contributed to zero-to-low-single-digit health plan increases, a true testimony to his financial knowledge and leadership," said Elaine Shafley, chief executive director of the organization.
Davis served as the chairman of the board for the Ohio School Plan, which provides affordable and quality insurance and risk management solutions to Ohio schools. "He has been a great leader and voice of reason in tough times. He had a great sense of humor. It was an honor to serve with him," said Nathan Lynch, vice-chairperson of the board.
Davis was known for how well he dressed with suspenders paired with each of his suits. "He always had a smile on his face and you always knew when he was in the room mainly because of how dapper he was, but most of all his suspenders, " said Christopher Fox, secretary of the board for the Ohio School Plan.
"I have never known him to say a bad word to anyone, he inspired me to do the same," said Davis' son, Bryan.
"I am still in shock and I still think he is going to walk through the door any minute," said Crystal Davis.
Because of restrictions on face-to-face gatherings prompted by the COVID-19 outbreak, a police escort led a procession of cars from Talawanda Middle School past the Davis home in a show of respect Thursday afternoon. A video camera recorded the sentiments of each family that passed by the home.
A member of the St. Mary's Catholic Church, in Oxford, Davis has been remembered in online tributes from members of the community.
"We would rather get together and pray together," said Rev. Jeffrey Silver of St. Mary's. "To remember him that way."
"I have never seen this kind of outpour from a community," Crystal Davis said. "It goes to show how much everyone loved him."
"When we get back together [gathering in person] I will know there will be an empty spot," said Rev. Silver. A public service will be held at a later date.
The Talawanda Board of Education will appoint an interim treasurer next Monday at the scheduled meeting, Morrish said. "We will be spending a long time thinking about him and his wife and boys and wishing them peace. It's going to be hard."