Emerald Ash Borers Have Taken Heavy Toll in Oxford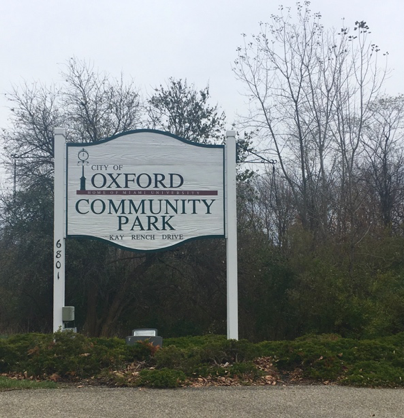 Oxford is at war with the brilliantly colored little beetles that have destroyed three quarters of the city's ash trees in the past decade.
Originating in Northeast Asia, emerald ash borers are an invasive insect species that entered the United States almost 20 years ago in shipping pallets through Great Lakes ports. It took them about 10 years to move from Michigan to Ohio, where they are now found in every county.
The emerald ash borer was first found in West Chester near Interstate 75. Since then it has spread to all parts of Butler County.
"Trees become infested when the ash borers lay their eggs inside," said David Gorchov, a professor of biology at Miami University who studies invasive species. "The insects then feed off of the tree's nutrients, leaving it unable to sustain itself. They stay for generations, surviving on the ash tree through even harsh winters. After initial infestation, all ash trees are expected to die in an area within 10 years without any control measures."
The ash borers have had no problems finding suitable trees to feed on in the past decade, said conservationist and local ash treatment provider Mark Gilmore.
"There are over 8 million ash trees in North America," he said. "We are going to lose them all within a decade and it's going to be a catastrophe for the environment."
Gilmore, who became involved in emerald ash borer prevention and conservation after he moved into a house with many ash trees on the property, now runs his own business providing pesticide services to the city of Oxford.
Oxford itself currently has 98 ash trees left, of the 384 cared for by the city in 2008. David Treleaven, environmental specialist for the city, said a pesticide sprayed near the base of the tree was used against the beetles until 2014. However, this was time consuming, as all flowers and mulch needed to be cleared from the base of the tree in order for the pesticide to be applied.
‍
Since then, Oxford has begun using a new method, where trees receive an injection called in their trunk of the pesticide "TREE-äge" every two years. The process saves time but does not completely prevent trees from dying.
"We can't treat all the trees," said Treleaven. "The treatment is expensive, and we have to strategically pick which ones to use the pesticides on because sometimes they're just too infested for us to save."
The treatments can add up to high costs for cities. Gilmore, who treats trees both for the city of Oxford and for Miami University using TREE-äge charges around $150 on average for a tree.
Trees that cannot be treated must be removed to get rid of the beetles.
Since 2014, Oxford City Council has approved $20,000 each year for the emerald ash borer problem. However, 2017 saw the most removals since the treatments began, with 90 infested and dying trees removed by the city.
Oxford is not giving up on its trees, however, Treleaven said. Since many of the most infected and costly ash trees have been removed, the city can focus its budget on replanting the damaged areas with new seedlings, he said.
Throughout this past fall, Oxford planted 98 new trees in public spaces. More plantings are planned for the spring.
‍
‍
‍
‍