Post-election results report strong Republican support in Butler County
Butler County remains a Republican stronghold following this year's general election.
After all ballots were cast and collected  Tuesday, Nov. 3, the Butler County Board of Elections released its unofficial results showing President Donald Trump winning the county with 111,601 votes, just over 61% of the vote cast, compared to 67,697 votes cast for Democrat Joe Biden. 
The numbers showed 71.3% of registered voters in the county cast ballots, which was comparable to previous election years, according to the Butler County Board of Elections.
Eric Corbin, deputy director of the Butler County Board of Elections, said this year's count ran really well and he is confident in the accuracy and reliability of the results.
"We knew we were doing the same process that we always do, and this election night felt just like it always does in the past," Corbin said. "I don't wish anything bad against any state or jurisdiction, but I sure am happy that we were able to scan our absentee ballots before election day so that we are not the ones in the spotlight right now."
The laws of some other states, such as Pennsylvania, do not allow the tabulation of any early votes before Election Day, which is why votes were still being counted in Pennsylvania on Thursday.
Although Corbin was worried that the board was not going to receive the personal protective equipment necessary to effectively protect poll workers from the coronavirus, he said Butler County was able to obtain more than enough gear by Election Day.
Victoria Wolpert, one of the poll workers at Millett Hall in Oxford, said that she mostly dealt with Miami students. She said that no problems arose on Election Day besides redirecting people to different polling locations and having people complete provisional ballots.
"Every student was polite, respectful, courteous and expressed their thanks as they were leaving," Wolpert wrote on the Oxford Talk Facebook page. "Dealing with the number of people that we encountered, it's rare that someone didn't get their nose out of joint."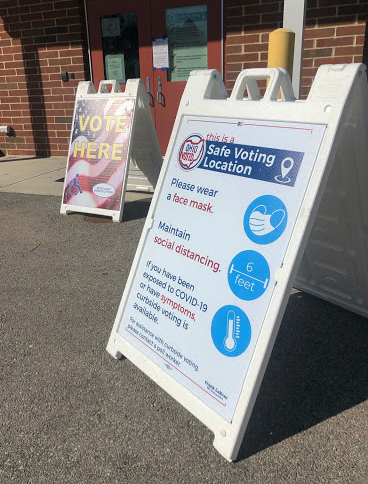 Congressman Warren Davidson (R) will retain his seat as representative of Ohio's 8th Congressional District. Davidson accumulated 241,503 votes, 69.1% of those cast, to beat Democratic challenger, Vanessa Enoch, for the second time.
Enoch received 108,244 votes, or 30.9%, which was slightly lower than her performance in the 2018 election. 
"I'm trying to figure out how a man with very little name recognition and who did not campaign, could win more votes than Donald Trump in an area that is referred to as 'Trump Country,'" Enoch said. "That's pretty much the only statement I really have about the campaign."
"(Enoch's) premise is that I didn't campaign and that I don't have name recognition," Davidson said. "Clearly her premise is faulty, so she should check her assumptions."
To mitigate partisan divide, Davidson said people should follow the Constitution and advocate for principles in a way that is kind. 
Davidson also said that campaigning on the idea that America is the land of oppression, referring to the Enoch campaign, undermines the existing principles that already make America the land of opportunity.
"Everyone from around the world wants to be a part of America," Davidson said. "I mean we bring a million people into the country legally every year. America is a strong, diverse country, and I think what Republicans showed is that our party is actually gaining in communities that we're accused of not even caring about what the election's results showed."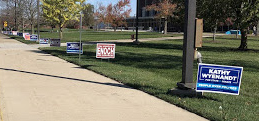 State Representative George Lang (R) moved up to a seat in the Ohio Senate after beating both Kathy Wyenandt (D) and Kent Keller (Independent, Write-In) in the State Senate District 4 race.
Lang received 60.5% of the vote, Wyenandt received 38.9% and Keller received less than one percent of the vote.
"Thank you to the voters of Butler County for overwhelmingly electing me to serve as your State Senator. I am humbled by your support and grateful for the opportunity to represent you in Columbus," Lang wrote in a recent tweet.
Will Hazelton, a retired professor of political science, who has lived in Butler County for more than 40 years, said he was not surprised by the state and local election results. However, he thought that if any Democratic candidates had a chance of winning, it would have been Wyenandt.
"(Wyenandt) ran a very organized campaign," Hazelton said. "If there would have been a split between Lang and Kent, then Wyenandt might have had a chance."
According to campaign finance reports, Wyenandt outraised and outspent her Republican opponents in the election.
"I'm really honored to have had the support of so many people, Democrats, Republicans and Independents, alike," Wyenandt said. 
Wyenandt said she is optimistic about the future, but is also concerned about the partisan divide that's inhibiting people to see past party lines. 
"People have begun to look at politics as just choosing sides and being angry at one another and defining each other based on some stereotype," Wyenandt said. "I hope more of us can come together. We have a lot of healing to do as a nation, and I think that starts locally."
Thomas Hall (R) defeated Michelle Novak (D) in the Ohio House District 53 race with 68% of the vote.
"I was optimistic and really wanted to do better than previous candidates here," Novak said.
Novak said that she would have liked to campaign more by going door-to-door to meet community members, but that the pandemic slightly hindered those efforts. 
"We have built a lot of community support around a message that resonates with a lot of people that live here, and we'll definitely continue our activism and make sure we're holding people who are in office accountable," Novak said.
Both Wyenandt and Novak said they would be willing to work with their opponents across the aisle moving forward. 
"If ever there's a way we can collaborate to do something to help the folks of this district, I'm always willing to be on board," Wyenandt said. 
A total of 5,614,837 votes were counted in the state of Ohio. President Trump beat Joe Biden in Ohio by over 8% points and, as a result, took Ohio's 18 electoral votes.