Miami COVID-19 cases drop as more students move to campus
Miami University reports that twice as many students are recovering from COVID-19 than are being infected.
From Sept. 10 through Sept. 16, Miami reported 237 new cases of COVID-19. Over the same period, the university reported 556 students recovering.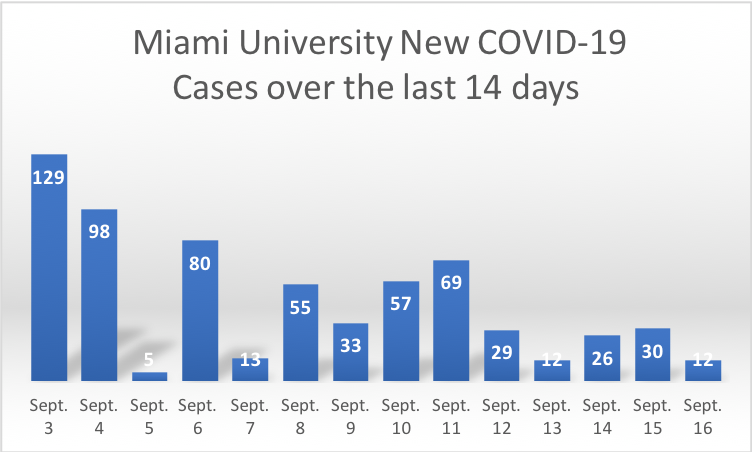 Despite the promising trend in cases, Miami has been the subject of criticism after students made local and national news last week for flaunting COVID-19 guidelines at a house party. The six students, who tested positive for COVID-19 and hosted a party anyway, were cited with fines of $500 each for violating Oxford's mass gathering ordinance. They give violators 10 days to make the payment. 
Cited were Logan Harrelson, 21; Zach Williams, 21; Samuel Almond, 21; Matthew Allen, 22; Alexander Occhino, 20; and Matthew Conarroe, 21. OPD has not issued any mass gathering violations since the incident.
According to police records, Williams paid the fine and the other five have registered to appeal their citations in court.
Carole Johnson, interim director of university news and communications, said the students who violated the mass gathering ordinance could face punishment from the university.
"While we cannot comment on an individual case due to federal privacy laws, any Miami University student who violates a quarantine or isolation order or hosts a large gathering that violates the City of Oxford mass gathering ordinance will face disciplinary action under our Code of Student Conduct," Johnson said in a statement on behalf of Miami. "We take these matters most seriously, and students can face suspension or dismissal for these types of violations."
Miami's initial outbreak of COVID-19 came after off-campus students moved back to Oxford. About 4,000 more students who are living on campus moved in this week and each was required to be tested for COVID-19. Of the 1,850 tests Miami has reported, 17 students living in residence halls have tested positive for the virus. On-campus students who test positive are moved into on-campus isolation housing in accordance with Miami's Healthy Together plan.
Johnson said Miami has changed its ventilation settings to help ensure a flow of fresh air into dorms to reduce virus molecules lingering in communal settings. 
While modern ventilation systems usually recirculate much of their air to reduce energy consumption, Johnson said the university has focused its efforts on maximizing fresh air flow into dorm buildings. 
"In current conditions, we are forgoing the energy savings and maximizing the outdoor air (or fresh air) and minimizing the return air," Johnson said. "We are able to do so with our digital building automation system. While each building has design limitations, we are definitely enhancing the amount of outdoor air in the spaces."
Additionally, Johnson said Miami upgraded its air filters from MERV8 to MERV13, per CDC recommendations.
In-person instruction for Miami's undergraduates begins Monday, Sept. 21.