Woman Charged With Domestic Violence Is Later Assaulted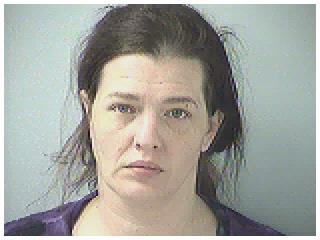 Oxford resident Latisha Garrett both was charged with domestic violence and suffered an assault at the hands of her boyfriend, Donald "D.J." Hamilton, in late April. Both of her sons, 11 and 16, suffered injuries as a result of the violence.
Garrett is charged with domestic violence for the alleged harm to her 11-year-old son. According to an Oxford police report, on April 24, Garrett's son asked her if he could stay overnight at a neighbor's apartment. She said yes, and then "attempted" to both give the son a hug and bite him at the same time, witness Dawn Benge told police. When the son "playfully" told his mother he didn't want her to bite him, she tackled him, the reporting officer wrote.
Thomas Ort Jr., a second witness and the neighbor with whom the son had asked to stay, told police that Garrett told the boy, "I don't want you as a son."
Benge told police she had come to check on the boy and "assess his injuries." She said the 11-year-old had fallen over a "brick flower bed and a metal fire pit and hit his head on the concrete building." After a few moments, Garrett's son lost consciousness, and when he came to, Benge helped him into Ort's apartment, where she called the police.
Officers John Thrasher and Mark Leidermeier arrived on the scene a few minutes later at around 11:49 p.m. They spoke with Ort in the parking lot of the apartment complex, and then went to check on the injured boy. The officers observed "several scrape marks on his right forearm and a laceration at the top of his left foot," while the 11-year-old told them that "his head was pounding and he was extremely dizzy," according to the police report.
EMS arrived on the scene with Officer Derrick Carlson. After talking with Benge, the three officers headed to Garrett's apartment while the son was taken to McCullough-Hyde Memorial Hospital.
When Garrett answered the door, Leidermeier could detect "the odor of an alcoholic beverage" as she spoke to them, and he noticed her "swaying back and forth" and having "difficulty standing without bracing herself on the doorway." When the officers told Garrett that her son was en route to the hospital, she appeared "unfazed," according to the report.
Garrett was placed under arrest for domestic violence and spent the night in Butler County Jail. This is not the first time Garrett has been arrested for charges involving violence. In 2013, she was charged with assault, but the case was dismissed three months later.
About a month ago, on April 4, Garrett got into an argument with a woman named Casey Harris, whom she "head-butted… in the face" during an argument, resulting in a bloody nose for Harris, according to court documents. Garrett will go to court for these charges at 10 a.m. on May 16.
On June 15, 2018, Garrett was released from prison on parole after serving a sentence for telecommunications fraud and theft from a person in a protected class, both fourth-degree felonies.
While working as a caretaker for 105-year-old Louise Limper in July 2017, Garrett's boyfriend at the time, Eric Kleinholz, conspired with Garrett to pretend to be Limper's grandson and call Limper to ask for $4,800 cash to help with a broken-down car, according to court documents. Garrett drove Limper to the bank to withdraw the funds, and then she promised to transport the money to Dayton where Limper's "grandson" was stranded.
A warrant for Garrett was issued on November 15, 2017, and served on Dec. 13. Garrett was sentenced to 18 months in prison on March 6, 2018, but only served about 3 months. She was released in June, 2018 and was supposed to have her ankle bracelet removed just a few days after she was charged with the domestic violence against her 11-year-old son, according to court records.
"I've known this woman for a long time," Oxford Police Lt. Lara Fening said. "It's common for people to have bad spells of bad behavior or just find themselves in predicaments frequently, and … (it) is not uncommon to see a rash of someone that has a lot of involvement with the police. It's chaos. Sometimes their lives gets into this chaos whirlwind and they can't seem to get out of that tornado."
For Garrett, the chaos continued. After her initial court appearance on April 25 for the injuries to her son, she was released on her own recognizance and allowed to return home. Five days later, police encountered Garrett again as she lay unconscious in the back of the parking lot of Parkview Arms Apartments near a dumpster.
Her 16-year-old son, Trevor Burdine, was also injured and sat with her as several bystanders attempted to help. Sgt. Joshua Jenkins arrived on the scene and asked Burdine what happened as they waited for medical assistance to arrive. Burdine told Jenkins that Garrett had been arguing with her boyfriend, Hamilton, inside the apartment building, and Garrett went outside to "cool off." Hamilton followed her out to the parking lot, "still angry," Burdine said.
He told police Hamilton hit Garrett, knocking her unconscious as she fell to the ground. When Burdine went to defend his mother, Hamilton punched him in the face, according to the police report. According to Jenkins, Burdine's nose was "bleeding heavily . . . flattened and swollen" and appeared to be broken.
When other officers arrived on the scene, they pursued Hamilton while Burdine and Garrett were transported to McCullough-Hyde Memorial Hospital. Police arrested Hamilton at the corner of Vine Street and College Avenue and then transported him to the police station. Before being transported to Butler County Jail, Hamilton had a laceration on his hand treated at Fort Hamilton Hospital.
According to police and court records, Hamilton was arrested for assault and will face a continued arraignment at Butler County Area I Courts at 11:30 a.m. on May 16. Garrett, for her domestic violence charge, appeared in court again on May 9, where her case is set for a continued arraignment at 8 a.m. on June 6.