Upcoming art events in Oxford
Bands do battle in Uptown Park
The Miami University Guitar Club will host a Battle of the Bands competition in Uptown Park from 4 p.m. to 10 p.m. Friday, April 15. 
At least five bands will be performing both covers and original songs. Merchandise will be available to purchase for those performing. 
The winner will get the opportunity to put on a headline concert, with the guitar club paying for  the venue and promotional costs. The date of this concert is currently unknown. 
The winner will be chosen by a three-person panel. Audience votes for the competing bands will also be taken into consideration. 
Miami University Percussion Ensemble will perform April 18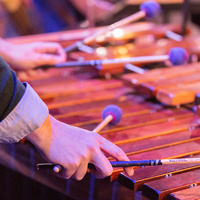 The Miami University Percussion Ensemble will perform 7:30 p.m. Monday, April 18, in Hall Auditorium 
The group's featured work is to be Andy Akiho's "To Walk or Run in West Harlem," set to be played among several other tracks that will also infuse contemporary and electronic elements alongside the traditional percussion performance. The concert can also be streamed through the Miami University Department of Music webpage.
The concert comes a week after many student percussionists joined musician Tracy Thornton for a performance by Pan Rocks, a steel drum group that covers popular rock music. 
Romance from 400 years ago set to rock music of the 1980s
A 16th century romance combines with the songs of the 80's rockers the Go-Go's in "Head Over Heels," performed by the Miami University Department of Theatre, April 20 through April 24.  
The show is based on "The Arcadia," a prose romance written in 1593 by Sir Philip Sidney. This version of the story was written by Jeff Whitty and adapted by James Magruder.
A royal family's journey to evade unpleasant fate prompts the family member to discover equity, inclusion and self-knowledge. 
Performances will be 7:30 p.m. on April 20 through 23 and 2 p.m. on April 22, in the Gates Abegglen Theatre of Miami's Center for the Performing Arts, 420 S. Patterson Ave.