Talawanda extends mask requirement through March 1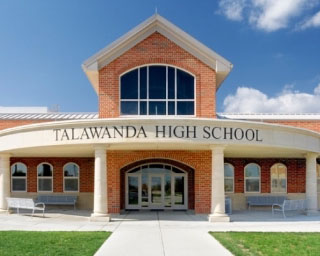 The Talawanda School District (TSD) will extend its mask mandate for all students through March 1, the district announced Friday, Jan. 28. The Center for Disease Control and Prevention (CDC) requires that masks be worn on all public transportation, including school buses. 
"The City of Oxford has renewed their mask mandate, so we will fall in line and do the same," TSD Director of Communications and Public Relations Holli Morrish said Wednesday. 
Oxford City Council reinstated its mandate Jan. 18, which will expire March 1 as well. Three of the five schools in TSD fall within the City of Oxford, so those schools are required to follow any mandate set by city council. 
Morrish said that surgical masks, N95 and KN95 masks are preferred, but not required. All students are required to wear their mask correctly over their mouth and nose. Each school has surgical masks available for students who cannot otherwise obtain them. 
According to its website, TSD will no longer post an online COVID dashboard with its positive case numbers, because public schools are no longer required to do so under Ohio law. However, the district will continue to report positive cases to the Butler County Health Department (BCHD). 
"Public Schools can only report cases that they are made aware of," the district said in a post. "TSD Clinics will continue to comply with BCHD health regulations and report cases the district is made aware of directly to their agency."
According to the Butler County Health Department, the transmission rate in the 45056 zip code, which covers Oxford, is "high."

In the district's blog post, Superintendent Edward Theroux noted that since students returned to school after the holidays, Talawanda has, at times, had to switch the middle school to virtual learning. For two days last week, the district had to shut down completely because of high absences among students and faculty. The district has also had to deal with a severe shortage of substitute teachers because of the pandemic. 
The blog noted that as of Monday, Jan. 31, the district will no longer be doing contact tracing, and parents will no longer receive letters if their child was exposed in the classroom. 
"COVID-19 is in our community, state, nation and world," Theroux said in the blog.  "If your child becomes ill during the day, we will call you." 
The district will continue to use COVID cleaning protocols and separate people as much as possible. We also continue to use the CARES room, use additional cleaning protocols, separate people as much as possible and pass on information and directions from the county health department," the blog post said.  
Theroux also noted in the post that Talawanda continues to follow the "test-to-play" standards established by the state for students in extracurricular and sport activities.