Miami University receives million-dollar grant for medication research
Miami professors received a $1.5 million grant from PsyBio Therapeutics Corp. to help in the research of therapeutic drugs for the treatment of mental health issues such as anxiety, depression, and substance abuse.  
PsyBio Therapeutics is a biotechnology corporation headquartered in Vancouver, Canada. According to its website, the company works to develop the next generation of targeted psychoactive medications. 
Although this grant will be a drop in the bucket in funding an eight-year clinical trial process, Matthew McMurray, assistant professor in Miami's Department of Psychology and member of the PsyBio Scientific Advisory Board, said it is still substantial.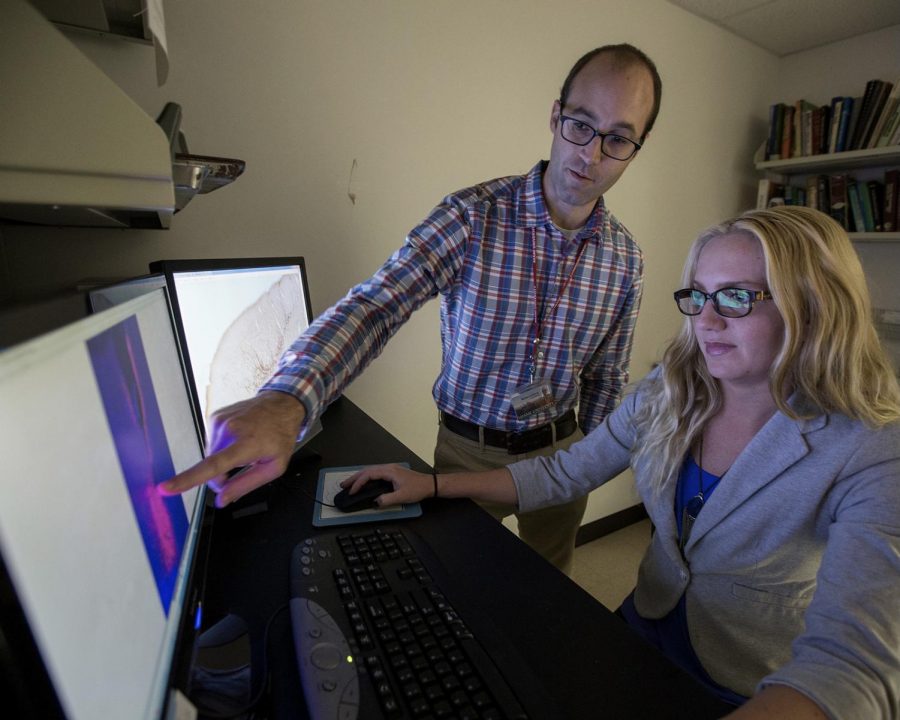 "It is a huge amount from any perspective," McMurray said. "This is a major investment in a potential new treatment  that will revolutionize mental healthcare."
The project is a collaboration between PsyBio Therapeutics, Assistant Professor J. Andrew Jones, of Miami's Department of Chemistry and Biomedical Engineering, and McMurray's lab in the Department of Neuroscience. Jones's lab is working to develop novel compounds which have a strong therapeutic promise which is then tested in preclinical trials in McMurray's lab. 
Using the various alkaloids produced in Jones' lab, the McMurray lab will conduct animal trials to examine the drugs' anti-addictive and antidepressant effects, said McMurray.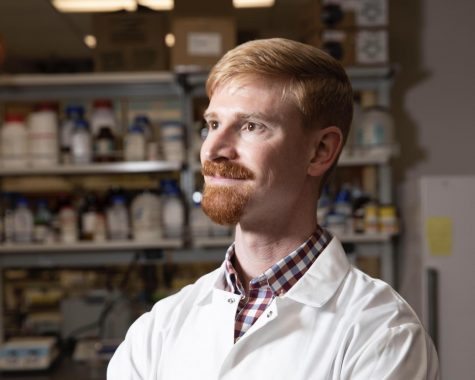 "We're in a great spot here at Miami where we can capitalize these interests," McMurray said. "We have the licensing to work with these substances and we have the expertise to do so. I think we're a really great place in the field to take advantage of all these new opportunities like the investment from PsyBio Therapeutics."
The research is still in an early stage, but compounds like psilocybin and other psychoactive compounds naturally occurring in plants and fungi receive a lot of clinical interest right now for their potential therapeutic effects. The two labs work hand-in-hand to test and discover compounds that may have similar therapeutic impacts for mental health challenges such as anxiety, depression, and substance abuse without the hallucinogenic side effects.
In a press release issued April 27, Miami President Gregory Crawford said this ground-breaking research illustrates Miami's entrepreneurial makeup and showcases the brilliance of faculty and students.
This grant is one of the largest research awards from a private company in Miami's history, as well as one of the largest overall. The lab has a broad range of project goals including, but not limited to the development of novel biosynthesis methods and technology transfer to commercial manufacturers for scale-up, according to Jones, who also serves as chairman of PsyBio's Scientific Advisory board. 
"We are very excited to be pushing the boundaries in the development of new drugs for the treatment of a range of mental health illnesses," Jones said. "This is primarily discovery work, so it will be some time before it is in human trials, but some of our early work on this project is currently in the tech transfer process with the hopes of in-human trials in the next couple years."