Social workers support Talawanda students' success
Talawanda elementary school social workers presented insight on how they have been assisting families during the pandemic at Monday night's school board meeting.
During the beginning of the 2020 school year, the Talawanda district was operating remotely. To make sure families were prepared, the district's social workers, one from each of the three elementary schools, visited students' homes.
During socially-distant porch visits, the staff informed families of when school was starting, let them know it was remote, helped families register their students, made sure internet access was available and identified students in need of special education services.
If a home did not have internet access, the social workers would help them find hot spots. They even coached parents on how to use technology to help their children get online for class.
In addition, staff delivered meals and school materials to students' homes.
"Starting remote this year meant our role immediately shifted to being the boots on the ground, working directly with families," said Chrissy Rolfes, a social worker for Marshall Elementary School.
During this school year, the social workers have made 755 porch visits in comparison to 46 porch visits last year, she said.
"It's served as a great reminder of the importance of meeting families where they live to build rapport and reduce barriers to student success," said Rolfes.
Performing these porch visits has allowed staff to connect with families they didn't know as well previously, she said. 
"A social work role is really designed to let us access needs and fill in the gaps as those needs arise," said Rolfes.
The staff plans to prioritize porch visits for the future, even after COVID-19 passes.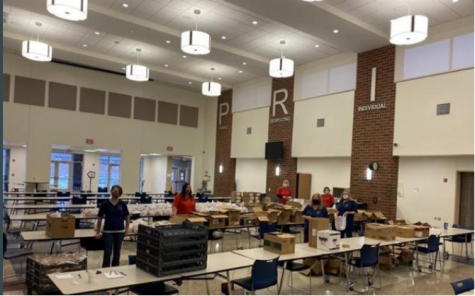 Success through teaming with community partners
In addition to porch visits, the Talawanda social workers teamed up with community partners for donations and further resources.
Kelley Franks, a social worker for Bogan Elementary School, applied to the Oxford Kiwanis Club to get additional cabinets and supplies at school to help build food pantries at every building.
The project is called "little free pantries" and the pantries are available 24/7 at each Talawanda district building.
They also secured a partnership between the City of Oxford and McCullough-Hyde Memorial Hospital to offer free COVID-19 testing to uninsured students and their families.
Originally, when funds from the federal COVID-relief CARES Act were released to the school district, they were designated to aid people living in the 45056 ZIP code only. The social workers were able to expand that reach after explaining to those controlling the grants that Talawanda covers all or part of four townships and many of the district's students live outside that particular ZIP code.
The social workers even put on a mental health town hall event with 50 Oxford community partners.
The event discussed mental health needs, how to better serve families in the community and how to increase the capacity for mental health services available to students at school. 
In partnership with the Oxford Community Arts Center, 105 art kits were distributed to students along with "make and take bags" from Lane Public Library.
The Oxford UPS store received $1,300 worth of books during its holiday season Toys for Tots book drive. They donated all the books to the three Talawanda Elementary Schools, according to the presentation at the school board meeting.
"I'm so proud of Oxford and our whole community that serves Talawanda to come together and do everything we possibly could to serve our families," Franks said.
In a partnership between school counselors and social workers, self-care bags were created for remote learners to pick up every two weeks. The bags were made to include a mental health social-emotional learning component. They contained crafts and squishy toys to keep students focused and to help release anxiety, he said.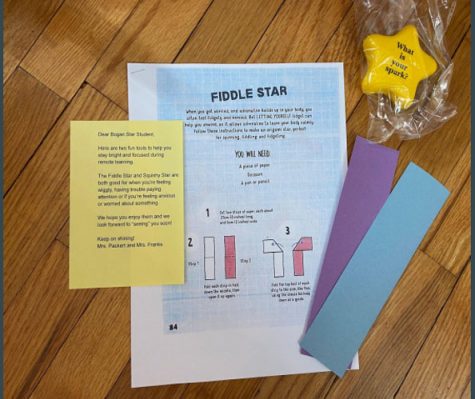 Miami University Scholar Leaders, a group of university juniors and seniors, took the program over in March to purchase materials and assemble the bags.
"There's a whole list of partners here which we are so grateful for," said Franks.
In addition to community partners that assist with providing resources, Talawanda district also has a student success program.
The program is run by Madison Wetzel, Talawanda's success liaison. She's worked closely with the elementary school social workers to provide for families during the pandemic.
Providing food and personal contact
The student success program has 35 enrolled families, representing about 100 students. It does not include the daily, non-enrolled students who need assistance.
Within this program are different methods of assistance.
The Shared Harvest BackPack Program takes place every Friday at Talawanda Middle School. Around 50 'snackpacks' are given out to students for food that can carry them through the weekend.
Wetzel also has a money fund for 24 students in the program. She can use the fund to purchase clothing and food for these students.
She also has an unrestricted fund that allows her to buy hygiene items and food products for families in need.
In addition, Wetzel performs wellness checks on families at home. If a student is having an attendance issue or another barrier arises, she is there to provide support and resources to the family, said Wetzel.
"I've tried to show my face on a daily or weekly basis in these communities and it's been apparent to me and the rest of us that the more we're there and the better the relationship we build with them, the better things go in school," said Wetzel.
To continue working through barriers with families, the social workers are trying to educate as well.
Chelsea Pike, a social worker for Kramer Elementary School, discussed childhood experiences at the board meeting.
Adverse Childhood Experiences (ACEs) are any traumatic event in a child's life. Many studies have shown that the more ACEs someone experiences, the more negative long-term consequences can develop. 
Positive Childhood Experiences (PCEs) are anything that promotes developmental assets. Studies show these can have good, long-term consequences despite co-occurring adversities such as ACES.
To achieve more PCEs in the future, the social workers plan to increase resources to families, make porch visits a priority, and build trust in students' neighborhoods.
"It's an honor to do this job in this district and this community and it's not something we take lightly," said Pike.
The social workers plan to continue making a difference and staying visible in Oxford's neediest communities.
"All of the things we've talked about tonight are not just dealing with trauma as it comes but healing trauma and rewriting those negative outcomes to be positive ones," said Pike.