Talawanda parent petition opposes grade banding
A plan to cut costs at Talawanda Schools "was not rushed," officials told a cafeteria packed with parents at Kramer Elementary Monday.
 "This proposal took several months for the administrative team to come up with," said Knight-Abowitz. "We also recognize that there will be positives, challenges and logistics."
The proposal is a three-year plan starting in the fall to reduce the $5.4 million debt the school faces after the failure of a school levy in November. Cuts in the first year, totaling $1.2 million, will include moving all elementary students of the same grade to the same school and ending bus service for high school students. The school board will vote on the proposal at its March 16 board meeting.
Projected cuts totalling $1.9 million on year two would eliminate gifted teachers, high school and middle school electives, social workers and lunch and recess monitors, as well as world language classes. The final year of the proposal is projected to save $3.2 million by eliminating two school psychologists, two elementary counselors, other employees and all extracurricular activities.
A line of 20 parents waited their turn to address questions to the board about the proposal. Alexander Thurston, a concerned citizen who also spoke at the February board meeting, complained the board waited until it was too late and is now in a bad state.
"Why wait until a failed levy to make changes on debt we knew was there?" Thurston said.
Thurston created a petition on Change.org to specifically oppose the district's proposal to put all grades in the same elementary buildings. His petition amassed more than 445 signatures, with at least 40 added during the meeting.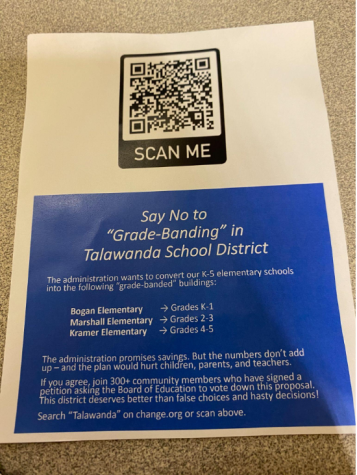 Board member Rebecca Howard said the biggest advantage of the proposal was that students would form bonds with others in their grade sooner.
"By implementing this proposal, we keep the same kids together all the way from kindergarten up until you graduate high school," Howard said. "This gives students the ability to form bonds with kids their age sooner, as opposed to when they all join in the sixth grade."
Some parents, however, said they were concerned that the changes would have families traveling to different schools multiple times a day to deliver their children.
 "The grade banding will tear families apart," one parent said. "This proposal is not evidence-based, and [parents] will be spending much more money on gas."
Parents said they were also concerned that the plan would make elementary students change buses at the middle school on their morning and afternoon rides. 
Some parents questioned why high school prom and athletics were poised to survive the cuts in some form, while counselors and guidance counselors were to be eliminated. One parent questioned why high school prom was staying over elementary programs.
Athletics provide happiness and community, Board Member Kathleen Knight-Abowitz said, making them arguably just as important as school counselors.
Officials said the board has already made budget cuts, including ending transportation to extracurricular activities and charging high school students $170 and middle school students $85 to participate in athletics or band.
"We can't put it off much longer," Howard said.
She said  she hopes a levy will be passed by the time the three-year proposal comes to an end. She said the school will run out of money by 2027 if no levy or other proposal comes into place.
 "By year three, we expect this to hurt more families than it will help," said Knight-Abowitz. "We are also looking at ways to move around assets if no levy is passed by then."