Local nursing home residents receive COVID-19 vaccinations
More than 100 patients and staff at the Knolls of Oxford received vaccinations against COVID-19 on Monday, Jan. 4, the first of two shots they will be getting, said Aaron Steckman, registered nurse (RN) infection preventionist for the nursing home.
"We (vaccinated) a total, between staff and residents, of 110," Steckman said. The vaccinations are believed to be among the first to be administered in Oxford.
This news comes as the United States recorded a record number of more than 4,000 deaths from the virus on Thursday, Jan. 7, according to data from the World Health Organization.
More than half of coronavirus deaths in Ohio have been in nursing homes, according to state health officials, making them the first priority for immunization.
People at The Knolls received the Pfizer vaccine, which is administered in two shots, 21 days apart. Despite the first round of vaccines arriving at The Knolls skilled nursing facility, not everyone was interested in getting the shot. However, this is not an uncommon trend statewide and even nationwide.
"As we've learned from the early data, the acceptance of the vaccine by the residents is encouragingly high, while the staff participation still remains low. Anecdotally, this seems to be true in Ohio and in other states," said Ursel McElroy, director of the Ohio Department of Aging, during Gov. Mike DeWine's press conference Tuesday, Jan. 5.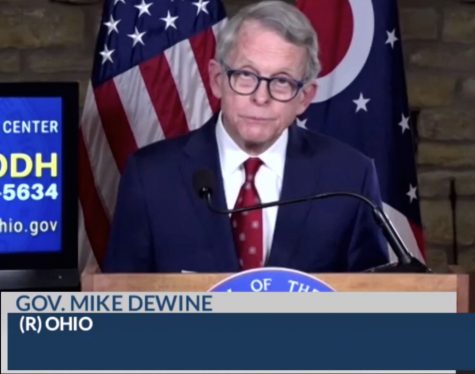 DeWine said about 40 percent of nursing home workers in the state are currently planning to take the vaccine, while residents are closer to 75-80 percent.
Steckman, who has been vaccinated, said the numbers at The Knolls are similar but slightly higher than those statewide, and that he also expects an increase in staff willing to take the vaccine.
"What we've heard is that people are kinda in that 'wait and see' mode," Steckman said. "We really expect our numbers to be around 70-75 percent, which is doing pretty well I think."
According to McElroy, some commonly cited reasons for hesitance to receive the vaccine include mistrust of the vaccine and healthcare system, concerns that the vaccine is too new and potentially unsafe or ineffective, side effects and thinking the risks of the virus are exaggerated.
To try to "transform hesitance into confidence," the state is hosting live sessions and conversations with medical professionals, exclusively for nursing home staff. 
Even though the numbers are low now, Steckman anticipates higher numbers of staff to get vaccinated the next time it is offered, in 21 to 28 days. 
The Knolls has both a skilled nursing facility and the assisted living community. Residents of the assisted living community will have to wait until more vaccines are available before they can be vaccinated because nursing homes are a higher priority due to case and death rates statewide.
Though Maple Knoll has reported some coronavirus cases, it has not had any positive cases in the skilled nursing facility.
Vaccines are being brought to nursing home facilities, like The Knolls, via pharmacy company partners such as Walgreens. These partners are visiting facilities in three waves — the first for any residents and staff who want the vaccine, the second for any who received the first week as well as those who have since elected to receive the vaccine, and the third for anyone who got their first dosage during the previous visit.
DeWine cautioned that those being offered the vaccination now should take the opportunity because after this first phase, they may not have the option for "a while" because the state will move on to the next phase of distribution.
The state has created a phased approach for the distribution: 1A, 1B and 2. Currently in phase 1A, DeWine said the priority is "protecting the most vulnerable of our citizens in the state of Ohio" and "work to protect those who protect us." 
Phase 1A includes frontline healthcare workers and nursing home residents and staff, followed by assisted living residents and staff. Phase 1B, which is set to begin Jan 18, will begin with people 85 and older, those with severe medical conditions and adults who work in schools. The state expects to begin lowering the age limit by five years in each subsequent week, DeWine said on Thursday, Jan. 7. DeWine said local counties are expected to announce where vaccinations will be available to specific age groups during Phase 1B.
According to statistics presented during the Jan. 5 press conference, 87.1 percent of deaths in Ohio occur in the 65 and over age group. 
The list of those included in phase 2 has not been released yet, but it is expected that the vaccine will not be readily available to the public until phases 3 and 4. How soon that happens is dependent on the supply of vaccines, but it is expected that the state will be in phases 1A and 1B until March.
DeWine said getting K-12 students back in school statewide by March 1 is a priority, meaning phase 1B, which includes school faculty and staff, would need to be completed before then.
As the vaccines roll out across the state and country, a more contagious strain of COVID-19 has been reported in the United Kingdom. However, Dr. Bruce Vanderhoff, chief medical officer for the Ohio Department of Health, said there is good news.
"(The new strain) is notable because it appears to be more contagious than other variants," Vanderhoff said. "However, it doesn't appear to be more severe. It doesn't appear to affect people who are already immune."
About the Writer
Ally Gallagher
Ally Gallagher is a senior majoring in journalism and political science, and a member of Miami's cross country team.