Talawanda High School begins its winter sports season
Although Talawanda High School will have classes remote until Jan. 18, the winter sports seasons will carry on as scheduled. 
Talawanda's basketball, wrestling, hockey, cheerleading, bowling, swimming and diving teams have begun its seasons and will continue to compete in spite of the pandemic.
Wes Cole, Talawanda athletic director, said the school is following state guidelines and doing what it can to ensure athletes, coaches and families are safe.
Each winter sport varies in COVID-19 safety measures, but keeping track of who attends practice and requiring individuals to maintain at least six feet of distance from each other (except when on the field or court of play), washing hands or using hand sanitizer as frequently as possible, covering coughs or sneezes, regularly clean high-touch surface, and not shaking hands after competition will be mandated for every activity. 
"Hopefully, we're able to get as many games in as we can," Cole said. "The students are excited (for the winter sports season) because it gives them the chance to be around friends and coaches. If they're stuck at the house this whole time, they're not able to see those individuals that they were close with."
According to a study conducted by the University of Wisconsin-Madison that surveyed over 13,000 adolescent athletes during the COVID-19 restrictions in May 2020, 40% reported moderate to severe depression symptoms and 37% reported moderate to severe anxiety.
The Ohio High School Athletic Association (OHSAA), in partnership with the governor's office and several school administrators throughout the state, determined it would be best to allow schools to carry on with their winter sports seasons if they so choose.
"Though we are seeing a spike in COVID-19 cases in Ohio, the majority of our member schools want the opportunity to move forward with winter sports as planned," said OHSAA Executive Director Doug Ute in a Nov. 20 press release. "As always, the decision to play sports is a local school decision and there will certainly be schools that pause sports for periods of time in the months to come, but if the majority of our schools want to move forward, then we want to provide that opportunity."
Student athletes are required to self-diagnose themselves symptomatically each day before practice and are expected to stay home if they are experiencing any COVID-19 symptoms.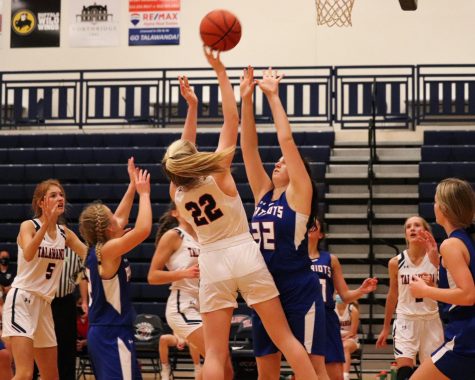 Any athlete that is infected must isolate and abide by Centers for Disease Control guidelines.
Although Talawanda High School has chosen to move forward with its winter sports season, some coaches are finding it difficult to recruit students, particularly freshman and sophomores, to come out for their sport.
"The (wrestling) room has been less than full," said Brian Bolton, the Talawanda varsity wrestling coach. "I've heard a lot of, 'I'll be back next year, Mom and Dad don't think it's a good idea I come out now,' and those kinds of things.'"
Bolton said the varsity wrestling team has a full starting line-up when everyone is healthy and he is optimistic about the upcoming season.
Steve Pasquale, the Talawanda varsity swimming coach, said most of his athletes are willing to participate, but that there are some who are uncomfortable with attending weight training practices or any practice all together. 
"It's a matter of balancing the risks with the benefits we get from swimming and being able to take part in athletics," Pasquale said. "I think for mental health, it's really important for the kids to be able to swim right now, but I have to respect everyone's concerns."
Tawanda's swim team has been allowed to practice at the Miami University Recreation Center, on the condition they spread out more and follow the protocols put in place.
"I've found Miami University, through this whole process, to be very accommodating and very willing to work with me," Pasquale said. "There are a lot of pools throughout the state that are closed to outside groups, so I'm just very thankful that Miami has been willing to have us and work with us so that we can still have a season."
Zach Sens, the Talawanda hockey coach, shared similar sentiments toward Miami's willingness to host the high school's hockey team at the Goggin Ice Center.
According to Sens, the varsity hockey team resumed practice this week after not practicing for two weeks because of team members testing positive for COVID-19.
Sens said he is glad the team was able to get back on the ice this week, and said the uncertainty and tentativeness of the year has been challenging.
"It's an hour-to-hour type of season," Sens said. "Every text, every call you get it's kinda like 'what do we have to fix now and what do we have to adapt to?'"
Mary Jo Huismann, the Talawanda varsity girls basketball coach, said her athletes wear their masks for a part of the warm-up, disinfect the basketballs before practice, and wash their hands throughout practice.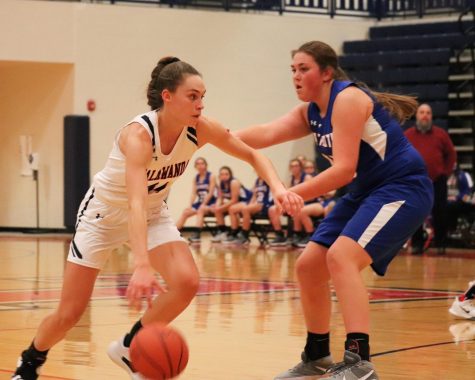 "We're trying to do everything we can (to deter the spread of COVID-19)," Huismann said. "I think we're emphasizing the fact that (athletes) just can't be going out and doing different things if they want to play, because it's so easy (to get infected)."
Kylee Fears, a sophomore on the varsity girls basketball team, said the team is excited for every single game they get to play this season. She said she believes the team is doing what it can to safely practice and compete.
"I think as a team, we're all just trying to take all the precautionary measures that we can," Fears said. "No parent I know of has been outright really adamant about saying 'No, my daughter isn't going to play,' but I think every parent is a little worried about (COVID-19). We're definitely trying to do the best we can to stay safe."
The pandemic also has created transportation issues for some of the student athletes, because they no longer can walk to the gymnasium or wrestling room from their last class. Because Talawanda is temporarily closed for in-person classes, student athletes have been expected to arrange transportation themselves to get to practice.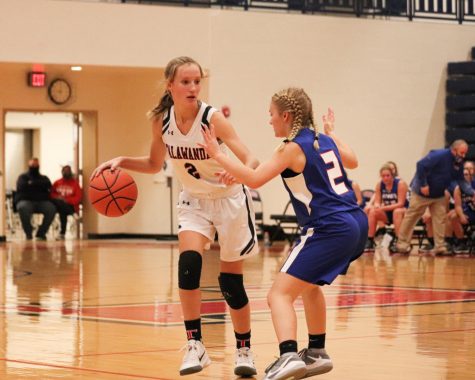 "Some of the older kids who can drive are helping out, but (not having the athletes at school) does make it harder, especially if we have the afternoon practice time," Huismann said.
According to the Ohio Department of Health, high schools are allowed to host 300 spectators or 15% of an indoor arena's capacity, whichever is less.
To ensure that Talawanda sporting events do not violate the health order, Cole said that only the parents of competing athletes are allowed to attend competitions. 
Cole said the school is encouraging its sports programs to live-stream its games and meets so that all of the fans can watch the athletes compete.