Gardens and flowers in Oxford thrive amid pandemic
The COVID-19 pandemic has been in full bloom. And consequently, so have many gardens.
Nationally, landscaping and garden sales reached a point where there was even a seed shortage in the spring, and garden stores struggled to keep up with the high demand.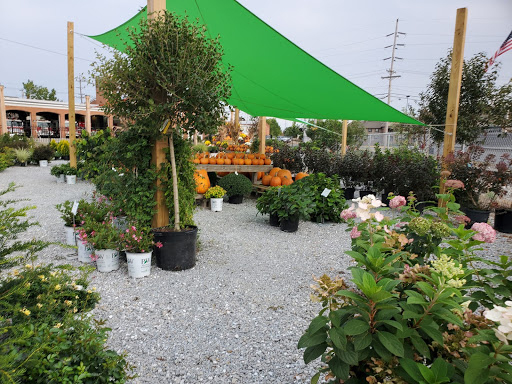 Kevin Wilson, Garden Center manager at Shademakers, estimated its sales have been up 25% to 30% on seed and 10% to 15% on products storewide. Shademakers, which has operated in Oxford for 29 years and moved into its new location at 304 W. Collins St., earlier this year, expects to see an increase in sales next year as well, Wilson said. First-time gardeners who took up working in their yards as a pastime during the pandemic, are likely to retain their interest, he said.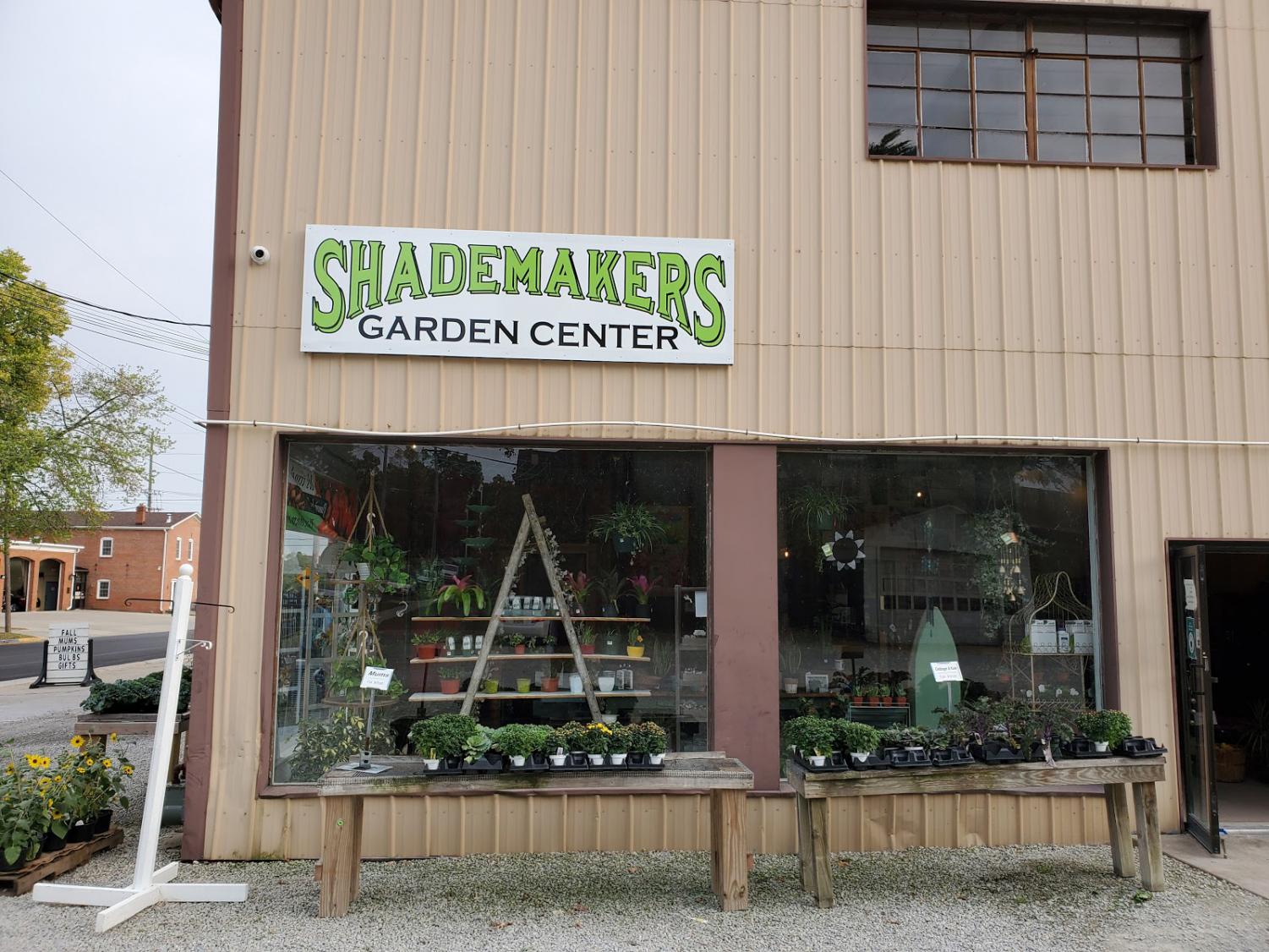 John F. Keegan, botany instructor at Miami University and former greenhouse manager, said the demand for plants made it difficult for some landscapers because annuals were selling out earlier in 2020 than they usually do. 
"Because of so many people (gardening)… the greenhouses ran out of plants super early this year," Keegan said. "It's just amazing. I mean, you could just not find plants."
Keegan took up a landscape project this summer clearing out invasive plants to make room for native species and the raised flowerbeds he hopes to put in at his home.
"I live just right outside of Oxford and so, as anyone who lives in Oxford knows, (there are) all kinds of invasives," Keegan said. "Especially bush honeysuckle, oriental bittersweet, autumn olive, privet … They just grow and they choke out all the natives."
With the help of two former students, David Sanders and Rajat Narang, Keegan said he was able to clear out many of the invasive plants on his property. 
"We probably cleared out over 1,000 square yards of invasives," he said.
Carla Blackmar, designer/curatorial assistant at Miami's Hefner Museum, is another local gardener who focused her free-time during the pandemic toward weeding invasive plants from her native garden. "There're a lot of invasive grasses here that want to take over your prairie planting," Blackmar said.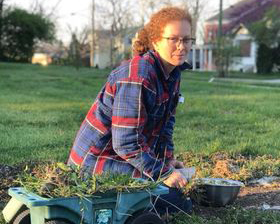 Blackmar added that being able to garden throughout her workday as she worked from homemade things easier for upkeep this year. "So much of gardening is being able to seize the moment," she said. "When you have land that was, like just been rained on, and that's easier to do when you're not (at work)."
For other gardeners, such as Paula and Virgil Seger, gardening offered something they could turn to when they couldn't even leave their homes. The Segers both contracted COVID-19 in spring and were isolated for about a month.
"We were quarantined for almost a month," Paula Seger said. "I got it, and then Virgil got it. And we could garden. So that's what we did."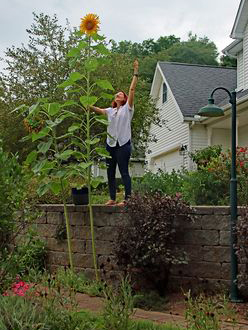 "After about a week of being in the house, I couldn't stand it," she said, acknowledging having had a fairly light case. "It was cold outside, but I went out and I had to garden… It didn't feel great but I was outside pulling weeds and trying to clean things up."
The Segers said highlights of their garden this year were three tall, yellow experiments — mammoth sunflowers. Virgil Seger said he bought the seeds just for fun. "It just grew and grew and grew, and it amazed us to the point where I said Paula, stand here, I'm going to take your picture," Virgil Seger said. "Paula is 5'5" and it's not like we took a tape measure to the sunflower, but it has to be up there about 12 feet."
Meanwhile, Irene Friedman's tulip garden, which received a garden of the month award in 2019, was the same as it is every year – beautiful. Friedman plants upwards of 1,000 tulip bulbs, which bloom in the spring. Friedman said she plants them each year in the fall so she'll have something to look forward to during the dreary winter months.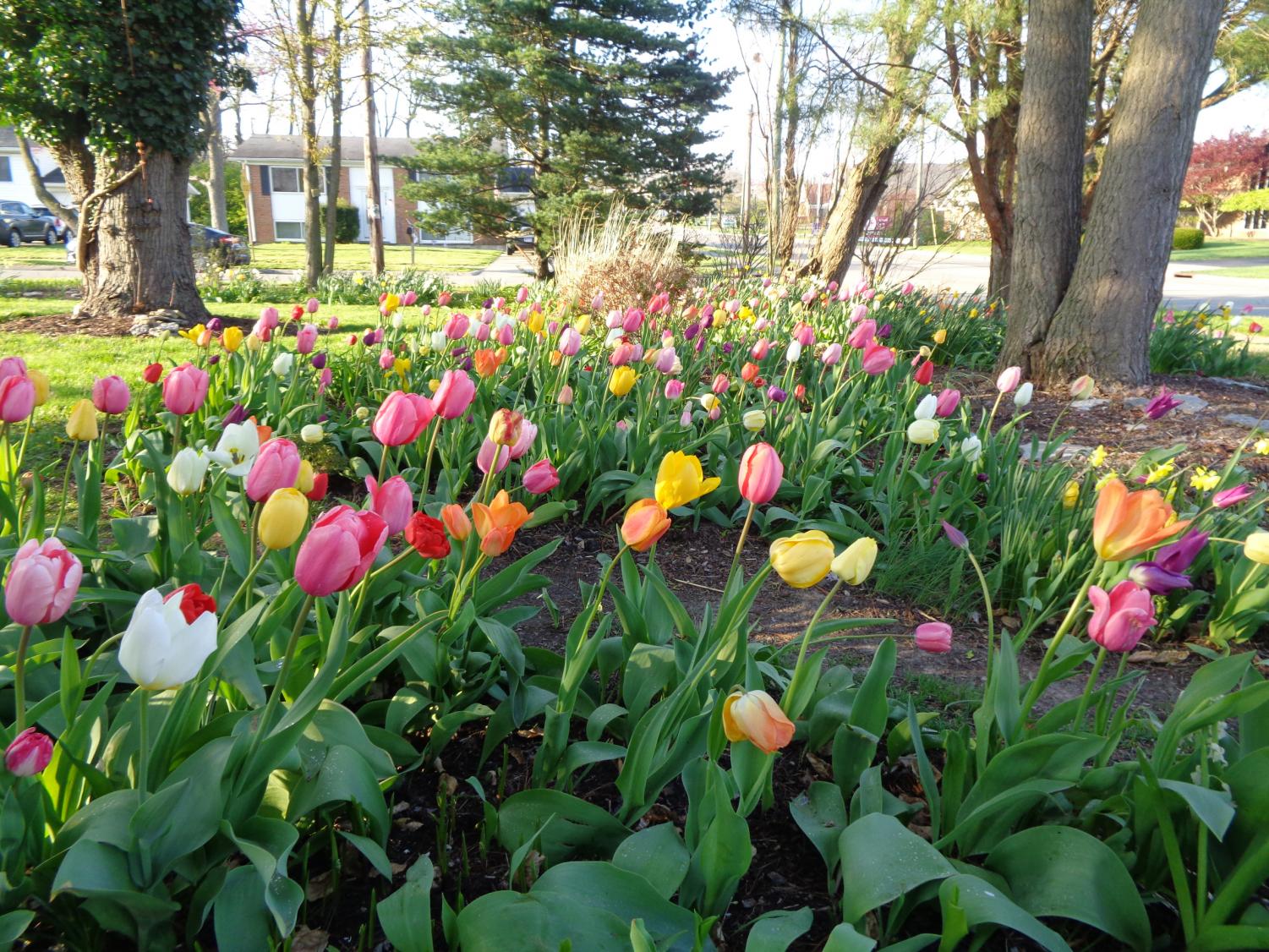 "The March and April months (during the COVID-19 shutdown) were difficult for everyone," Friedman said. She said she hopes her tulips, which bloomed during the spring gave drivers, walkers and bicyclists passing by something bright and optimistic to look at during the most intense part of the COVID-19 shutdown.
Throughout spring and summer, as gardeners avoided get-togethers, many Oxford gardeners posted virtual tours of their gardens in the Facebook group, Oxford Ohio Plants and Gardens. Robert Pearson, who is the group administrator, said this is something done in previous years, but people did it more than ever in 2020.
"People spent more time in their yards this year," Pearson said. "For instance, if you went to go buy mulch somewhere…(they might say) 'well, we're out…' It's just amazing the work people were putting into their gardens, and after all that work, they want to show it off…And it looked good!" 
Despite the tragedies of the last few months, people have still found ways to connect and share. And for the community's gardens, it's been their time to thrive.