Taco Trailer Arrives on Oxford Food Scene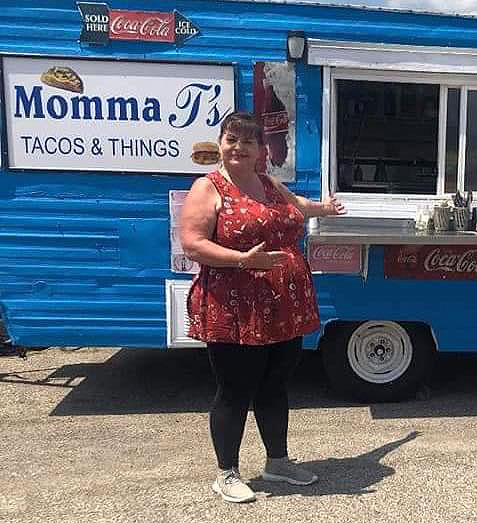 There is a new business rolling into Oxford and it already has satisfied customers who are waiting for more.
Momma T's Tacos and Things is a food wagon that made its first appearance in Oxford last Saturday at The Miami Preserve, a student apartment complex on the west side of campus. It is a family run business run by owner Theresa Martinez with the help of her daughters and a friend.
Martinez said she has a huge passion for cooking, as evidenced by her menu of tacos, quesadillas, pulled pork sandwiches, hot dogs and more. Soft drinks, chips, and cookies also are available.
Martinez said she got started feeding short-order food to hungry customers while living in nearby Reily Township, a few years ago. Her home was located near the Indian Spring Tavern. She rented out part of her lot for overflow parking from the tavern. On late nights, she would begin cooking up hamburgers, hot dogs, and more to sell to the hungry heading back to their cars after leaving the tavern. On a good night, she said she made up to $800.
Now a resident of Middletown, Martinez said she started to take her cooking on the road, towing her Momma T's trailer to sites from Monroe to Cincinnati. She said that was slow going, but things are improving now that she has the locations that ask her to park and serve agreeing to cover the cost of her supplies.
Momma T's said she is her family's primary means of support and the venture sells about 400 tacos a day.
"We loved it," Martinez said of last Saturday's set up at Miami Preserve. "There were a lot of nice people, more than I expected."
Mamma T's Tacos and Things will be back Friday, Aug. 16, at a public auction right next to Marshall Elementary School on U.S. 27, and on Saturday will return to the Miami Preserve. Martinez said she plans to set up at Miami Preserve every week after that and is hoping to also be able to set up and serve the tailgating crowds for Miami's home football games.
For more information on where Mama T's will be setting up in the future you can check out her site on Facebook.