Talawanda High School to end class rank distinctions
This year's graduation will be the last time Talawanda High School honors its first and second ranked students as valedictorian and salutatorian. Class ranks will no longer be listed on students' transcripts. 
Scott Davie, THS counselor and incoming school principal, said the school board made this choice in 2017 primarily to alleviate the stress and pressure that students were feeling regarding their class rank.  
"The thought was, let's provide a framework where students can come to school, take the classes that makes sense for them, have a balanced schedule, have a balanced life outside of school as well, and not feel like they have to claw their way to the top every single year," Davie said.
The elimination of class rank was also enacted because some students avoided unweighted classes even if they were interested in the subject. Different types of classes are weighted on different scales, meaning that depending on the types of courses taken, students with perfect scores could outrank other students who also had straight-A grades. 
"At the end of the day, what this was about was trying to provide students with the opportunity to be recognized for their achievements in the most inclusive fashion possible," Davie said. "Not taking classes that students really find value in and enjoyment from because they were worried about a number on their transcript was irrational."
The policy dictated that the class of 2023 would be the first not to have class rank because when it was adopted in 2017, the class of 2023 were sixth graders and had not yet been able to start earning high school credits. Students are eligible to start earning high school credits in seventh grade, and the board thought it best not to interrupt those who may already have started earning those credits – students including Michelle Miao, this year's senior class valedictorian.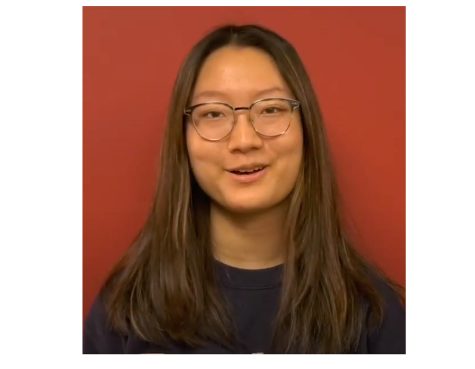 Miao achieved valedictorian status by taking every advanced placement course class Talawanda offered except for art. She has committed to attend Princeton in the fall, but has already taken 20 classes at Miami for college credit. Miao said that she registered for college classes in high school because she wanted to experience a broader range of subjects then was available at Talawanda. 
If Miao's name sounds familiar to readers it might be because one of those Miami courses was the advanced reporting class that serves as the news staff of the Oxford Observer. During this past fall's semester, Miao mostly worked the science and COVID beat, writing weekly stories on how Oxford was dealing with the pandemic. 
Miao is one of 238 students graduating this year from THS, which has its commencement at 7 p.m. May 26, in Miami's Millett Hall. She will be giving a speech to her class and will be honored alongside THS salutatorian Julie Peter. Miao said that while her address is not yet complete, she hopes to talk about the class's motto, which encourages students to be the change they wish to see in the world.
While eliminating class rank does not affect Miao, she said she understands the benefit of changing the system. 
"[Colleges] can still look at your transcript and see that you took some advanced classes and that you have good grades, but you don't have to limit yourself by just fixating on your GPA," Miao said. 
Talawanda has adopted the Latin System to continue honoring high-achieving students. Students can graduate Cum Laude if their GPA is between 3.8-3.999, Magna Cum Laude if their GPA is 4.0-4.1999, and Summa Cum Laude if their GPA is 4.2 or above. 
This May, 24 students are graduating Summa Cum laude, 28 Magna Cum Laude, and 16 Cum Laude. Davie said that the inclusive nature of this system has been great.
"It's really just an opportunity for the students and families to look at the past four years and the accomplishments that they've had here and celebrate that because a lot of hard work and dedication goes into achieving grades," Davie said. 
If a student is applying for a college that requires a rank, THS can still calculate their placement and submit it on the student's behalf through the school counselor recommendation system. Davie estimates that only 10-20% of students will require this service next school year.