Upcoming arts events in Oxford
Arts events involving theater, music, dancing and more are happening in Oxford throughout the coming week.
Miami theater group shows off the challenges of youth
Stage Left, Miami University's musical theater organization, is putting on performances of "Theory of Relativity" at 8 p.m. this Friday and Saturday in Harry T. Wilks Theater in Armstrong Student Center. 
The show is written by Brian Hill and composed by Neil Bartram. The performance includes songs and monologues that show the challenges young adults face. 
The show is free admission and students can RSVP on The Hub.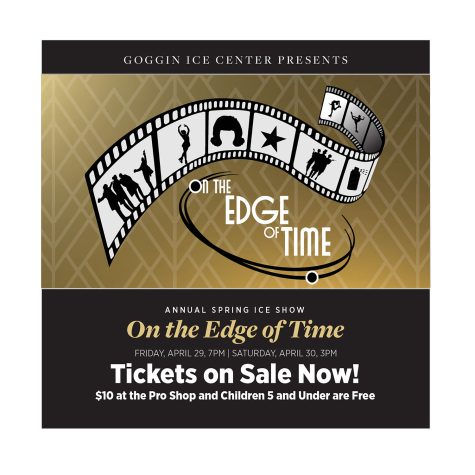 Skaters perform to music at Goggin
The Annual Spring Ice Show at Goggin Ice Center is this weekend — Friday at 7 p.m. and Saturday at 3 p.m. 
This event will feature skating performances from all levels of skating. Audiences will see skating from kids programs all the way up to the Miami University Ice Skating Club. 
The theme of the show is "On the Edge of Time," and will include performances to songs throughout the years. Tickets are $10 on sale at the Goggin Ice Center pro shop. Children under age 5 are free.
Pyramid Hill offers summer art classes for kids 
Pyramid Hill Sculpture Park & Museum announces its annual Summer Series for Kids with art workshops for children ages 5 through 12, every Wednesday through June and July.  Classes offer interactive and educational experiences about art and nature for $5 per class.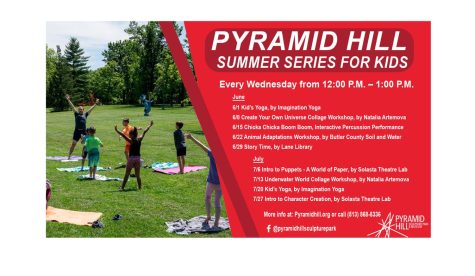 Early registration for Pyramid Hill members will be Saturday, April 30. Registration for all others will begin at noon on Monday, May 2.
The hour-long classes will include: 
June 1 – "Imagination Yoga," with developmentally appropriate poses.

June 8 – "Create Your Own Universe," with children describing and creating their imaginary worlds using forms, shapes, colors and found objects.

June 15 –"Chicka Chicka Boom Boom," pickle buckets, tin cans  and listening skills woven together to teach young people to play rhythmic musical compositions. 

July 6 – "Intro to Puppets – A World of Paper," teaching the basics of puppet theater and making improvised puppets. 
A full list of the summer classes and registration details are available on the Pyramid Hill website.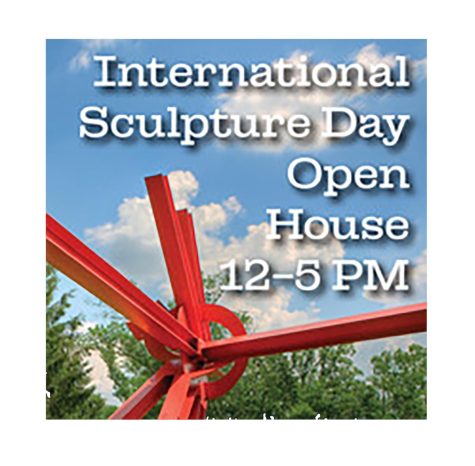 Art museum offers a celebration of sculpture
The Miami University Art Museum will host an open house in celebration of International Sculpture Day, noon to 5 p.m. Saturday, April 30. International Sculpture Day fell on April 24, the last Sunday of April. This year's local event is instead being celebrated on the last day of the month. It will be on the lawn of the museum, 801 S. Patterson Ave.
The open house is free to the public and will include a scavenger hunt, sculpture craft, snacks and Kona ice that will be free for the first 100 customers. At 1:30 p.m., the Miami University Steel Drum Band will perform on the lawn.
Oxford Community Arts Center offers immersive summer camps and classes 
Registration is now open for a variety of summer camps and classes to be held at the Oxford Community Arts Center, 10 S. College Ave.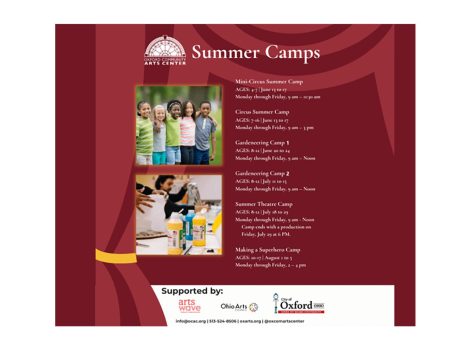 The age-appropriate activities for both children and adults offer various forms of education and entertainment from June 6 through September 2. Programs range from circus camps, gardening, theater to on-demand classes for ballroom dancing and ukulele lessons.
A complete schedule and registration information is available through the OCAC website. Interested persons are urged to register as soon as possible as classes often fill early.
"We are excited about the wide array of camps and classes we are offering this summer," said Heidi Schiller, OCAC executive director, in a press release. "There is something for everyone and we look forward to a very busy calendar that includes our free summer family movies and monthly 2nd Friday Celebration of the Arts."