Democratic debate in Ohio highlights top 12 candidates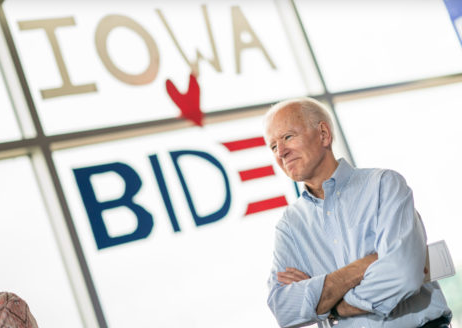 The stage is set for the fourth Democratic presidential debate coming up Tuesday, Oct. 15, at Otterbein University, just outside of Columbus, Ohio.
The field has been expanded this time from the 10 previous candidates at the last debate to 12 for this meeting, which is a record for a single-night presidential debate.
What do you want to see these candidates talk about during the debate? If you could ask one question to the remaining candidates what would you ask? Are you gathering with some friends or community members to watch the debate?
The Butler County Democratic Party will host another watch party at LaRosa's Pizzeria starting at 7:30 Tuesday night, which is open to all. If you want to add your questions and comments to the Observers' coverage of this event, email me at [email protected].
The 12 candidates taking the stage will be former Vice President Joe Biden of Delaware; Sen. Elizabeth Warren of Massachusetts; Sen. Bernie Sanders of Vermont; Sen. Kamala Harris, of California; Pete Buttigieg, mayor of South Bend, Indiana; former Congressman Beto O'Rourke, of Texas; Julian Castro, former secretary of housing and urban development, who is from Texas; Sen. Cory Booker of New Jersey; Sen. Amy Klobuchar of Minnesota; entrepreneur Andrew Yang of New York City; billionaire businessman Tom Steyer; and Congresswoman Tulsi Gabbard, of Hawaii.
Biden is one of the frontrunners for the Democratic nomination, but he has been losing a little ground to Warren in the polls since the last debate in September, and he has been thrust into the spotlight over the controversy of President Trump's allegations concerning the work of his son, Hunter Biden, for a Ukraine energy company. A phone call from Trump to the Ukraine president asking for Ukraine to investigate Biden as "a favor," led to the current impeachment hearings against Trump. This is sure to provide some talking points come Tuesday, but Biden already has fired back at the president in a press conference on CNN: "He is the most corrupt president we have had in modern history, he is the definition of corrupt," Biden said. Aside from the recent controversy Biden has had strong debates so far and most notably clashed with some of the other contenders such as Warren, Booker, and Harris in previous meetings.
Warren has enjoyed a lot of success in the first three debates, and she has been recognized for her ability to not only share her ideas but explain some of her plans for how to get them done. Her main concern has been dealing with economic inequality and posing a "wealth tax" to help alleviate stress for middle- and lower-class families. Whenever Warren has had the opportunity to separate herself, she hasn't been shy about calling out the plans of her fellow party members and in doing so she could be emerging as a new favorite to represent the Democratic party.
Sanders is only a week removed from his heart attack and still recovering from the implantation of cardiac stents, but that isn't stopping him from taking the stage. His wife and others close to him have said he is in good spirits and will be ready to go next week. Sanders has been focused on laying out his plans for a $15 minimum wage and free college tuition to eliminate student debt.
Harris has had her ups and downs throughout the campaign trail to this point with other members of her party pointing to her spotted past working in criminal justice, but she still remains among the top for the party. Like Warren, Harris has a focus on fixing inequality. Her policy would focus on eliminating pay disparities and requiring companies to receive an "Equal Pay Certification."
Buttigieg could have emerged as a frontrunner in the first three debates, but he has left people wanting more, and because of that he has fallen to the middle of the pack, according to polls. Much of his platform is focused on eliminating the electoral college which has come under a lot of scrutiny.
O'Rourke had been lagging behind a bit in the previous debates and it has shown in his rankings since he's hanging around in the middle of the pack. However, he could be on the upswing following a pretty powerful stance he took on gun violence during the last debate. O'Rourke was firm in his stance on eliminating assault-style weapons for private citizens.
Castro has had some nice moments in the first few debates and hasn't been shy about going at his fellow candidates. He pushes the issue, but still hasn't cracked into the top portion of the rankings to this point. His "People's First" program has been his main platform and would overhaul our education system and provide a path to citizenship for immigrants.
Booker has yet to really separate himself from the crowd in this race. He's had a few exchanges going back and forth with Biden most notably his back and forth with him about mass incarceration. His main talking point is addressing the wealth gap in America with his "American Opportunity Accounts" which would allow kids from the poorest families to go into adulthood with $46,000 to invest in education, home ownership, or retirement.
Klobuchar has not really had any signature moments in previous debates. She is more of a moderate candidate, so she doesn't attract the more 'radical' viewers, but she does have a chance to gain some more of the middle-of-the-road voters. She has a focus on topics like health care and climate change. Klobuchar has also vowed to work on international relations with allies during her first 100 days if elected.
Yang has heavily relied on his business expertise in the debates to this point, and he hasn't been shy about putting his money where his mouth is. Yang unrolled one of the most surprising platforms when he introduced the "Freedom Dividend" and his plans for everyone to earn a universal income.
Steyer, another successful billionaire and businessman, threw his name into the race a bit later than most, but he is very progressive. He has said he plans to "wrestle" with his class and overturn the power dynamic in the country. His most notable talking point is his crusade to impeach President Trump. To this point his "Need to Impeach" initiative has had more than eight million Americans sign up. He was a late addition to this debate along with Gabbard as he wasn't on the stage for the last debate.
Gabbard has experienced and up and down campaign trail. The high is her back and forth with Harris when Gabbard called out the senator for her past positions on criminal justice issues. On the other hand, she received a lot of backlash for her past stances on LGBTQ+ issues. Gabbard is returning to the stage Tuesday after not qualifying for the last debate and she will surely want to make the most of it to reinsert herself into the discussion on Tuesday.
According to the latest polls from the New York Times Biden holds a slim lead over Warren who is continually gaining ground. There is a wide margin after that, but they are followed up by Harris and Buttigieg locked in a tie, with Yang following them up in fifth. O'Rourke is right there with Yang while Booker and Klobuchar are trending downward. Castro, Gabbard, and Steyer haven't gained any ground and sit at the bottom of the rankings.
Candidate pictures are from campaign websites.