Noche De Gala celebrates Latinx culture
It was a night full of glamor, dancing and vibing with friends. 
Miami University's UNIDOS hosted its very first Noche De Gala on Saturday April 2, in Armstrong Student Center and it ended up being a huge success. 
"The big reason we wanted to put on an event like this was because after COVID-19, we missed each other," said Marianna Gay, the organization's president. "It's to see each other outside of school, outside of a meeting room, outside of whatever extracurriculars and just have a chance to have fun together after everything that's happened."
UNIDOS is an organization that works to promote understanding and appreciation of diversity on campus through celebration of Latinx and Hispanic culture. 
Noche De Gala (evening gala) isn't a holiday, and it's not celebrating anything specific, but it's a way in which members of the Latinx community can get together and celebrate themselves. And it meant a lot to the organization that people came through and participated, Gay said. 
"I'm just hoping that people realize that there is a Latinx community on Miami's campus, and that what they witnessed is a night of culture," Gay said. "While it can be scary when you're not the majority in this scenario, it's still fun, and it's not something that you need to shy away from."
While the planning of the Latinx prom-like event started in October, the idea of it dated back two years. The organization was inspired by other Latinx organizations, and finally decided this was the year to host it.
Gay mentioned a lot of the responsibility for event was put on the shoulders of Miami senior, Andrew Abata. As the Institutional Ambassador of UNIDOS, he and a small committee organized and planned everything, including getting sponsorships from several outside organizations.
"This was my first time planning any event of this size, so it was a lot of learning as I went," he said. "It was, at times, really stressful because there's so many moving parts that you have to keep track of, and you're worrying, 'Oh, did I forget something?' or 'Is this going to be taken care of on time?'"
But after seeing everything come together in the end, Abata was happy. He said his favorite part was being able to dance with his friends.
"As the event came closer, [the nervousness] turned into excitement," he said. "It was awesome to see [the hard work] paid off. It's very rewarding because you're working with a lot of people, and they all tend to be pretty helpful and patient with this sort of thing."
Another thing that had been in the works was a Latinx dance group. First-year student, Michelle Abata and third-year student, Lorena Ianiro — both a part of the planning committee — brought the idea to the table during the first organizational meeting.
"We were talking about ideas for the event in general, and we both thought it would be a good idea to do a performance in the beginning," Michelle said. "It's a good way to advertise the event even more, other than food and dancing, and it would help people get [to the event] on time."
The organization had been trying to create a dance team for years, but not enough people wanted to get involved and plans fell through. Although Michelle Abata thought the time commitment for the group was a little more than she expected, she and Ianiro successfully brought the dance team to life.
"I was trying to make sure everybody felt comfortable, that the moves weren't hard, that I was being understanding and not throwing a lot of stress and pressure on people," Michelle Abata said, "It was just making sure it was still fun."
The group invited anyone who wanted to learn traditional and contemporary Latin dances, and members of the team had the opportunity to perform at the beginning of the event.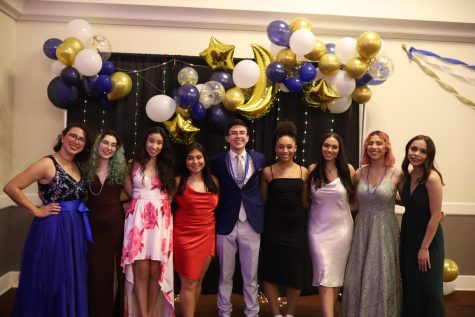 "I had some friends who wanted to join that weren't in UNIDOS or weren't active [members]," said Michelle Abata, younger sister of Andrew. "This was going to be an event for people outside of UNIDOS, so I wanted that same idea going toward the dance group."
After about two months of rehearsing, the dance team performed an Afro-Peruvian dance called "Festejo," which celebrates the emancipation of slaves, and a modern Latin dance that included some Salsa movement.
As a freshman, Michelle Abata said she had her doubts about the performance coming together, but she was happy with the end result.
"It felt so good, especially since it did take so much work," she said. "I felt like a proud mother. [The dancers] were my children and they were flying away like baby birds out of the nest. Having everybody support and seeing it come together at the end was really rewarding."
Something that stood out to Andrew Abata was how most of the 100-something participants were all connected to each other in some way. He described that a lot of his friends brought their friends, who brought their friends and so forth. 
"A lot of us already knew each other, or we knew someone who knew someone," he said. "We don't all always hang out, but we know each other from the clubs we're involved in. We're all familiar with each other already, so it was a chance to connect even more with a community like that."