Parents and students demand action on Talawanda sexual assault allegations
The 13-year-old girl's father held her by his side while imploring the Talawanda Board of Education to do something about the middle school teacher who allegedly groped her.
"My daughter is the latest student to be victimized by a teacher at your middle school," he said during the Jan. 10 meeting. "Even though she was scared and confused, she knew what had just happened is wrong."
Dustin Lema, the father of the 13-year-old, had said similar statements in his recent posts on social media, where he promised to bring the issue up publicly at the school board meeting.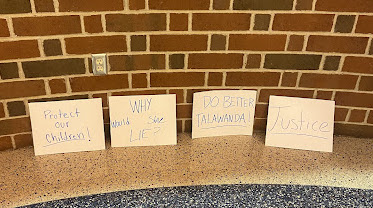 The board was ready for him. Before the public comment section of the meeting, Board President Patrick Meade told the audience that while the board expected emotional comments that night, the board members, because of their policy, would not be responding.
"Do not take that as disrespect," Meade said. "The board members . . . cannot comment on personnel issues, particularly those that remain under investigation. I know that is frustrating, because we sit up here like stones," Meade said. "I guarantee we do listen to what people say."
With that, Lema was allowed to speak for three minutes, expressing anger that similar complaints had been made about the same teacher by other parents and students before the incident. And yet the teacher, who is also a coach, remained on the job.
The incident involving his daughter occurred at the school Dec. 1, and she immediately told other members of the school faculty. A report was filed with the Oxford Police Department the same day. Police Lt. Lara Fening has said the case is being investigated as an allegation of gross sexual imposition.
The case remains under investigation and no charges had been filed as of Jan. 13. On Dec. 7, the school district announced that a member of the faculty had been suspended with pay, pending the outcome of the investigation. Neither the police nor the school district has released the teacher's name or the name of the student. 

Lema, however, said that he and his daughter were going public with the incident, because they wanted to be sure it was not ignored or covered up, which he said had happened with previous complaints against the teacher.
He said that at the time of their Dec. 1 complaint, neither he nor his daughter knew about the educator's alleged history of misconduct with students. 
"We weren't aware of the girls who had the courage to speak up, only to have their complaints ignored by staff and administration," he said. "Those girls were silenced. Their voices were taken away. I'm here to tell you today that is no longer the case," he said.
"Why? Why was this covered up? Why wasn't this properly recorded? Why wasn't the community made aware? Why have you continued to protect him?" Lema asked.
"These girls deserve justice and justice is what they will get," he continued. "We will never be able to make them forget what happened, but we will give them hope in knowing that there are people out there who care."
Lema's remarks were followed by applause from the audience.
They also were followed by several other members of the public, parents, teachers, students and former students, who said the same teacher had been involved in similar incidents with them or their children.
Oxford resident and elementary school teacher Sarah Staton asked the board what type of example they were setting by suppressing student voices.
"Students have been coming forward for years, to my knowledge as a Talawanda alumni," she said. "This man has been making students uncomfortable since I was in school and before then."
Another woman, a 2020 Talawanda High School graduate, stated that she too was a victim of the accused educator and said her voice had been suppressed. 
"This happened to me in seventh grade. I am now a graduate attending college," she said. "He was protected, and I was removed from his class to sit in the office for the trimester. This shouldn't have happened once, but now we can see it has happened countless times. It can't continue."
Carley Collins, whose daughter is a classmate of Lema's daughter, stated that her child made complaints against the same teacher last fall and that she met with the middle school's assistant principal about it.
"We followed proper protocol," she said. "Absolutely nothing was done. Had the school board, administration or Talawanda Middle School administration taken her complaint more seriously, maybe (Lema's daughter) would have been spared," Collins said.
Concerned Talawanda High School students also pleaded with the board. 
"Talawanda should be a place that is a second home to students, not a place where there are predators around," said Lifelong Talawanda student Elizabeth Cantrell.
High schooler Sema Sabin shared similar sentiments.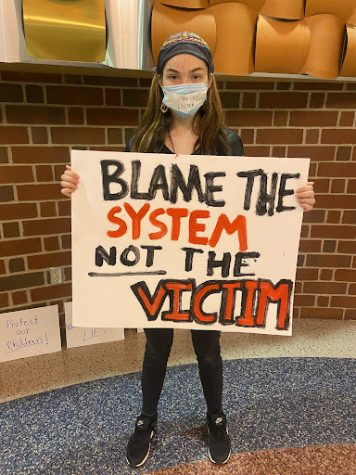 "Our safety is in your hands, and it is your responsibility. Please listen to us," she told the board.
After public participation, the meeting was closed and Cantrell and Sabin positioned themselves outside of the auditorium doors. Wearing protective face masks covered in tape that said, "You didn't listen," both girls held posters that said, "How many kids will it take?" and "Blame the system not the victim."
Throughout the remainder of the meeting, the students outside recited chants demanding that the accused educator be removed from his position.
After the comments, Superintendent Ed Theroux reiterated that the police investigation was ongoing.  
He said the investigation process is slow and tedious, citing updates to the federal Title IX civil rights law which he said controls how the district deals with sexual offenses and sexual discrimination. More information on Title IX procedures can be found on the school district website.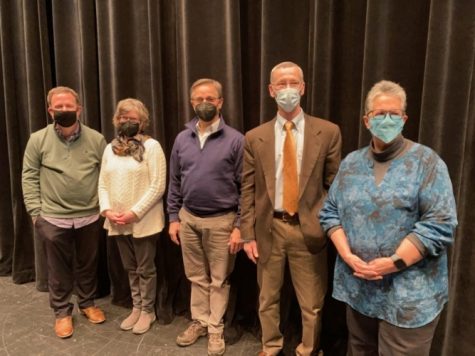 "As recommended by our lawyer, because everyone is innocent until proven guilty, everyone is placed on paid administrative leave until a final outcome (of an investigation) is made," he said.
He stated that to provide support for affected students, the Talawanda school district has guidance counselors and works closely with district social workers to meet their needs. Students with any concerns or issues are encouraged to reach out to guidance counselors for help.
"If there are issues, we are dealing with it," Theroux said. "Maybe not to the liking of some individuals, but I take everything seriously."
Although citing Title lX as controlling the district's actions, Theroux did not address the public accusations that previous complaints about the same teacher had been ignored, and in some cases, for years. Nor did he indicate whether any previous complaints about the teacher had been forwarded to police, as would be required under Ohio law that says educators are mandated to report such complaints.