School board rejects meeting sign-up policy
The Talawanda School District Board of Education rejected a proposal to require members of the public to sign up in advance if they want to speak at school board meetings. 
The rejection came amid consideration of policy updates that was recommended by Neola, an educational consulting firm, with the goal of streamlining board meetings, according to Talawanda Superintendent Ed Theroux. 
Section C of the recommendation reads "Attendees must register their intention to participate in the public participation portion of the meeting upon their arrival at the meeting," and section D read "Individuals may not register others to speak during public participation." The recommendations came up for final consideration at the board's Monday, Nov. 15, meeting.
"I am reluctant to go ahead with C and D also because democracy is a little messy at times, and I think that's OK," board member Pat Meade said before the board agreed to delete the two sections. "I don't want to do anything that impedes people's right and ability to take part in the public part of the meeting," he said.
What remains part of the revision is that speakers should have a legitimate interest in the actions of the board. The policy states that "district employees, students, residents, locally elected officials, or local business owners, may participate during the designated public participation portion(s) of a meeting."
"One of the things you want to avoid though is people that don't have legitimate business with the district, outsiders, coming in," Meade said in advocating for the remainder of the revised policy. 
Three individuals chose to speak up against policy (po0169.1) — which outlined public participation rules — during the public participation portion of the meeting. One of them, Amy Shaiman, had also addressed the board on the subject in October.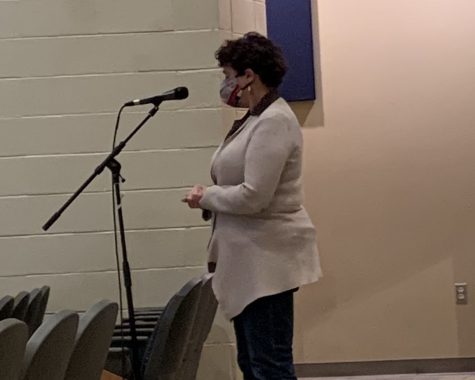 "Not everyone is able to be at this meeting before the start at 7 p.m. Not every parent is able to be here even before this comment period starts," said Shaiman, an Oxford resident and mother of a child in Kramer Elementary School.
"Any effort to require people to sign up in advance to speak is limiting free speech," Shaiman said. 
"It's already limited enough to having to be here in person at this meeting, I don't want to see it limited more," resident Pam Hodgson said. 
Hodgson also pointed out that, while the board prefers that the public does not react to other individuals' comments, people don't always have time to look at the agenda ahead of time, or simply don't understand what certain items mean. 
"This exact thing on the agenda is buried in a PDF of policies that I would typically overlook," Hodgson said.