City renames street to honor Talawanda treasurer
People going to Talawanda High School will now be doing so along Mike Davis Way, as the road to the school now bears the name of the former Talawanda School District treasurer, who died last year of COVID-19 complications.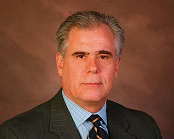 The school district asked the city last fall to rename University Park Drive, which runs to the high school from U.S. Route 27, in honor of Davis. Oxford City Council passed a motion adopting the change in January, and this week it became a reality when Davis' name was added to the street signs.
Davis, 65, died on April 11, 2020, the third recorded COVID-19 death of a Butler County resident. He had attended Talawanda High School and later Miami University, where he obtained a degree in finance. He and his wife, Crystal, met in high school and became a "Miami Merger" couple.