Miami and Community Blood Center host blood drive June 3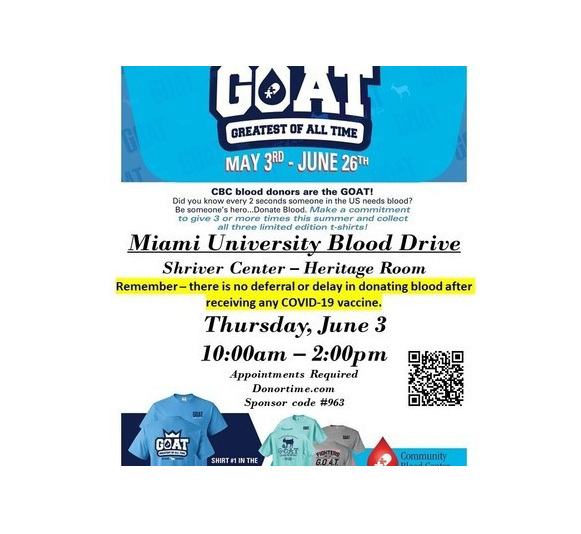 Miami University and the Community Blood Center (CBC) will host a blood drive from 10 a.m. to 2 p.m. Thursday, June 3, at Miami's Shriver Center, 701 E. Spring St. 
CBC is a not-for-profit organization. Earlier this year, Miami partnered with CBC for blood drives on Feb. 25 and April 21.  Those who give three times this summer will be eligible to receive a free GOAT (Greatest Of All Time) T-shirt. All Miami faculty, staff, and students are invited to give.
To participate, donors must schedule an appointment by either visiting the Donor Time website and using the sponsor code #936 or calling 937-461-3220.
According to the Red Cross, community members who have received COVID-19 vaccines manufactured by AstraZeneca, Johnson & Johnson, Moderna, Novavax or Pfizer do not have a deferral time to be able to donate blood.