Talawanda's literary-art magazine receives Crown award
Talawanda High School's "Setting Stone" literary-art magazine earned a Crown award last month from Columbia Scholastic Press Association (CSPA) for the 2019-2020 publication.
This is one of the most prestigious international awards for high school magazines.
The Crown Award is for a magazine's overall excellence, according to the CSPA website.
Each year, a panel of judges gathers at Columbia University to view the submitted entries. The panel is composed of formal student media advisors and professional journalists.
"Up until this year, Setting Stone has been awarded medals of varying degrees, as well as many Gold Circle awards for things like individual written pieces, layouts, spreads, artwork, etc. But we have never received a Crown award until this year," said Matt Aerni, adviser for Setting Stone and an English teacher at Talawanda High School (THS).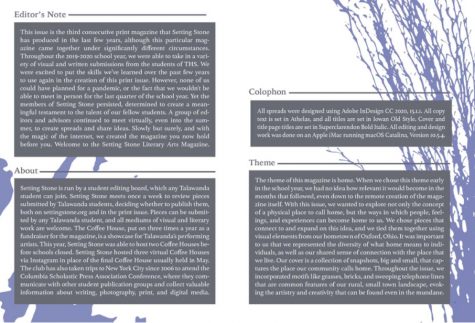 Bronze, silver and gold metals are given out based on objective reviews of the magazine, according to Aerni. 
The Crown awards are presented in both silver and gold. Setting Stone received a silver Crown award this year.
"I don't think we were working on the magazine with the goal of getting an award; all of us had different situations due to the pandemic, and we were focused on making something that we were truly proud of," said Kei Brown, former copy editor for Setting Stone. Brown graduated from Talawanda last June and is now a freshman at Miami University.
This year, Setting Stone was the only magazine in Ohio to earn the Crown award.
"When I found out we won the Crown Award from CSPA, I was over the moon. It's crazy that we got so highly placed and I'm so proud of our group for finally getting there," said Olivia Urlage, student at THS.
CSPA usually holds its award ceremonies in person at Columbia University, an event that Talawanda High School has attended seven times. This year, the organization did a virtual awards ceremony in March where they announced Crown Award recipients.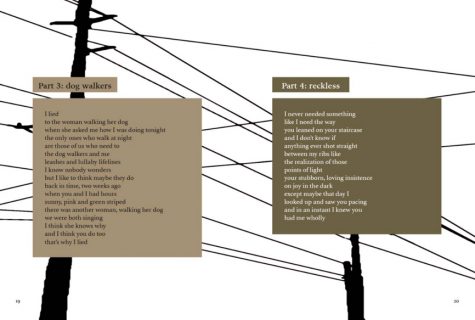 "It was cool for me because we have attended the actual awards ceremony at Columbia many times at the annual Spring Convention in New York, and, I remember always sitting in the audience thinking how cool it would be for our magazine to be featured in that presentation," said Aerni.
After a challenging year navigating the magazine's virtual production, this award was a great accomplishment for the team, Aerni said.
Working on the magazine during the pandemic proved to be difficult, both with creating the vision and receiving submissions.
"It has been much more difficult finding and gathering submissions this year, for sure. We just haven't had the same momentum we normally have. Not being able to have in-person meetings has played a role in that, as well," said Aerni.
For a large part of the year, the team was limited to virtual meetings.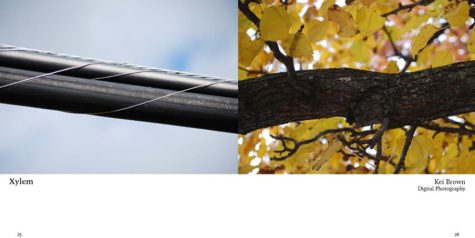 "One thing became clear: we would be creating and publishing a magazine. That turned into weekly meetings from April through August with a small group of seniors, Clare Squance, and me, meeting via Google Meet for an hour or two each Monday afternoon, and talking through ideas," said Aerni.
The Setting Stone team continued to brainstorm and look through submissions, developing a strong plan and bond with each other.
"For those of us that worked on the magazine, it ended up being a highlight of a pretty tough spring and summer. It was something that bonded us and something we were passionate about creating in the face of school closures and I think that really comes through in the magazine," said Eleanor Prytherch, former editor in chief of Setting Stone.
Apart from the lack of in-person meetings, the pandemic also affected Setting Stone's primary fundraising event, the Coffee House. This event is usually held three times a year at the high school.
The event allows students to show off their work through readings or a musical performance.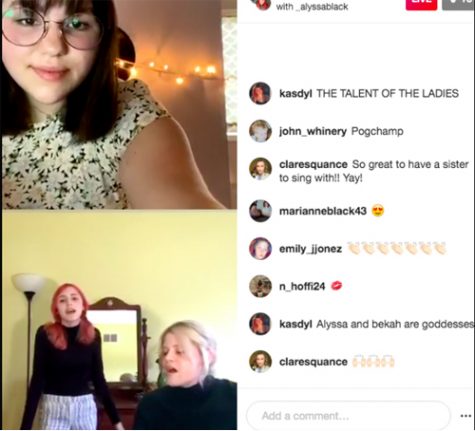 "It brings in revenue that covers the cost of publication, software license renewals, website upkeep, etc. It is the single thing that has kept us afloat as an organization since we started the event in 2002," said Aerni. 
Due to COVID-19, the event had to be held virtually through Instagram livestreams.
From the loss of ticket sales, Aerni said this had a significant impact on the organization financially.
Although it was a struggle, students on the Setting Stone team still enjoyed their time being part of such a distinctive club.
"Setting Stone is somewhere where I can be creative. I'm so thankful to have a group of people so determined to put their art out and create a piece of their own," said Urlage.
For former students of THS, who are now first-year students at Miami University, Setting Stone has had a lasting impact.
"My favorite part about being on the Setting Stone team was that I got to see some of my best friends every week! Being able to see them frequently in a time fraught with uncertainty was the highlight of my summer," said Brown.
"It meant so much to be able to stay in contact with the other Setting Stone leaders and advisers and keep working toward this creative goal that we had through quarantine," said  Prytherch. "We always had such a good time during meetings and those were definitely some of my favorite memories from that time." 
For Prytherch, working at Setting Stone during high school has encouraged her to continue working for a student publication in college.
"I really loved being part of a literary magazine and high school, so I joined the staff of Inklings here at Miami," Prytherch said. "It's a different experience for sure, but I love the feeling of working with a group of people to create something to showcase the creativity of our student body."
For Talawanda High School students looking for a new club to join, Setting Stone is always looking for new members.
"If you are interested in design–specifically magazine layout–or art or writing, this is the organization for you," said Aerni.
Setting Stone takes any original artwork, photography, or writing piece. The students' work goes through an anonymous review process and if a piece is accepted, it can be published in the magazine, website or both.
The magazine usually starts requesting submissions early in the school year and tries to have a publication ready for the spring.
Setting Stone published its first piece in the winter of 2002, with the help of Miami University's Ohio Writing Project.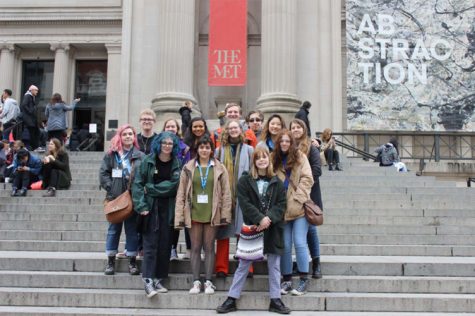 According to their website, the name "Setting Stone" comes from a story about Mecinnabe, a Miami Tribal leader known as the Setting Stone. In the early 19th century, he was responsible for leading the Miami Tribe into a peace treaty with other Native American nations.
Since 2002, Setting Stone magazine went from being printed in-house to being professionally printed and bound, to now being primarily online. 
As the website states, "the motivation, forever, has stayed the same: to provide a place that showcases the best Talawanda High School writing and art."
Past editions of the publication can be seen on the Setting Stone website.