Sculptor to commemorate Richard and Joyce Farmer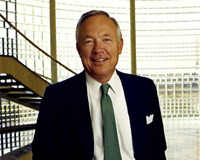 Artist Michael Tizzano has postponed a scheduled trip to the Farmer School of Business where he was to interact with students and visitors while working on the  sculpture of Richard and Joyce Farmer that will ultimately be placed outside the business school's front entrance. 
An alternate date will be scheduled, officials say.
Richard Farmer died in August 2021. He served in the Marine Corps and founded Cintas Corporation. He also served as a university trustee, foundation board member and chair of the Board of Visitors of Farmer School. His name dons the Farmer School of Business for which his family donated $30 million for construction and support.