From Oxford to Broadway: Miami theater grad shines backstage
From being an undecided major to fixing Lin-Manuel Miranda's bow-tie at the 2021 Tony Awards, Emily Rose Magnuson found her passion while studying at Miami. 
"I didn't have a major, and I didn't know what I was doing," she said. "I wanted to study theater, but I didn't think I would do theater. I'm clearly not an actor, and at the time I didn't know all of the jobs that theater has."
The 2005 graduate is currently working as the wardrobe supervisor for the national tour of "Freestyle Love Supreme," a freestyle rap show created by Tony and Emmy Award-winning actor and playwright Lin-Manuel Miranda. 
Because the show is flexible in its nature, the costumes are also comfortable and fitting to the actor who wears them. Magnuson's job is to make sure that costumes don't clash since there are multiple costume choices for each actor.
"I go in and I say, 'OK, who's on tonight, who's doing what and what looks best with all the other costumes?" she said. "If Shockwave is on, and he's wearing his blue shirt, I don't put Jelly Donut in his blue shirt that night. I'll put him in his black shirt," she said, referring to two of the rappers in the show.
When Magnuson is hanging out backstage before the show, she usually makes sure costumes are where they need to be, works on minor alterations and personally reaches out to the wardrobe workers in cities that the tour will stop in. 
She sometimes must grab an accessory that an actor forgot last-minute, so she gets that as the cast warms up. 
"It's not like a traditional musical," Magnuson said. "They're literally freestyle rapping and they do really cool warm-ups. They're rapping different rhyme schemes back and forth to each other, so it's always entertaining."
When the curtain is up, Magnuson — depending on her mood and her workload — will either listen in on the show, work on costume alterations or read a book if she needs to unwind a bit. After the show, she helps pick up costume pieces that were left onstage and collects laundry before going home for the night.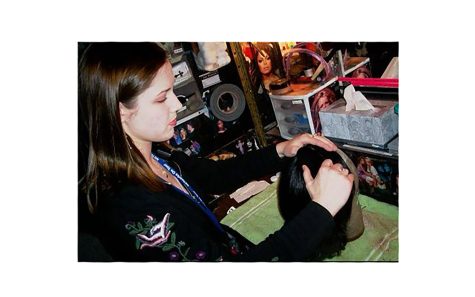 As valedictorian in high school and an honors student at Miami, Magnuson refers to herself as a nerd who loves learning about things. She took theater classes to expand her knowledge on the industry, eventually declaring a double-major in organizational leadership and theatre.
She received an internship in the theater industry during the summer of her junior year, but she was late to apply and most of the positions were already filled. Magnuson learned to sew from her grandmother, so she considered applying for a wardrobe internship for a summer stock in West Virginia. 
While Magnuson thought she was going to be an intern, the costume designer had other plans in mind as he found her organization skills impressive.
"He was like, 'Great, great, you're totally hired,'" she said. "I'm like, 'I've got an internship!' And then he was like, 'No, no, no. You're not going to be the wardrobe intern; I'm hiring you to be the wardrobe supervisor.' It was crazy."
This was the first time Magnuson had ever heard of the job. She enjoyed it so much that she went back the next summer, where she met someone who led her to her very first job out of college. 
"I was taking my finals," she said. "I got a call from NETworks Presentations, asking if I was available to start [working in wardrobe for] the 'Rent' tour in two weeks." 
After accepting the job offer, she met costume designer Lisa Zinni and became good friends with her. Magnuson continued to work with Zinni throughout the years. This eventually led her to what she's doing now.
"The reason I have this job today is because in 2005, when I was hired for my very first job, I did a good job and impressed this woman who became my friend," Magnuson said. "When we knew I was moving to New York, and [Zinni] was [working on] this Broadway show, she was like, 'Hey, you — let's do it.'"
Magnuson recalled an encounter with actor Bill Irwin, famously known for his role as Mr. Noodle on "Sesame Street." He came to Miami's campus for a show and a masterclass, and he needed a dresser for that show.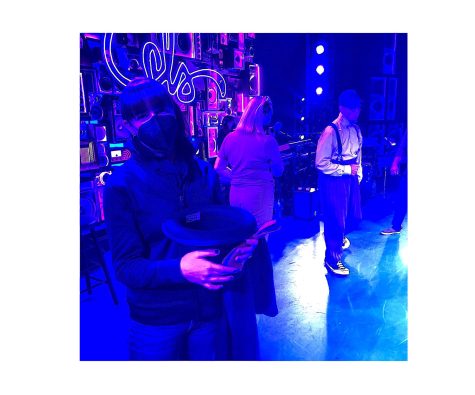 Irwin asked Magnuson if she was considering going into the theater wardrobe industry professionally and later encouraged her to do so because she did such a great job. 
"Here I was, an undergrad, didn't even know I was going to do this as a career," she said. "When you have someone who is not just famous, but extremely talented and kind, encouraging you to do something, you take that to heart."
Many years later, Magnuson learned that "Freestyle Love Supreme" on Broadway invited special guests to be in their show, and the chosen special guest was Irwin who remembered her. 
In 2021, Magnuson attended the Tony Awards because cast members from "Freestyle Love Supreme" were performing. Lin-Manuel Miranda broke his bow-tie and asked Magnuson for help. Magnuson got a bow-tie from Winter Garden Theatre's wardrobe department and tied it for Miranda. 
"Lin and I worked together in 2019, so it's not like he didn't know me, or it was like I was pulled from the audience to tie this man's bow-tie," she said. "It was just a cool thing that here I am, at the Tonys, and I'm tying the bow-tie of one of the most famous men within our community."
Although Magnuson has met and worked with some really cool people, she still misses life in Oxford. 
"I have only lived in big cities since moving away from Oxford," she said. "[I miss] strolling about, going to coffee shops and the casual vibe of the city. It has a great small-town feel and a great community. I grew up in a small town so something about that makes me nostalgic for Oxford."