Pickleball continues to grow in Oxford community
Pickleball is the fastest growing sport in America with nearly 5 million Americans already playing the game, according to the Sports and Fitness Industry Association. With the weather getting warmer and the amount of daylight extending with each day, Oxford has plenty of opportunities for the community to get involved with this rapidly growing outdoor sport. 
"Pickleball was something we had been aware of growing nationwide for many years now," said Casey Wooddell, director of the Oxford Parks and Recreation Department. "In other states it had already been a huge sport for far longer than I can remember and we were getting some requests locally to have some pickleball options."
Tony Shepherd, despite living across the state border in Indiana, was one of the people who has been instrumental in bringing pickleball to Oxford and growing the game within the town. He created a Facebook page titled "Pickleball for Fun and Fitness" in December 2016 to help connect the local pickleball players with each other.
"The Facebook page is something I put together to share information in this region with other pickleball players," said Shepherd. "(I post) when pickleball is available at various areas, times, dates, any special event that's coming up, tournaments that sort of thing."
Oxford now has four pickleball courts at the TRI Community Center Complex, 6025 Fairfield Road, in addition to the two temporary courts painted atop the old tennis courts. The $21,202 pickleball court project was funded jointly by TRI Community Center and the Parks & Recreation Department last year, Wooddell said.
Created in 1965 when three dads from the Seattle Area were trying to come up with a summertime game for their kids, pickleball is a combination of racket and paddle sports. The name of the sport has nothing to do with a dill-soaked cucumber but came from Joan Pritchard, the wife of one of the creators. She thought the combination of sports was similar to the way a pickle boat in crew was made up of a combination of leftover rowers from other boats.
According to USA Pickleball, the sport is always played on a 20 ft. by 44 ft. court with rectangular shaped paddles. The paddles, while not netted, sometimes have holes on the face. The ball most closely resembles a wiffleball and players need to serve with an upward underhand motion and land the ball on the opposite side of the net from which they are serving.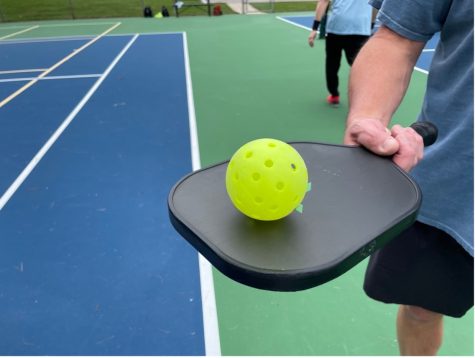 Matches can be played in either a singles or doubles format and games are typically played to 11 points, with a two point margin required for victory. According to the official rules summary, on the USA Pickleball website, tournament matches can be played up to 15 or 21 points, also requiring a two-point lead to win.  
Pickleball is a great way to stay in shape and enjoy the outdoors when the weather is nice. In addition, it is a multigenerational sport. Local business owner and pickleball enthusiast David Wespiser, learned to play with his parents in Florida. 
He said its popularity and growth, especially among the retirement community, makes sense because of its simplicity when compared to sports such as golf and tennis.
"It's good exercise, it's fun competition and it's not very difficult to pick up and start playing, whereas say tennis or golf is something that is a harder sport to learn and perfect," he said. "It's a little like ping pong, it's a little like tennis, you know, it's easy to pick up and start playing."
Since the installation of the four new pickleball courts, Oxford has continued to see pickleball grow within the community. Miami University now has a pickleball club and, according to Wespiser, Oxford Country Club is building six new pickleball courts with hopes for them to be open for member use by Labor Day.
Wespiser and Shepherd emphasized how quickly the game can be learned. 
"The greatest thing I have found about pickleball is the socialization," said Shepherd. "Everywhere I have ever been, pickleball players seem to be  . . . just really nice people. I even put on my webpage that you meet the nicest people playing pickleball."