Crocodile intimidates children at camp during their creek adventures in nearby Preble County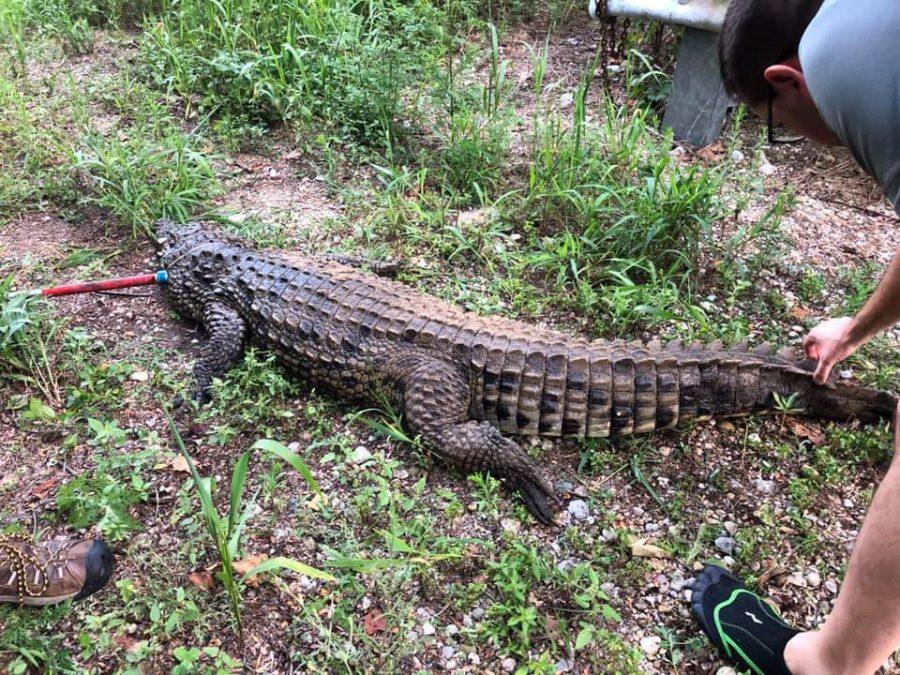 By Jarred Kappers
August 22, 2019
A group of children at a religious camp in nearby Preble County had a close encounter with nature last week while playing in Bantas Creek—a little too close.
As the children, ages 6 to 12, engaged in some "creek stomping," splashing through the shallow water to cool off, they noticed a long, dark shadow gliding just below the surface. That shadow turned out to be a seven-and-a-half-foot-long crocodile—definitely not a native Ohio species.
The children and camp supervisors quickly cleared out of the creek and from a bridge above and watched the croc swim around where they had been splashing. An officer from the Ohio Department of National Resources responded and shot the reptile. It was later taken to an Ohio Department of Agriculture lab in Reynoldsburg.
Jim Hazelwood is the administrative director for the Hilltop Equestrian Center in West Alexandria, where the incident occurred. He said the "creek stomping" has been a common activity for the youth group, operated by the Jacob's Well Fellowship. The group meets every Wednesday and uses nature as a tool to teach children about God's creations, he said.
Rich Denius was in the creek with his two sons and the rest of the children when he heard shouts from the bridge that something was coming towards them.
"I couldn't believe my eyes," Denius wrote in a Facebook post detailing the incident. "God kept me calm. I called the kids to get out of the water and onto the bridge."
ODNR officials suspect the crocodile was an exotic pet released into the wild when it outgrew whatever habitat the owner had provided. Stare investigators searched for identifying clues on the carcass, such as a microchip, that might help identify the owner, the department said.
No microchips or other identifiers were found on the animal according to Shelby Croft, director of communications for the Ohio Department of Agriculture, but the investigation is ongoing.
"Thankfully this is not a frequent occurrence but it's not a rare one," said Croft. "Fortunately it is one of the duties of the ODNR Division of Wildlife to take care of these dangerous animals."
On its website, ODNR cautions people against keeping exotic pets that are not suited and may either present a danger or not be able to survive in the local environment.
The Oxford Police Department (OPD) has had experience with rogue pets, as well, but not any as intimidating as the Bantas Creek croc, said Lt. Lara Fening.
"We deal with the occasional reptile or snake, however, we wouldn't call these pets exotic," said Fening. "Unfortunately we oftentimes find these animals deceased after their owners had abandoned them in empty apartments."
While the children and staff of Hilltop are shaken by the incident in Bantas Creek, they are not discouraged from continuing their ministry. The group plans to go on more 'creek stomping' adventures next summer, Hazelwood said.