Naval ROTC senior to deploy to Black Sea after graduation
Unlike many college seniors who face uncertain futures as they near graduation, Rick James has a plan for the rest of his life. In fact, he has already started the journey.
James is in his final weeks as a midshipman in Miami University's Naval Reserve Officers Training Corps (NROTC). After graduation May 13, he will spend his first two sea tours aboard the destroyer USS Laboon, now docked in Norfolk, Virginia. But the Laboon, part of the US Sixth Fleet, is scheduled to be deployed to the Black Sea, off the coast of Ukraine. 
"I am excited to be involved in the goings-on in Ukraine," James said. "I knew joining the Laboon where I would be going, and I am looking forward to seeing what our destroyer is called upon to do."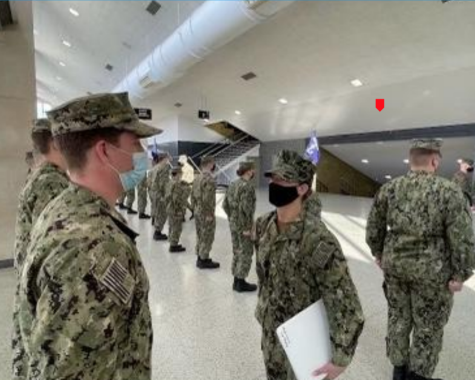 Born in an area called Webster Groves within St. Louis, Missouri, James grew up playing football. Originally hoping to play college football at the Naval Academy, a blown-out shoulder led to him accepting a scholarship to Miami NROTC, including tuition, books, uniform, and a stipend. 
Since James was young, he felt that he had a calling to join the armed forces. "I am excited to be one of the few (who serve in the armed forces). I felt I had a God-given ability as a leader and was blessed with strong athletic and academic ability." 
"I have my career progression planned out. I am doing two sea tours as an officer, which is about six years total and will be the end of my owed time. Following that, I will take a higher education role, like those who are currently teaching me in ROTC, so that I can earn a position back on a boat overseeing the incoming officers. My long-term goal is to become a commanding officer on a destroyer."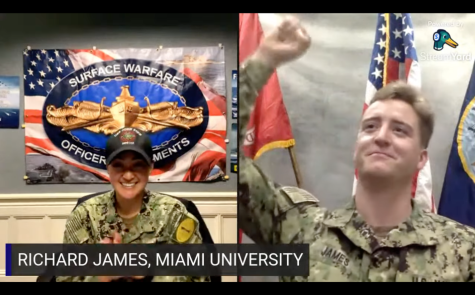 But James said he does not think that when he reaches the end of his ROTC commitment it will be the end of his time in the Navy. "I have every intention of staying in the Navy. But at the end of the day, it is a family that gets you out. I am excited to have a family, and my career will end when that day comes." 
His life seems pretty planned out for being a 22-year-old college student. One of James' closest friends, Will Winkler, also in NROTC, has been seeing James' dedication to his goals since high school. 
"It is impressive that Rick has such a solid vision for his future. Having a clear vision for your life is a recipe for success, and Rick has always had a good vision. He visualized goals on the football field and achieved them, now he has done it again with the military." 
The Laboon is the most recent U.S. destroyer to fire missiles in combat, last doing so in Syria in 2018. 
A cousin of James', Rex Minturn, said he has nervous excitement about his cousin's deployment. "I am excited for Rick. Since arriving at college, he has wanted to join a crew aboard a destroyer." 
"I also just worry about the potential that his ship is called to support Ukraine," Minturn said.  Russia poses as an unpredictable enemy, but I do know the men aboard the Laboon and the rest of the 6th Fleet will be prepared for what comes their way."