Miami students from Russia worry about families at home
Like many Miami University students studying abroad, Danila Likitin misses his family and his hometown. Only in this case, "abroad" means living in Oxford and his family is at home in St. Petersburg, Russia. 
He worries about how his family is doing financially under the economic sanctions imposed by the United States because of Russia's invasion of Ukraine. The sanctions have upped the prices of goods in Russia. His father is a small business owner. As someone who relies on buying and selling those goods, his father must be more thoughtful about what he buys, Likitin said.
"My family stopped buying any useless stuff," said Likitin.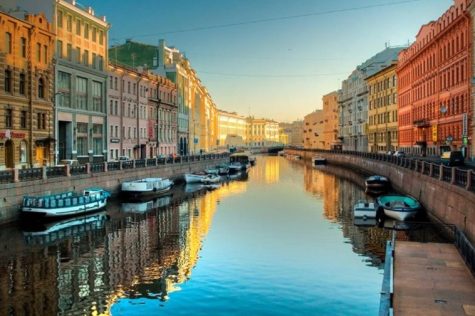 Despite being in Oxford, Likitin, a Miami freshman, is not free from the sanctions against Russia. Many companies are boycotting Russia by withdrawing usage from citizens. 
Credit card giants such as Mastercard and Visa have blocked Russian access to their banks. As a result, Likitin's credit cards are blocked, making it extremely difficult for him to buy anything on Miami's cashless campus. Also, social media services such as Spotify and Instagram have blocked Russian accounts such as Likitin's as well. 
Russia was not like this for Likitin while he was growing up. Born in February of 2003, he lived a relatively privileged life. 
"I remember my childhood and adolescence only with a smile," he said. "Сomplete carelessness in kindergarten and 11 years at school with a huge amount of fun moments and success."
His family was never affected by problems facing the Russian government. They lived so well that they could afford two vacations to Europe every year, he said. This lifestyle is on pause now because of the sanctions and as his family has concerns for their financial future, he said.
Likitin is not the only Russian student in Oxford facing problems because of the sanctions. Daria Shokholova, a graduate student working on a master's degree in economics at Miami's Farmer School of Business, was born in a small town near Moscow. She praised Russia for how great of a country it was growing up. 
"Being a kid in Russia is quite a good option," said Shokholova. "Especially if you were born and raised near Moscow."
Shokholova said she believes that she cannot say that about Russia anymore. Like Likitin, her family has its own business. Through the depreciation of Russian currency, she is not confident that their business will survive. 
"It is unclear right now whether the business will survive, whether their income will decline dramatically or not," said Shokholova.
What makes matters worse for Russian students studying and living here, is feeling that they cannot discuss their concerns with American classmates, Likitin said. Due to Russia's history of a negative relationship with the United States, he said he avoids talking about the situation overseas. He goes as far as to no longer wear clothing symbolizing Russia.
"I know everyone has his own view and it can lead only to bad things," explained Likitin. "I have my favorite cap with the Russian flag, but I stopped wearing it, since I know how much people hate Russians right now, and I don't want all eyes on me."
Although it is unclear where the Russia and Ukraine situation is going, Likitin said he is optimistic that his family's financial situation will improve soon. He said his family is doing better this week than last. For now, he must continue living on campus without access to his credit card.