Talawanda Brave baseball is ready for a comeback
The Talawanda Brave baseball team seeks to build off a strong overall 2021 season despite the year's disappointing finish. 
The team finished second in the Southwest Ohio Conference (SWOC) in 2021 with an overall 17-9 record (11-4 in the conference).  But the team's postseason ended sooner than expected following a tough 2-1 loss in the regular season against SWOC champion Harrison High School. In that game the Brave had the lead entering the seventh inning.
"It's rough, (that was Harrison's) second coming-from-behind victory against us last year," says Head Coach Matt Lykins, "I still wake up at two in the morning thinking about that first game."
Lykins is entering his fourth season as head coach at Talawanda. He will be assisted this season by AJ Morrow, Noah Zipko and Trevor Detherage.
How the 2022 team is shaping up
The Brave boast five seniors who are ready to take the Southwest Ohio Conference by storm: Mason Birkemeier, Blake Puckett, Parker Geshan, Brennyn Bell-Beucher and newcomer Andrew Shrider. Geshan and Puckett both received 2021 SWOC first team honors. Geshan finished 5th overall in conference batting average (.452) last year and tied for third in starting pitching wins, with three. The Brave will need to replace graduating senior Anthony Cobb, who also made the SWOC first team in 2021.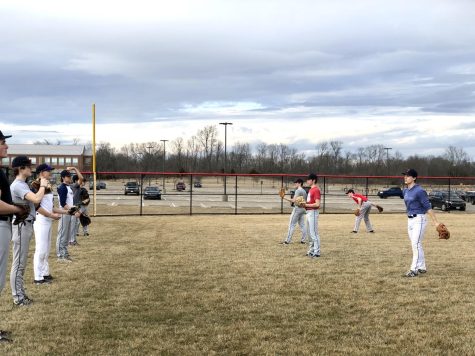 Lykins said his seniors use their unique chemistry to win ball games.
"I think that these five do a good job of keeping people loose and being quiet. Our seniors are quiet, but they are definitely leaders," says Lykins, "We have the quietest infield probably in this part of the state."
Lykin is confident that his players' reserved demeanor will not stop Puckett and Geshan from playing well in the infield.
"It's always fun to watch them, because they can just, with a look, kind of know what they're going to be doing with it," Lykins says.
In addition to the five seniors, nine juniors and two underclassmen will join the team roster. The team is especially excited to see what freshman Eddie Tanner, a pitcher and infielder, can accomplish in his first season at Talawanda.
"(Eddie) is a very good athlete, and I feel like he can bring our program to new levels. [He can] play anywhere," says Puckett.
2022 Team Goals
The players made it clear that they have one main goal for 2022. 
"Revenge on Harrison," says Birkemeier. 
The team likes its chances in a rematch. Harrison lost several seniors to graduation, including SWOC 2021 player of the year Carter Daniel and pitcher of the year Cam Hering. The Brave lost some seniors as well, but they had mostly contributed in secondary roles. The Brave's core remains intact for this season. The team started last year with just four innings of varsity experience. Now the team is more confident than ever. 
"We were not even worried last year," says Lykins, "We know what we can do."
"The truth is… (the team) can swagger a little bit. We have a pretty tough team, I think a lot of depth," says Lykins. "I think the decisions we have to make [is] about who is playing when, is a problem of too many riches."
The Brave open their season at home 5 p.m. Wednesday, March 16, against Taylor High School. The team is scheduled to play 29 games this season, including three against rival Harrison: April 6, April 8 and April 25. The toughest challenge for the boys might be when they play at Xavier University in the Reds Futures High School Showcase game April 23, facing 2021 Ohio Division III champs Cincinnati Hills Christian Academy.