Environmental Commission urges legislation to allow natural gardens
Oxford's Environmental Commission is working toward allowing pollinator gardens and other managed natural lawns within the city, according to a report presented to city council Jan. 18. 
Steven Sullivan, director of the Hefner Museum of Natural History and Oxford resident, helped draft text for proposed zoning legislation that would allow homeowners to plant natural wild plants outside their homes. 
"We have an opportunity to maximize biodiversity in our neighborhoods by overcoming historic landscape designs," Sullivan said. 
Pollinator gardens, similar to butterfly gardens, are outdoor spaces dedicated to nurturing and maintaining native plants that benefit native bees, wasps, insects, birds and other wildlife, according to the EcoLandscaping Alliance.  
Currently, the City of Oxford has various regulations in place that limit the types of plants, shrubbery and grasses allowed to be grown on a homeowner's lawn or outdoor spaces, mostly for aesthetic purposes, Sullivan said. 
"Most communities allow homeowners to spray toxic chemicals all over their lawns, but many don't allow you to maintain a property that benefits wildlife," Sullivan said. 
While the legislation is still in its early stages, Sullivan and the Environmental Commission would like to see some of these regulations changed to allow for more wildlife-friendly plants in the city.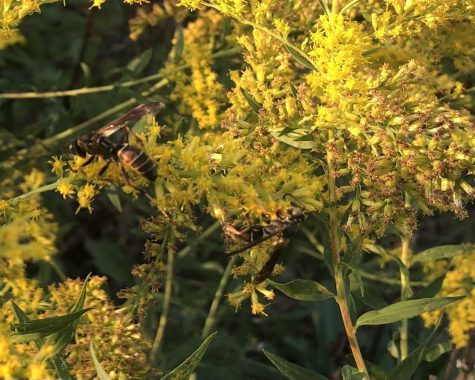 "A beautiful community is one of the great things about living in Oxford, so we don't just want people growing weeds on their front lawn," he said. "But there are ways to have lots of beneficial plants while still maintaining an attractive aesthetic." 
Many of the lawn care practices used today in society are outdated and arbitrary, according to Sullivan. 
Historically, natural prairies were overgrazed by sheep and other animals, creating a desired aesthetic of short grasses and trimmed shrubbery. 
"So, here we are in the 21st century United States, imitating the 17th century England lawn care practices," Sullivan said. 
This causes homeowners to become dependent on expensive chemicals to curtail natural growth, and in turn, robbing important wildlife of their food sources and habitats. Sullivan said the problem doesn't stop at insects and pollinators: the animals who rely on them are also being harmed. 
In a 2019 study, a group of researchers found the state of Ohio lost a third of its butterfly population over the past 21 years, following an annual 2% decline. 
"We're in the midst of an insect apocalypse," Sullivan said. "We're intentionally and unintentionally destroying the base of the food chain." 
Some Oxford residents have already planted smaller pollinator gardens in their homes' current garden space. Carla Blackmar, an Oxford local of four years, has seen success with her pollinator garden, as well as her neighbors, she told the Oxford Observer last fall. 
"We see European honeybees, lots of cool native bees, wasps, butterflies and moths," Blackmar said. 
The new legislation allowing for large pollinator gardens and natural lawns is drafted based upon successful legislation in Chicago and Minnesota and is expected to be reviewed by city council in early February.