Film director and producer receives Freedom Summer award
Award-winning movie director and producer Reginald Hudlin received Miami University's Freedom Summer of '64 Award Sunday, Nov. 7, for his achievements in bringing the Black image to screen. 
The university presents the award annually to an individual who has inspired the nation to advance civil rights and social justice.
In 1964, the Mississippi Summer Project, also known as Freedom Summer, was an initiative to increase Black voter registration in Mississippi. Two training sessions for the initiative were held at the Western College for Women (now the Western Campus of Miami University).
The Freedom Summer of '64 Award honors those participants, as well as the three young men — Michael Schwerner, 24, James Chaney, 21, and Andrew Goodman, 20 — who trained at Western and were killed by members of the Ku Klux Klan in Mississippi as they traveled there to register voters.  
"That Freedom Summer is an incredible legacy, and I am humbled to be given this award," Hudlin said. "The work I do is my lifetime's commitment. It's a joy to do every day, and it's great to be acknowledged for doing that work." 
Hudlin was introduced Sunday by Wil Haygood, author and Miami alumnus. "The man who I am about to share the stage with this evening has been a profound influence on changing how we view cinema in this nation," Haygood said.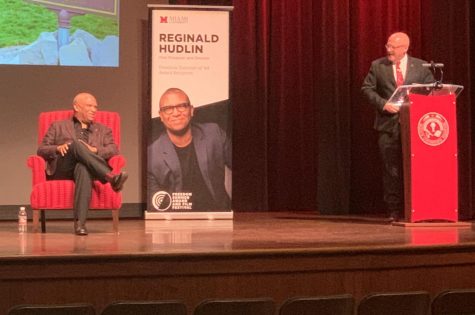 Hudlin wrote and directed "House Party" in 1990 and produced Quentin Tarantino's "Django Unchained" in 2012, which earned an Academy Award nomination for best picture. He directed the Netflix documentary "The Black Godfather" in 2019, which tells the story of Clarence Avant, the godfather of Black music. He directed and produced "Marshall" in 2017, which starred Chadwick Boseman as Thurgood Marshall, the first Black Supreme Court justice.
 
In television, he produced shows such as "The Boondocks," "Friday Night Vibes" with comedian and actress Tiffany Haddish, and the animated series "Black Panther." He has also produced television specials such as the Academy Awards and the NAACP Image Awards show. He has produced the Emmy Awards shows twice and is the first Black man to do so. 
"Reginald Hudlin's entire career has been about correcting what was done 100 years ago," said Haygood, referring to Hollywood's first blockbuster film, "Birth of a Nation" (1915), infamous for its negative portrayal of Black people and false historical narratives.
Past recipients of the Freedom Summer '64 Award include radio talkshow host Joe Madison, former president of the League of Women Voters Carolyn Jefferson-Jenkins, Mt. Zion United Methodist Church, NBA executive and basketball icon Wayne Embry and his spouse Terri Embry, and former U.S. congressman John Lewis.
In the days following the presentation, the university began its inaugural Freedom Film Festival in Leonard Theatre of Peabody Hall, which concludes Nov. 12, with a 7 p.m. to 9:45 p.m. showing of "The Butler."