Brick Street checks COVID-19 status along with IDs
As students returned to Miami University for their fall semester, they discovered a new change in procedure while lining up to enter one of the town's most popular bars. Brick Street Bar and Grill wasn't just checking their age, but also their COVID-19 status.
Brick Street announced Thursday, July 30, via Instagram that it would begin checking to assure its patrons were COVID-19 free. Those entering the bar must present proof of vaccination, a negative COVID-19 test result from the past 72 hours, or proof of a positive antibody test. 
After checking identification, the bouncers ask for proof of vaccination, although most students have it ready before being asked. Students can present a physical vaccination card, a photo of the vaccination card, or an email confirmation of their test results. 
The bouncers then check that the information being presented matches the information of the identification card (name and birthday) before allowing entry. 
"Our No. 1 goal is to remain at full capacity all year with no restrictions," the bar's management announced via Instagram. "We fully respect a person's right to make their own decision about getting vaccinated. At the same time, we hope that all of you respect our right to take precautions that we believe are in the best interest of our customers, employees, and the community." 
The management of the bar did not respond to interview requests for this story. 
The bar's explanation for its new policy on Instagram encouraged some vaccine-hesitant students to get the shots.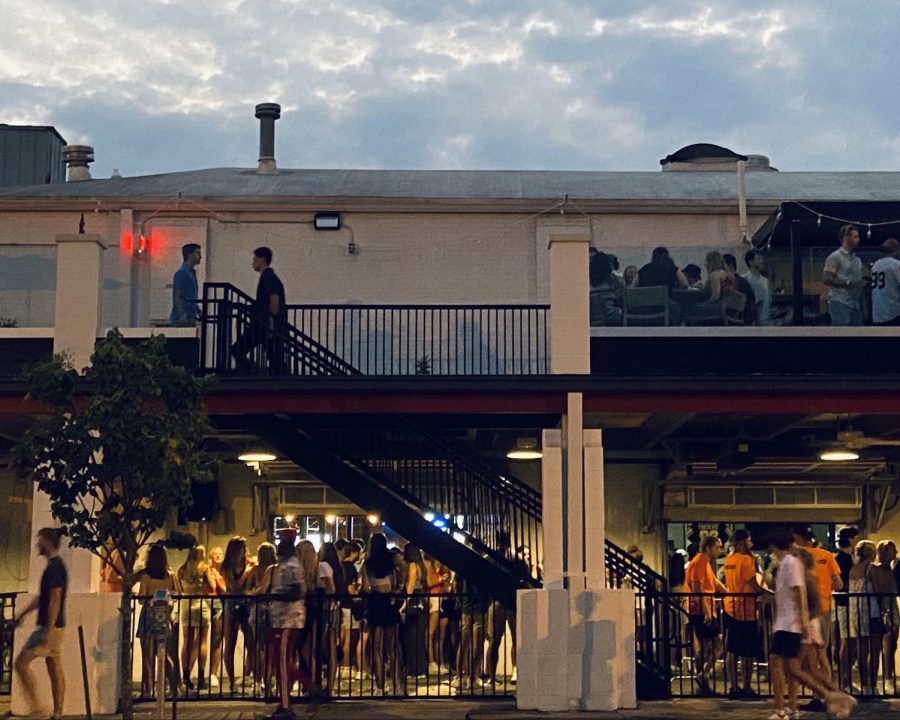 "The primary reason I got vaccinated is that I don't want to get COVID-19," said Gretchen Spenn, a junior at Miami. "But the push that really led me to get it was Brick requiring everyone to be vaccinated in order to enter." 
She wanted to get vaccinated sooner but feared that her mother, who was worried about the potential future side effects of the vaccine, would disapprove of the decision. 
"I was hesitant to get it and go against her wishes while I was living at home this summer," Spenn said. 
Once back in Oxford, she felt more comfortable making the decision. Now that she is vaccinated, Spenn is looking forward to safely enjoying activities this semester. 
"As superficial as the reason may be, I didn't want to miss out on all the fun my friends would be having," Spenn said. "I feel less paranoid about catching COVID-19 and like I finally did my part to help stop the spread of it." 
Spenn said it was responsible for Brick Street to implement its new coronavirus policies, especially if it is going to operate at full capacity. 
Another junior at Miami, Gabe Tonucci, also decided to get the COVID-19 vaccine after the Brick Street announcement. 
"I got it the first day I moved back to Oxford," said Tonucci. "I was hesitant before because I don't think I need it to keep myself healthy." 
Tonucci said he had COVID-19 twice last year and was quarantined both times with little to no symptoms.
"I just felt like I really didn't have a good reason to get it until now," he said. "I'm 21-years-old and in good health." 
Unlike Spenn, Tonucci is more indifferent about Brick's COVID-19 policy. 
"I don't mind Brick's choice," he said. "It's a little inconvenient but that's it." 
As of Aug. 25, no other bars in Oxford have announced new requirements for entry.  
According to Kelli Riggs of the Chamber of Commerce, businesses in Oxford are recommended to follow CDC guidelines and any other safety measures local or state governments implement. 
The CDC currently recommends bars and restaurants to require employees and patrons wear masks whenever possible, practicing frequent hand washing and posting signs encouraging these behaviors to prevent the spread of COVID-19, according to its website.