Creative writers at Miami cope with loneliness over Zoom
After an academic year underscored by the daily stress of COVID-19, Miami's literary magazines acted as forums to connect and inspire student writers. 
"We have still kept our strive in becoming better writers and pushing ourselves to break conventional boundaries," said Paris Taylor, co-editor-in-chief of Happy Captive.
Student writers such as first-year creative writing major Ava Shaffer found a shared loneliness during the pandemic. Despite her generally underwhelming first-year experience, Shaffer drew inspiration from memories beyond the virtual classroom. 
"Whenever I thought of college growing up, I pictured myself in a dimly lit classroom reading poetry with other English majors all wearing black turtlenecks, The Beatles playing softly from a nearby radio," Shaffer said.  "That's not exactly the experience I have received from Zoom." 
"I typically draw inspiration from my own experience. I write a lot about my big family because each member is so unique and quirky, I never run out of ideas when it comes to them," Shaffer said. 
Themes of family, love and, heartbreak emerged often in Shaffer's poetry, her favorite type of creative writing. 
"I like having no rules when writing, I don't have to count syllables or rhyme lines or have specific stanzas," Shaffer said. "Free verse and prose are just very freeing for me, and that freedom is how I express myself best." 
In celebration of National Poetry Month in April, Shaffer participated in the "Escapril 2021" poetry challenge. Moderated by Ohio poet and novelist Savannah Brown, Escapril challenged participants to write a new poem each day in April, guided by daily prompts. Writing prompts this year included "ego," "bird of paradise" and "here's what I remember."
"I wanted to do [Escapril] because typically I only write when I am inspired, so I wanted to push myself to write more frequently," said Shaffer. "I'm also a chronic oversharer, and there is really no better place to overshare my thoughts than with a poetry account on Instagram." 
Shaffer published her Escapril poems on her Instagram account @avaiswritingg. Beyond personal writing projects, Shaffer also loaned her writing expertise to the Howe Writing Center's (HWC) April poetry contest. The theme of the contest was "Hope & Rebirth." As a writing consultant and member of the HWC creative writing special interest group, Shaffer reviewed students' submissions for the contest. 
"Creative writing is one of my biggest passions. I feel so lucky to have a job on campus that lets me embrace that," Shaffer said.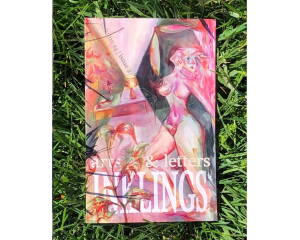 Alongside the Howe Writing Center's poetry contest, Miami's literary magazines offered opportunities for students to submit their writings for publication. Inklings Arts and Letters and Happy Captive released new issues in April. Both are available at various locations around campus.
"Inklings' contributors have always submitted work that mirrors the world around them. COVID was the backdrop that fed many of the themes, emotions and, motifs present throughout the pieces. This year, we received beautiful explorations of solitude, technology and, general existential anxiety," Rhonda Krehbiel, the magazine's co-editor-in-chief, said.
In compliance with the social distancing guidelines of the COVID-19 pandemic, Miami's literary magazines adapted their meeting spaces and methods for discussing students' writings. Inklings editorial staff moved their face-to-face meetings to Google Meet conferences and shared documents. 
"Asynchronous shared documents enrich our discussions and allow for more accessible participation.," Krehbiel said. "We will definitely continue using them even when Inklings returns to face-to-face meetings." 
Like Inklings, Happy Captive also introduced web conferencing. 
"In a normal year, staff would meet in person in Bachelor Hall to discuss submissions, plan events, and design of the magazine," Paris Taylor, Happy Captive co-editor-in-chief, said. "Since COVID started, we have unfortunately only been able to meet via Zoom." 
"We still feel that the magazine itself is a collaboration with student artists and writers," said Krehbiel of Inklings. "Being able to discuss their work and share the print issues across campus has been a group effort, and it's been a very rewarding process."