Oxford city councilor hosts virtual lecture on Parisian artist
Oxford City Councilor Edna Southard stepped out of her city role this week and took up her prior role as a fine arts expert. She presented a virtual lecture Wednesday on "Miserere: Rouault's Plea for Mercy," which can be seen on exhibition through June at the Miami University Art Museum.
Southard is emerita curator of collections at the museum and a retired assistant professor at Miami University. Her hourlong talk on Georges Rouault's work went beyond the gallery notes. She showed not only how the series is a protest of war and a plea for mercy and religious salvation, but also to show Rouault's extreme religiosity and sinfulness against human beings. 
"You really have to see these in person, unlike most prints, in order to appreciate their amazing depth and beauty," Southard told her virtual audience. 
Southard has curated more than 300 exhibitions and collaborated with scholars and artists to write exhibition catalogs and gallery guides. She has published books and articles on art history and museum studies, focusing on Italian Renaissance art, 19th century and contemporary art, and museums and the Holocaust. Since her retirement from Miami, she continues to teach, research, write, publish, and guest curate.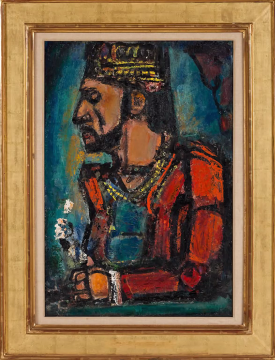 Rouault's series consists of 58 works that were conceived in 1912, made from 1918-1927 and published in 1948. Using a complex mixed printing process of aquatint etching, drypoint and photo-engravings, he made 12-15 prints of the same etchings to achieve his intended quality and message. 
Rouault started with drawings before moving to paintings and then prints. The sources of his art comes from Paris in the early 20th century, where he expresses his views and beliefs about war. 
Rouault was born in Paris and worked with stained glass in his apprenticeship. When he died, he became the first artist to receive a state funeral from the French government. In one of his most famous paintings, "The Old King" (1916-36), the influence of his apprenticeship can be seen in the stained glass that makes up the visage of a biblical king.
Plates 1-34 in the series are called Miserere (Latin for "have mercy"), and plates 34-58 are called Guerre (French for war). Guerre refers to World War I. 
"The 58 images repeat themes just as words are repeated in prayers and poetry or notes and phrases in music," said Southard.
Southard said Rouault wanted to paint Christ in an image so moving it would make the viewer want to convert to Christianity. Rouault also believed that his own life would be meaningless if he didn't push for people to become Christian and believed that anyone who wasn't was sinful.
While Southard said she disliked Rouault as a person, she loved his style of painting and pieces.
"I love all kinds of art," she said. "What he achieved in art is amazing. When you see those prints in person, they are very rich and beautiful. The more I know about him, the less I like him. He was really an unpleasant guy." 
Rouault was known to depict the woman as vulgar. He often drew them as prostitutes to symbolize how society is rotten, said Southard. 
Southard's exhibition talk can be found on the Miami Art Museum's YouTube channel. Seeing the exhibition in person requires registration for a time slot. Due to COVID-19 precautions, the museum has strict limits on the number of people allowed to view its exhibits in person. If you have COVID concerns, you can view the exhibition digitally here.