Study abroad program looks different during the pandemic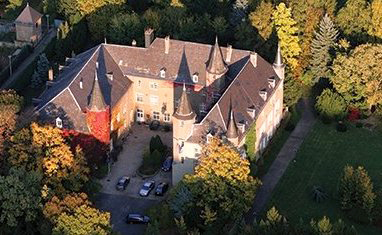 Miami students who want to study abroad are mostly restricted to going to Miami University's Luxembourg campus while the COVID-19 pandemic persists.
COVID-19 sent thousands of students home who had been studying abroad when the virus hit last spring. Summer trips were canceled, as well as most fall semester study-abroad programs. However, Miami now has 30 students abroad at its Luxembourg campus — 22 undergraduate students and eight student-teachers. 
According to the study abroad department, Miami plans to send 90 more students to Luxembourg next semester. 
"It's not the most ideal situation, but it's better than nothing," junior finance major Claire Van Flandern said. "I'll never have another time to spend four months in another country so I'm going to make the best of it." 
Miami's campus in Luxembourg, known as the John E. Dolibois European Center, offers Miami students the chance to spend fall or spring semester abroad, as well as a six week summer program. This program usually has about 140 students each semester, prior to COVID travel restrictions. Students live with families and take public transportation to the Chateau, where classes and studying take place. 
Tuition and fees at the Dolibois Center are comparable to a semester in Oxford. Students also choose Luxembourg due to its close proximity to other countries, making weekend travel easy. Students take Miami classes and receive Miami credit while at the center. 
Miami's education abroad program assists students in navigating their study abroad options. Although students have limited options currently, Miami advisors are still meeting with students. Kevin Fitzgerald, a study abroad advisor, said he is busier than ever this year. He said more students than usual are setting up meetings to discuss their options amid the pandemic. 
"Students should absolutely still go abroad regardless of coronavirus and the changes it's caused," Fitzgerald said. "If students are looking for a cultural experience with language and history, those things haven't changed. Hiking, museums, restaurants are all still open." 
Fitzgerald emphasized that students need to be flexible. 
"Travel is still possible, students just need to be flexible and willing to change their plans at the last minute," he said. Fitzgerald said the current students in Luxembourg are still traveling. He said they have been to Switzerland, Germany and France. Borders and travel restrictions can change at any minute.
Fitzgerald said students now have three options. First, and easiest, is studying abroad through the Luxembourg program. He said he is recommending this option to students first, as it is the safest bet because it is a Miami-run program. He said if anything does happen, Miami will have its students' backs. Second, students can look into third-party programs, however many of those have been canceled due to low enrollment and travel restrictions. Lastly, Miami is running an exchange program where students can attend another university for Miami tuition. Fitzgerald said there are five students participating this semester and another five will be studying in South Korea next semester.  
Fitzgerald said most J-term abroad trips have been canceled, with the exception of a few domestic ones. Some J-term abroad trips are now virtual. Summer trips are still in the works and the department is hopeful they will run. Fitzgerald also said he has reason to believe Fall 2021 semester trips will be running, with expanded options. 
The study abroad department is hoping for an increase of programs in the coming months, as it took a hard financial hit this spring and fall. Fitzgerald said the department lost a few million dollars directly and indirectly as a result of COVID-19. He said the loss of funds stemmed from decreased applications and application fees, as well as millions of dollars spent on flying students home from abroad in March. 
Van Flandern recently accepted a spot to study abroad next semester in Luxembourg. She said prior to the pandemic, she wished to study abroad in Barcelona through a third-party program. She said she was worried she might not be able to study abroad at all and was happy to find out the Luxembourg program was still up and running. She met with an advisor within the study abroad department and said they helped her navigate her abroad options amid COVID-19. 
Van Flandern said she's been attending the virtual orientation sessions in preparation for her departure at the end of January. She said she plans to go into the semester being flexible and open-minded, as well as grateful she gets an experience abroad at all, however different it may be.