Caroline Lehman-Croswell retires from Oxford Community Arts Center
Caroline Lehman-Croswell, the executive director and face of the Oxford Community Arts Center since it opened 14 years ago, is retiring from her post, effective Dec. 21.
After a recent car accident and in light of the COVID-19 pandemic, 67-year-old Lehman-Croswell said her priorities have shifted. She said she wishes to spend more time with her family and pursue other passions.
Her vibrant term with the OCAC allowed a fledgling organization to grow into a community hub and place for everyone. 
OCAC beginnings
Before Lehman-Croswell stepped into the picture, the building housing the OCAC at 10 S. College Ave, was an unused and dilapidated former school that was full of unseen potential.
"Far-sighted people saw value in procuring the building," said Nora Ellen Bowers, one of the founding board members of the OCAC. 
According to Bowers, OCAC's board of trustees was formed based on a theater performance group called Ox ACT, which previously rented space on Miami's campus to rehearse. After being kicked out of that space due to a renovation, members of Ox ACT searched for the perfect location.
They found the old Oxford Female Institute, which Miami had converted to a dormitory and later closed. The Ox ACT group realized the historic structure, built in 1850, with its galleries and ballroom, was the perfect space for something larger than one local theater group, so they signed a 25-year lease with Miami and formed OCAC.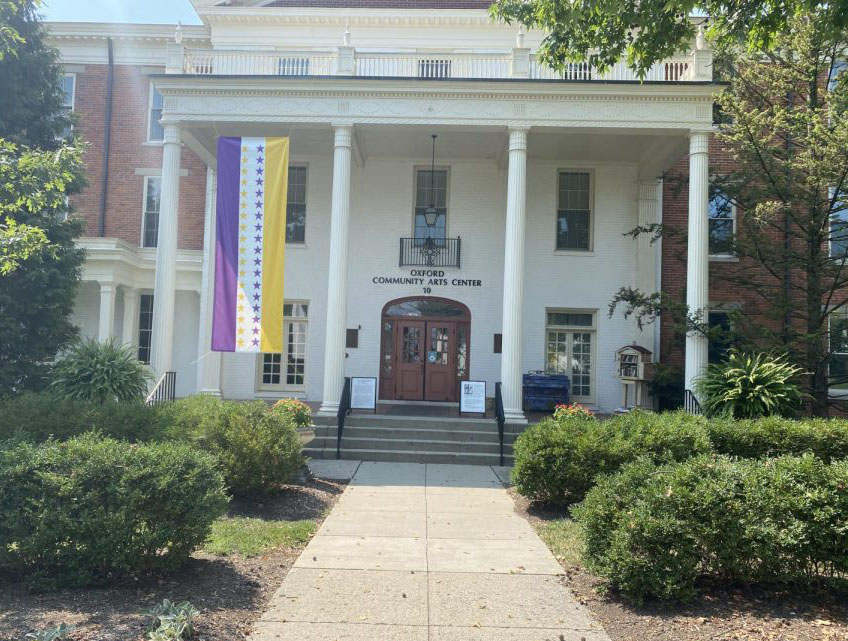 "Community members were skeptical to put money toward a building that needed so many repairs just to get off the ground," Bowers said. 
After many repairs and hard work, in 2005, the 12 member OCAC board decided they needed a permanent executive director and began reaching out to nearby arts organizations and putting up job postings — cue Caroline Lehman-Croswell. 
Sarah Michael, another founding member of the OCAC who knew Lehman-Croswell as both of their middle daughters had attended school together and from their mutual participation in the Oxford-based Des Fleurs Garden Club, brought Lehman-Croswell in after interviews had been closed.
Michael encouraged Lehman-Croswell to apply and the board's decision to hire her was unanimous.
"I've always been in awe of Caroline," Bowers said.
"She's going to be a hard act to follow," added Michael. 
The first executive director
"I really felt this job was made for me," said Lehman-Croswell.
OCAC still hadn't opened its doors, as renovations were still under way. To truly get the OCAC started, Lehman-Croswell had to build from the ground up.
According to Michael, Lehman-Croswell successfully connected with ArtsWave (an umbrella organization in the greater Cincinnati region with about 30 other arts organizations) and was able to secure its support.
"After obtaining other grants, she was able to start so many different programming options, including: Second Friday, musical groups, artists, OMA and Empty Bowls," said Michael.
"I had faith that something great would happen and that it would be a place that meets the needs of the community," said Lehman-Croswell.
She said her biggest challenge as executive director of the OCAC was convincing people its purpose was for the community.
"It's a beautiful, historic building, but the upkeep has been an immense job," Lehman-Croswell said.
Overseeing renovations and building repairs, however, is only a small sliver of her other duties. Grant-writing, programming, connecting with community members to serve their needs and maintaining the 32 rented art studios and ArtShop located in the OCAC is a huge responsibility.
Before becoming the executive director, Lehman-Croswell served as the president of the Des Fleurs Garden Club, an Oxford institution since 1959 dedicated to city service and beautification. Lehman-Croswell was able to secure a working partnership between the two groups and, since then, the Des Fleurs Garden Club has done tremendous work with the center.
The garden club worked hard to beautify the grounds around the arts center by funding a landscaper and adding different gardens, such as the Children's Garden.
"This drew more people in," Lehman-Croswell said. 
One of Lehman-Croswell's greatest skills in running the arts center has been her ability to work with musicians, performers and artists, allowing them to express themselves and use the OCAC as a resource to do so.
"She's a good listener, always open to new ideas and very supportive of artists like myself," said Alan DeCourcy, vice president of the OCAC board and an artist with a studio on the center's third floor. 
Lehman-Croswell promoted the center as a place for all members of the community, including Miami students. She used internships to bring in students not only from Oxford, but from Miami's Hamilton and Middletown campuses as well, creating hands-on learning experiences in the world of art management. 
"She has been instrumental in spear-heading the OCAC's overall development," said 26-year-old Quintin Pace, a Miami senior majoring in philosophy and English studies. Growing up attending performance classes, piano and guitar lessons, Pace is no stranger to the OCAC. He now works part-time at the center, organizing and participating in events. 
"Caroline started the fire and has kept it going," Pace said.
Keeping it going has meant raising money.
"Honestly, my least favorite but one of the most important parts of my job was grant-writing. What I really loved was connecting with individuals and creating programming for them," said Lehman-Croswell.
"If it seems financially possible, I love to say 'yes' to any request or idea," she said.
After developing a solid foundation and reputation for the OCAC, Lehman-Croswell is ready to pass the torch on to the next executive director.
"I will miss the people the most, and I hope that creativity at the OCAC continues to be a positive part of our community," said Lehman-Croswell. 
Retirement and hopes for the future
After a near-death experience with a car accident and in the midst of the pandemic, Lehman-Croswell decided there was no better time than now to end this chapter of her life and start a new one.
"There are just so many more things I want to do. I want to travel, learn and spend time with my family," she said. "I think now is more the time than ever for me to take a step back and allow the OCAC to grow and change under the leadership of new blood," she said. 
After 14 years, she will be missed by the community she helped to build around the center. 
"Caroline is a relationship builder and has left a solid foundation for the next person," said Kari McLean, associate director of development and marketing at the arts center. 
"This job requires a passionate, dedicated individual, as it is a non-profit organization with no benefits and a starting salary of around $40,000 a year," McLean said. 
As of now, the 10 members of the board of trustees have assembled a search committee tasked with finding the next executive director. According to DeCourcy, the first group of candidates' resumes were distributed this past Wednesday and applications are open not just for Oxford residents, but nationally. 
"We are looking for a dedicated individual with good organizational, interpersonal and leadership skills, along with some knowledge of the arts," DeCourcy said. "The search committee is hoping to have someone picked out before Lehman-Croswell's term comes to an end this December."
"Following Lehman-Croswell's act will be very tough," McLean said.
"She has hung in there over the years like a soldier, dealing with every challenge thrown her way," Bowers added.
The current challenge facing the center is COVID-19. Lehman-Croswell has worked hard to continue to promote the OCAC virtually and with limited, socially-distanced programming.
She said she has asked herself: How do you keep people in the community connected when you cannot be face-to-face? The answer has been a combination of virtual promotions and programs combined with some limited and socially-distanced exhibitions and lessons.
She has handled the situation with creativity and grace, working with other staff members to do all they can to continue to meet the needs of the community.
 The Oxford Community Arts Center on College Ave., was originally built as the Oxford Female Institute in 1850, a school for young women. Observer file photo